Advertise or Search "Room for Rent" on MilitaryByOwner.com
While most military families search for homes, townhomes or condos on our site, not all relocating military personnel are in need of an entire home, but may instead be looking for a room for rent. Conversely, there are many military families who have extra space in their home that they would like to rent to a military tenant.
MilitaryByOwner.com is here to assist individuals on both sides of the fence. We have integrated an advanced search tool into our website which allows users to search "Room for Rent" under the "Property Type" field, which also means those who have a room for rent can market their home through an advertisement on MilitaryByOwner.com.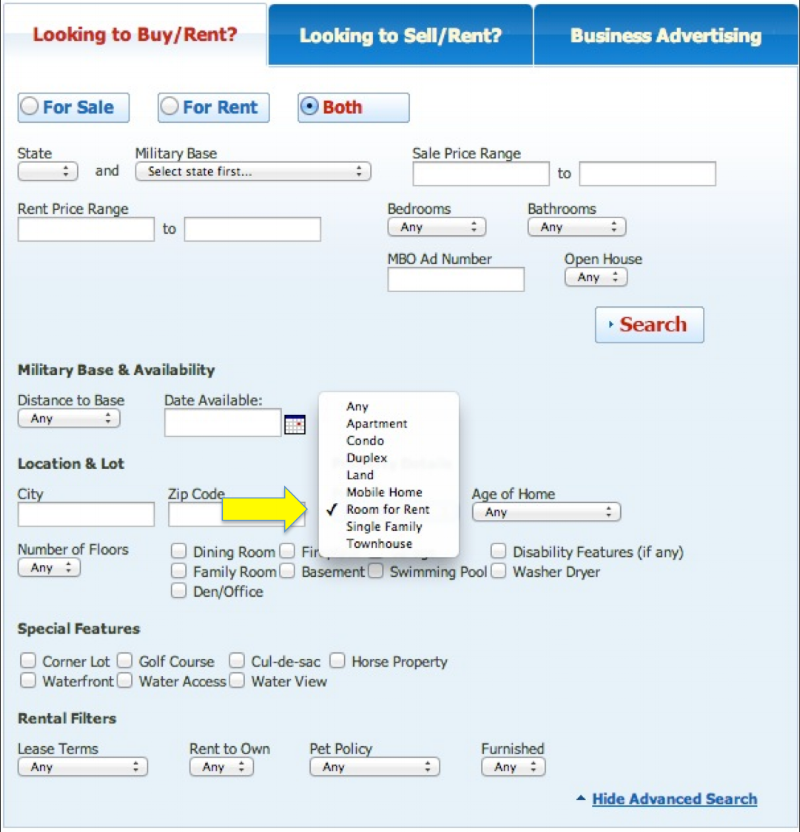 Our goal is to make military relocation easier, so we designed our site to allow service members and their families to search for homes located near military installations across the United States, Puerto Rico and Guam. Each search on our site begins with the selection of the state and military installation where our customer will be stationed. Once those fields have been selected, choosing the "Advanced Search" link will display a variety of search options, including "Room for Rent".
Select this option alone, or include a desired rental range and other amenities and select the "search" button, which will display all advertisements fitting the criteria entered. If a narrowed search does not result in matching advertisements, broaden the search to see if this changes the results. If a general search does not result in any matches, we recommend frequently checking the site, as we receive new advertisements each and every day.
For our customers who are interested in advertising a room for rent, you may choose from one of the three packages we offer to market to military service members. For information on our ad packages, please visit the Products page of our website. Once you find a package you would like to purchase, you will create your ad by filling out a submission form, which will guide you through each step of the process. When entering the information on the "Property Type", you will see the option to select "Room for Rent", which will appear within your advertisement, as shown below.

If you need any assistance with placing an advertisement with us, we offer a video tutorial that will walk you through the ad submission process.
Over the past 12 years, our website has been upgraded to incorporate new features that our customers have requested. We are constantly striving to make the task of finding off base housing easier each time another military family has to move, so please let us know how we can help you.
We offer a live chat from our website, or you are welcome to call our office at 866-604-9126, send us an email, comment on our blog, message us on Facebook or Tweet us.