11 Military Tax Deductions and Guidelines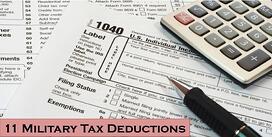 Whether you anticipate receiving a refund or having to write a check, tax season comes with a dose of anxiety, particularly for military families who experience frequent changes to their lifestyle. PCS moves, buying or selling military housing, deployments, education costs and travel expenses can all have an effect on your tax return. Understanding the tax code, as it applies to military service members and their families, is critical to optimizing your tax return. Organizing your financial life will ease the process of filing your income tax return and will ensure that you are taking advantage of all available deductions. Here are 11 tax exemptions and guidelines that military service members and their families should keep in mind.
If you made a Permanent Change of Duty Station (PCS) move, the IRS will allow you to deduct "reasonable unreimbursed expenses". These items may include moving truck rental fees, storage and temporary lodging.

If you were deployed to a combat zone, box 1 of your 2013 W-2 should not include pay received during your time in a combat zone under the combat zone exclusion provision. Because this deduction is automatically taken off of your earned income, no further action is needed on your part.

If you separated from the military in 2013, expenses involved in finding new employment such as travel, resume preparation fees and placement agency fees may be deducted.

National Guard and Reservists may deduct unreimbursed travel expenses if called for duty more than 100 miles from home.

Mortgage interest and real estate taxes are deductible even if these items are paid with the use of Basic Allowance for Housing (BAH) funds.

If you sold a home in 2013, you may be exempt from paying some or all of the tax on the income made through the sale if you qualify for the "

Exception to ownership and use test

".

Expenses related to the purchase or upkeep of professional uniforms that cannot be worn when off duty can be deducted.

Professional dues paid to organizations directly related to your military position (with the exception of officers' and noncommissioned officers' clubs) can be deducted.

Donations made to charitable organizations can be deducted, but must include an itemized receipt. (Keep track of donations made to the base thrift shops or the checks you wrote to various military charities.)

Members of the Armed Forces are eligible to make a contribution to a Thrift Savings Plan of up to $17,500 for 2013, which will lower your taxable income.

Under the Military Spouses Residency Relief Act of 2009, military spouses can choose a state they have previously lived in to be the state they are liable for income tax. This could result in a refund if they earned monies in a state with a higher tax rate but choose to file taxes in a state with a lower rate. Please note that you cannot choose a state in which you have not physically lived.
Important Filing Information
The tax deadline is April 15, 2014, however if you or your spouse is in a combat zone, you may qualify for an extension of at least 180 days after your return from a combat zone. The extension applies to filing returns, paying taxes, submitting claim for refund and making contributions to IRAs.
If you are married, filing jointly, then the return must be signed by both of you. However, your spouse may use a Power of Attorney to sign on your behalf if you are unavailable.
Tax Filing Assistance
The actual process of filing your taxes can be very overwhelming and confusing, but there are several services that can assist you for free or with minimal fees.
Many military installations offer free tax assistance to service members and their families through the Volunteer Income Tax Assistance Program (VITA). Consult your base officials for more information on local programs.
MilitaryOneSource and H&R Block have teamed up again this year to offer use of the H&R Block At Home® basic filing tool to eligible individuals. The tool will assist you in filing your 2013 federal taxes as well as up to three state returns for free.
TurboTax has launched a Military Edition of their software and for a limited time they are offering a free federal and one state filing to ranks E-1 – E-5, and a discounted fee of $24.99 to ranks E-6 – E-10 and officers for federal filing. State filing incurs an additional fee of $36.99.
For more information on military tax tips along with informative videos, please visit IRS Tax Information for Members of the U.S. Armed Forces or download the IRS Publication 3 (2013), Armed Forces' Tax Guide.
Good luck and many happy returns!