Protect Your Home From Winter's Chill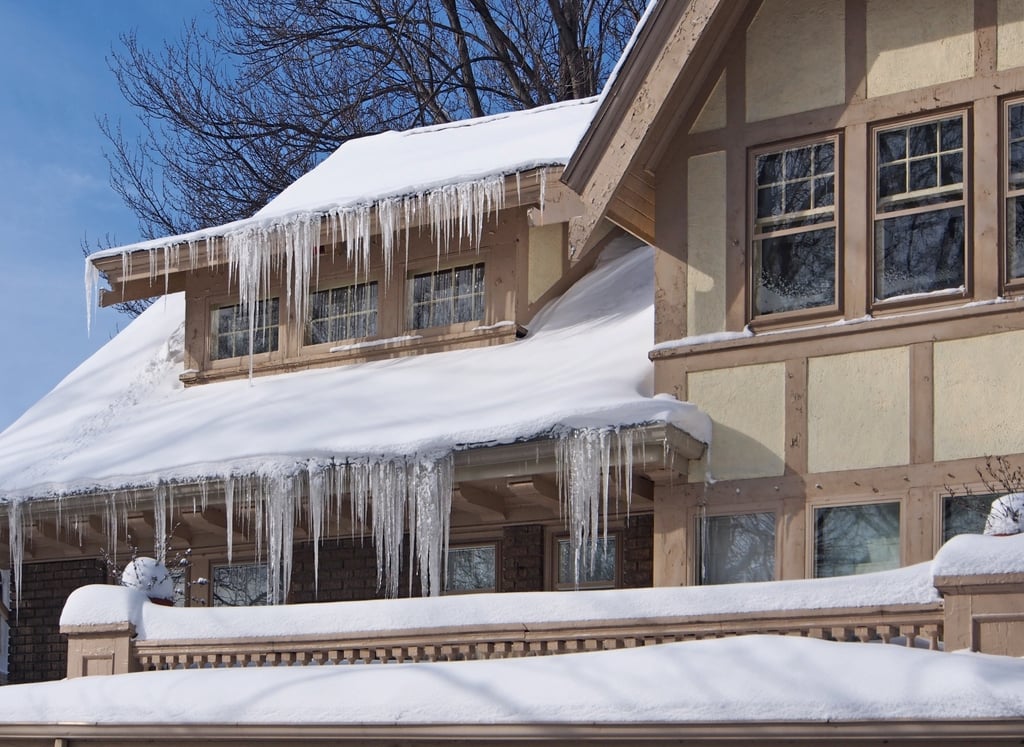 The warmer weather much of the country has seen the past few months may fool you into believing that Old Man Winter will take a break this year, but undoubtedly the mercury will drop again.

Cost saving measures are important to military families, so taking preventive actions to prepare you, your family, and your house for the cold weather will help lower utility costs and keep your family safe and warm.

We shared tips for Fall Home Maintenance for Military Homeowners back when temperatures were balmy, but if you did not get around to those items, be sure to consult this list as well and tackle the most important items first.

Winter Weather Home Prep Tips:
Let's start outside. Hose bibs and sprinkler systems that are your lifeblood in the summer can become a winter nightmare. If water is left in the pipes of your sprinkler system and hose bibs, it can freeze and burst pipes causing serious water damage and costly repairs to your sprinkler system. Turn off the water supply from inside the house and then open the valves to drain the remaining water. If it cannot gravity drain, you may need to use an air compressor to blow out the remaining water. If you don't have access to an air compressor, call a local landscaping company as many offer this service for a minimal fee.
Check your pipes. If extended periods of below freezing temperatures are expected, guard against frozen pipes by setting your thermostat at 65 degrees. Pay particular attention to areas of the home that may have plumbing close to exterior walls, as these will be more susceptible to freezing. Open the doors or cabinets where plumbing is contained to flow room temperature air into those areas. If you have had trouble with frozen pipes inside the home, keep a trickle of hot and cold water running from each faucet.
Water shut-off. Ensure that you and each capable member of your family know the location and can operate the main water shut-off valve. This is invaluable information in the event of a broken pipe.
The garage. If you have a door from the garage to the house, ensure that garage doors are closed completely, as exterior entry doors may not be insulated against extreme temperatures.
Be prepared for snowstorms. Check the gas/oil levels on your snow blower and clean off any debris before starting it for the first time. Don't wait until the first flakes start to fall before doing required maintenance.
Generator maintenance. If you own a generator, inspect and clean it and check gas and oil levels as well. Consider storing additional gas cans for extended use in the event of a power outage.
Mind your gutters. While this next suggestion would be more palatable with fall temperatures, if you didn't get around to cleaning out your rain gutters, this would be a good time to get to it. Removing fallen leaves and debris will allow rain or melting snow to flow freely and away from your home. It will also prevent dangerous ice dams.
Stop drafts. When the winter winds start to blow, it's easy to find gaps in doors and windows. Stop the draft by picking up an inexpensive roll of weather stripping from your local home improvement store and seal up the problem areas.
Save on your heating bill. Did you know that the ceiling fans that keep you cool in the summer can help heat your home? Most fans have a switch on the side that will reverse the rotation, creating an updraft that will pull hot air down from the ceiling. This is a simple way to save on your heating bill.
Your water heater. A cold winter morning is not the time to find out that your water heater has failed. Consult the owner's manual and follow directions to drain off sediment and maintain efficiency. If you find that your water heater is warm to the touch, it likely could use additional insulation to improve efficiency. Visit your local home improvement store to purchase a wrap for your water heater and in areas of extreme cold, wrapping your pipes may also be wise.
Winter is also a great time to think about the safety of your home and your family emergency plan.
Fire safety. Space heaters, fireplaces, and candles are fire hazards that can put your family out in the cold. Discuss and practice your exit strategy and meeting place with all members of your family. Put items such as shoes, jackets, and keys in areas that would be easily accessible in the event of an emergency. Check fire extinguisher expiration dates and confirm that each member of the family is aware of the location and proper operating procedure.
Light timers. With the sun setting early, you may want to consider putting exterior/interior lights on timers which will eliminate the telltale sign that no one is home.
Preparing for winter by embarking on preventative maintenance and winterizing tasks in the fall would be ideal, but it's easy for tasks to fall through the cracks. Be prepared for each season with our tips for Year Round Home Maintenance.
If you were unable to prepare for winter ahead of time, tackle the most important items first to ensure that your family and your home will have a safe and cozy winter!
Editor's Note: This post was originally published in December 2013 and has been updated for accuracy and comprehensiveness.
Photo: Sam Spiro/DPC