10 Ideas for Family-Friendly Halloween Fun Near Fort Bliss
For the border town of El Paso, October is a month filled with the celebration of the spooky and spectacular for Halloween, Dia de los Muertos, and celebrations of the landscape and traditions of the Southwest.
Whether you are looking for a terrifying and entertaining evening out with friends or a family friendly celebration of fall, here are ten ways to enjoy Halloween near Ft. Bliss.
10 Ideas for Family-Friendly Halloween Fun Near Fort Bliss, Texas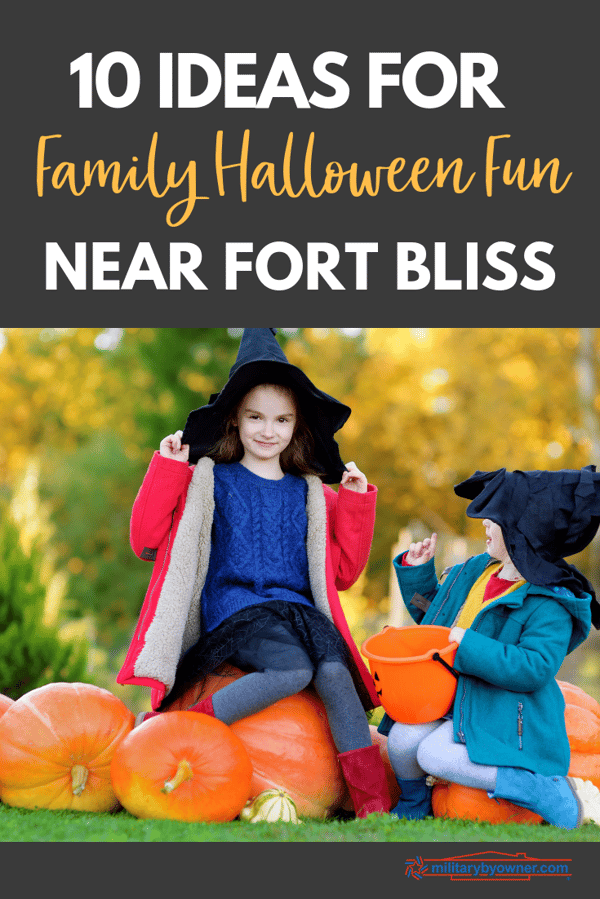 1) Learn Border History
On October 27th, the annual Chamizal Cultural Festival will take place at Chamizal National Memorial with activities that celebrate local culture and the history of the border. Fall is a wonderful time to explore the El Paso Mission Trail as well. This route along several historic missions allows for stops at the Tigua Cultural Center, Licon Dairy and Petting Zoo, and local eateries. For more information on the operating hours of individual locations, suggestions for dining, and a schedule of events, visit El Paso Mission Trail.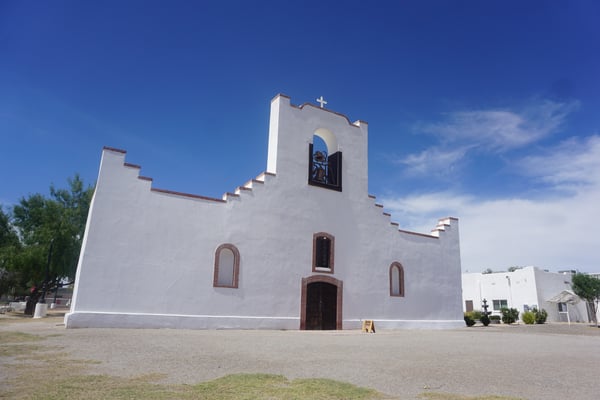 Socorro Mission, one of the many beautiful sites on the El Paso Mission Trail (author photo).
2) Enjoy Views of the Mountains
With beautiful mountain and desert vistas, cooler fall temperatures provide an excuse to get outside. In October, Celebration of Our Mountains has events at the Franklin Mountains, Guadalupe Peak, and Hueco Tanks. Sierra de Cristo Rey in Sunland Park, New Mexico, offers beautiful views of Texas, Mexico, and New Mexico, and the annual Mount Cristo Rey pilgrimage happens October 28th. The hike is open to the public for a small fee that goes to the upkeep of the trail, but be aware the event includes religious activities.
3) Experience the Night Sky
Hueco Tanks State Park and Historic Site will host a tour of the "dark, mysterious, and historic areas" of the park after dark on Oct. 26th in conjunction with the Paso del Norte Paranormal Society. Tickets are $20. White Sands National Monument offers Full Moon Nights with ranger talks, local art and music, and the event is a perfect time to enjoy the sublime beauty of a full moon and white sand dunes.
4) Enjoy a Good Fright
There are haunted houses for those that dare. Ft. Bliss's annual Massacre on Marshall Road is open on Fridays and Saturdays throughout October, as well as Halloween night. The Terror Trail in neighboring Canutillo, TX is an outdoor experience sure to produce a scare. Both are recommended for those over 10. Desert Warrior Paintball offers the Haunted House of Terror for ages 14 and over. See links for exact times and ticket prices.
5) Explore a Corn Maze
Both the Mesilla Valley Corn Maze at Lyles Family Farms and La Union Maze offer a day of family fun just a short drive from El Paso, and locally there's El Paso's Corn Maze. All three offer military discounts, and in addition to the corn mazes, games and activities for kids, pumpkin patches, and concessions.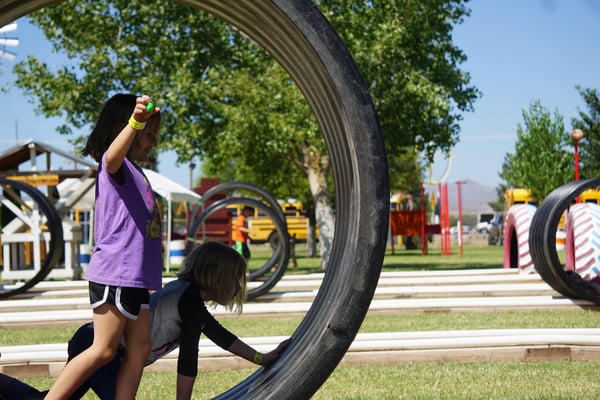 Students from the Ft. Bliss Homeschool Association enjoy a field trip to the Mesilla Valley Corn Maze (author photo).
6) Search for Ghosts
Lost El Paso Paranormal offers ghosts tours throughout the year, with several Halloween events. Tour two historic and haunted locations.
Also offered is a Fright Night party with Weird Texas author Heather Shade, and a Downtown Ghost Tour and Zombie Crawl. See their website for ages, ticket prices and availability, hours, and locations.
7) Trick or Treating
El Paso has been ranked by Smart Asset as one of the best places to trick or treat, but if you feel more comfortable with an alternative, several local businesses offer indoor events.
El Paso Parks and Recreation hosts Halloween carnivals throughout the city on Halloween. See their website for times and locations. Check Fort Bliss MWR for on post activities.
8) Something for Animal Lovers
The El Paso Zoo will host their annual Boo at the Zoo October 27-28 with trick or treat stations, activities, and animal encounters. Visitors are encouraged to purchase tickets ahead of time due to the popularity of the event. Military discounts are available for day tickets and annual memberships, and there are still tickets available to the upcoming Zoospecto Patronum event for Harry Potter lovers in November.
9) Celebrate Harvest Season
The Farmer's Market at Ardovino's Desert Crossing is from 9 a.m. to 1 p.m. each Saturday. The Downtown Artist and Farmer's Market celebrates regionally grown agricultural products and art in the Union Plaza District from 9 a.m. to 1 p.m. each Saturday. The Upper Valley Artist and Farmer's Market is at the Substation on Doniphan from 11 a.m. to 1 p.m. on Sundays. For an eclectic collection of retro themed items, check out the Punk Rock Flea Mart from 5:00-10:00 p.m. on the first and third Saturday of each month at Whole Foods on Pitt St.
10) Experience Dia de los Muertos
The annual Dia de los Muertos Festival at Concordia Cemetery is an exciting way for military families to learn more about the cultural heritage of the local community. The event is a cultural and spiritual celebration to commemorate the loved ones we have lost. See revelers dressed in vintage Mexican clothing with calaveras painted on their faces, and enjoy artisans, live music and dance, food trucks, poetry, altars, and more. Discounted tickets for military, seniors, and children.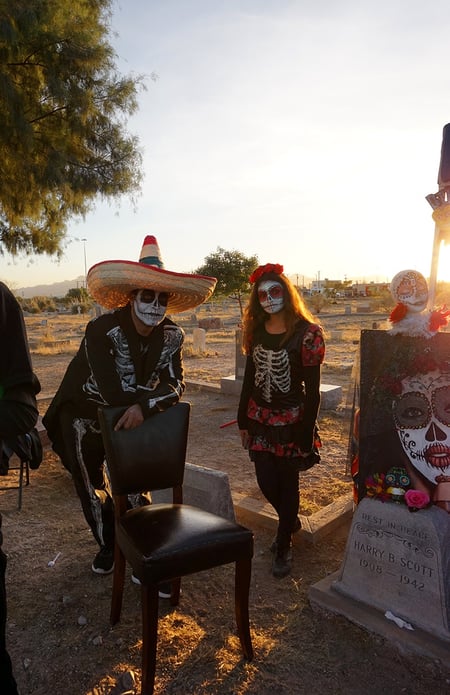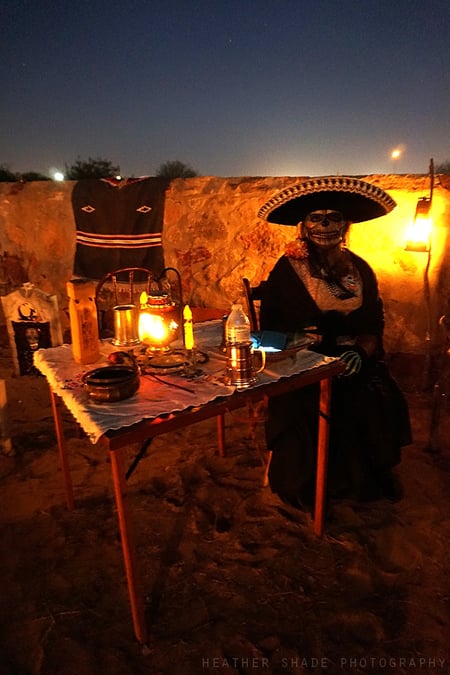 Dia de Los Muertos Festivities at Concordia Cemetery. Photos by Heather Shade Photography.