10 Ways to Embrace Your Inner Nerd at Fort Bliss
When my husband first received orders to Ft. Bliss in El Paso, Texas, it was not a post or region we knew much about, but we quickly learned that, for our family interested in geeky hobbies, it was a desert oasis of activities. My science fiction loving military spouse heart had a treat when, after binge re-watching the television show Roswell from my high school days, we took a family road trip to this famed town, exploring caverns at Carlsbad and the skies of New Mexico along the way.
If your military family loves comics books, could spend a whole Saturday playing games, or you have a child dreaming of becoming an astronaut, here are ten ways that Ft. Bliss is the ultimate station for self-proclaimed nerds.
10 Ways to Embrace Your Inner Nerd at Fort Bliss, Texas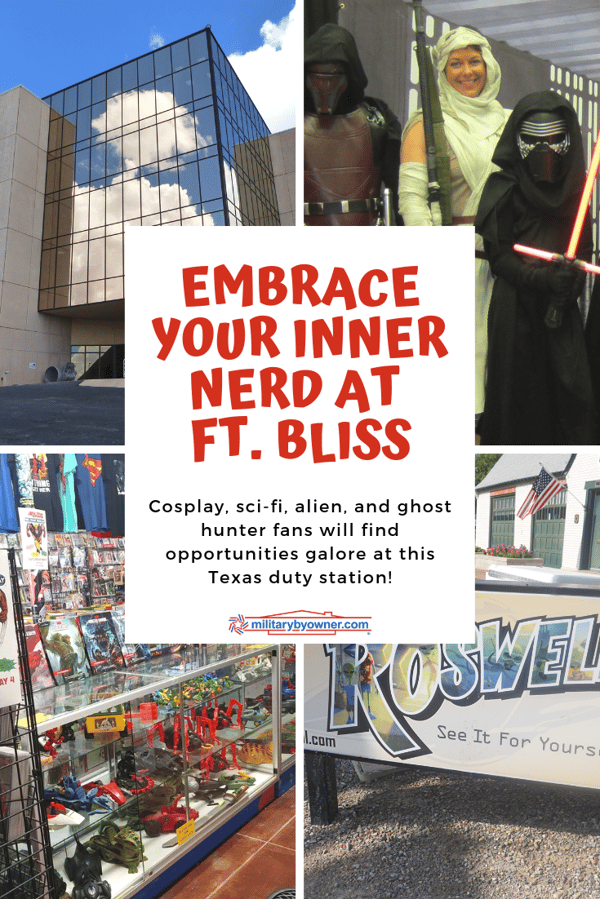 1) Aliens, Aliens, Aliens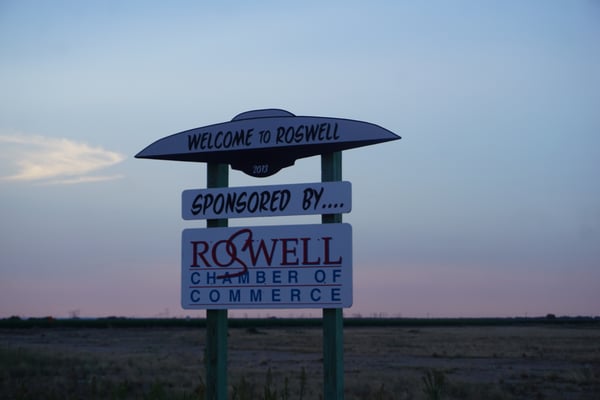 Each road that leads into Roswell, NM has an alien theme signed greeting you. Photo courtesy author.
The city of Roswell, New Mexico, has embraced its history as the location of one of the most talked about conspiracy theories and famous alien sightings in the world. A map at the International UFO Center shows all the places visitors have traveled from in hopes of their own alien sighting, but families in El Paso need only drive around three-and-a-half hours to enjoy all this quirky town offers.
After passing by the alien themed welcome sign, stop at the Visitor's Center for a map of the museums, art installations, and souvenir shops downtown. The UFO shaped McDonald's with a space travel themed Playplace is a must for those with kids after a swim at Bottomless Lakes State Park.
2) New Mexico Space Trail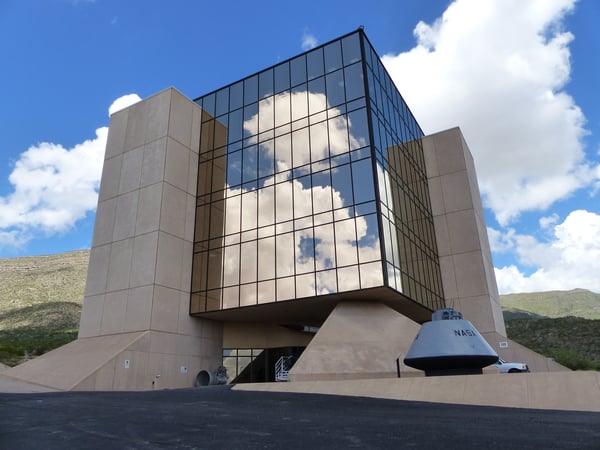 NM Museum of Space History. Image via Wikimedia Commons.
Roswell isn't the only place where the New Mexico sky holds our collective imagination. The New Mexico Space trail is a collection of 52 sites throughout the state, ranging from museums, to archaeological sites, to laboratories. One of the sites, the New Mexico Museum of Space History, is in Alamogordo, a little over an hour away from Ft. Bliss, and participates in the Blue Star Museum program.
3) Art in Santa Fe
Perfect for a couple or family getaway during a four-day weekend, Santa Fe has great food, beautiful historic sites, and a whimsical art installation by the collective Meow Wolf that lovers of the fantastic will wander and wonder in for hours. The House of the Eternal Return is an immersive, interactive art exhibit that takes you through a mysterious Victorian-style house into passageways to otherworldly dimensions. Look, touch, and listen to everything and see if you can piece together what happened here through the imaginations of multiple artists.
4) Cosplay Culture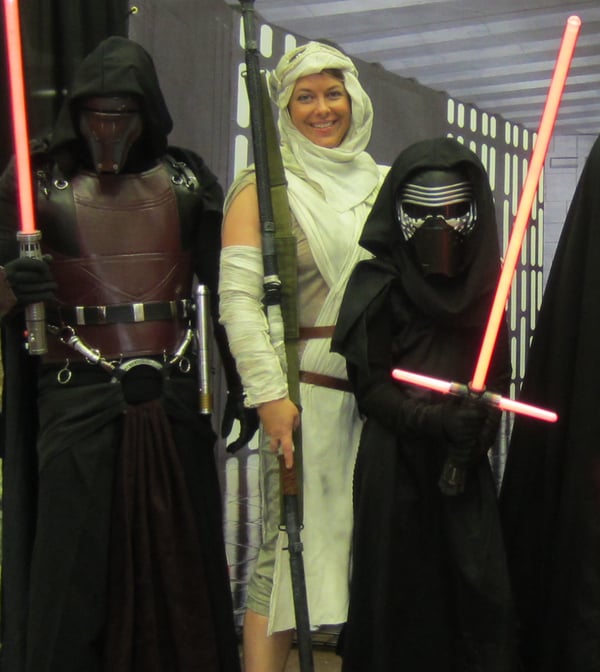 Military family Jason, Kendra, and Logan Leeworthy in Star Wars cosplay.
There's a thriving cosplay community in El Paso, and many soldiers and their families participate in the Facebook group, workshops, and meetups, including the newly formed SoldierCon. Active duty soldier Jason Leeworthy has been cosplaying about 10 years and is active as an organizer in the cosplay community here. He shares that the size of the cosplay community is large enough to be an excellent resource, "answer questions together," and see some really beautiful work, yet small enough that you can get to know people and not intimidating to those just entering the hobby.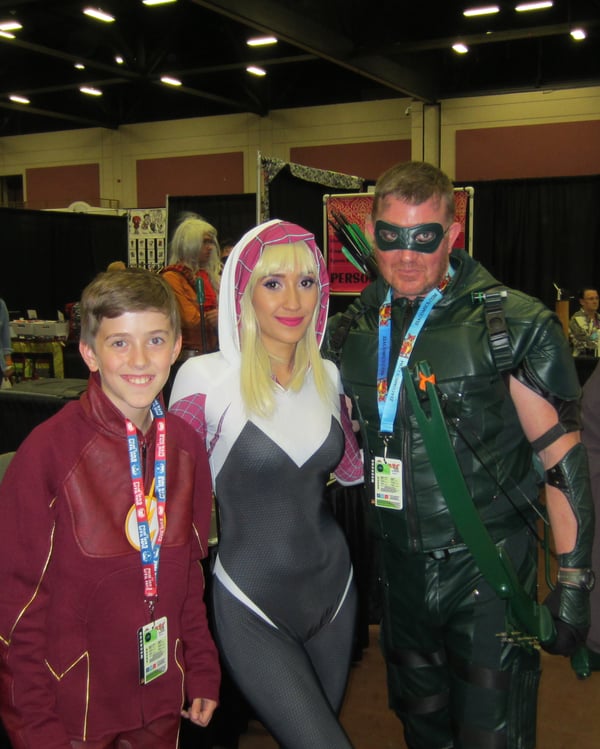 Jason and Logan Leeworthy with local expert cosplayer Christina Dark.
In addition to meetups and contests for cosplayers of varying skill levels, he pointed out that El Paso is centrally located for getting to some larger conventions in the Southwest, with volunteer opportunities for skilled cosplayers to give back to the community with organizations like Star Garrison.
5) Our Very Own Comic Con and More
The El Paso Comic Con is making strides every year to bring in actors, artists, vendors, and more to this three-day event. Taking place this year the weekend of April 12, fans of science fiction and fantasy genres can attend Q&As, shop for supplies and collectibles, meet content creators, and more.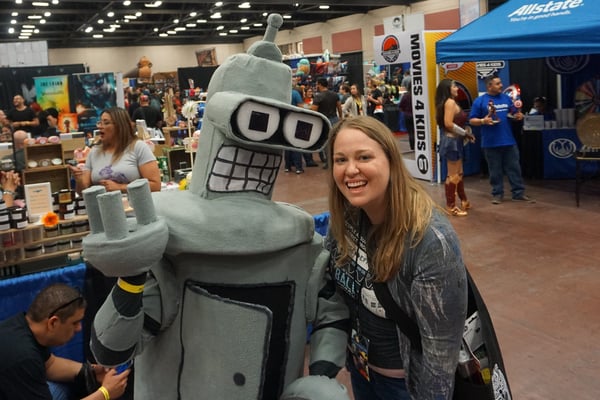 The author with a cosplayer as Bender from Futurama at El Paso Comic Con 2018.
The Doña Ana Arts Council in neighboring city Las Cruces hosts an annual Renaissance Faire. Looking for year-round meetups? Connect with local chapters of SCA and Amtgard.
6) Adventures in the Wild
The El Paso Zoo Society combines science with sci-fi at various events throughout the year. Many of the zoo's special events focus on popular fandoms and turn the zoo into magical lands. Past events include a Harry Potter themed night with a hunt for horcruxes, and on Star Wars Day, "May the Fourth be with Zoo" provides visitors with "Jedi training."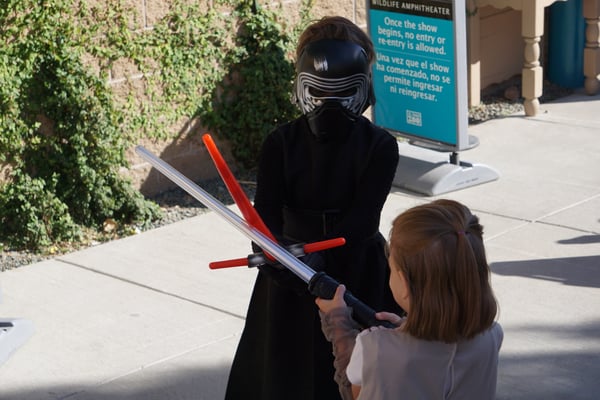 Military family the Mabreys enjoy cosplay and lightsaber fighting at the El Paso Zoo's May the Fourth Be With You 2018.
7) Ghost Sightings
For those with a flair for the supernatural, take a tour of a historic haunt and explore the scary side of the Wild West with one of the companies providing paranormal entertainment. Lost El Paso Paranormal and El Paso Ghost Tours have offerings at a variety of locations including missions, hotels, and graveyards for a thrilling way to explore the town.
8) Nerdy Dates Nights
Insights El Paso offers science programming for everyone, but if you're searching for a unique date night, their Nerd Nights program brings scientific talks to local restaurants, bars, and other meeting spaces.
9) DIY Tools
Express your artistic side with one of the businesses that offers workshops and classes for building your own creations or tech. Fab Lab El Paso has cutting edge technology like 3D Printing and classes for every age group, billing itself as a "family-friendly makerspace and hackerspace." Snapology provides the perfect place for camp, classes, or birthday parties for the little builder in your family. The El Paso Library system also features STEAM programming and a makerspace at the Main Library.
10) Just Take My Money
The El Paso community has a sizable number of local comic book and gaming supply stores that serve as places to shop and socialize. The Game Vault offers a place to look for video, card, role-playing, and board game supplies. The owners hope to provide a space for tabletop gamers to play for fun or in tournaments, and they have a large selection of demo games for all ages available to play in an area they are transforming into a gaming cafe.
Military Gamer Supply is an active duty owned and veteran operated gamer supply store with room for store events, classes, and gaming groups, including a focus on miniatures - this is a great place for soldiers to spend some time off-duty on their favorite hobby.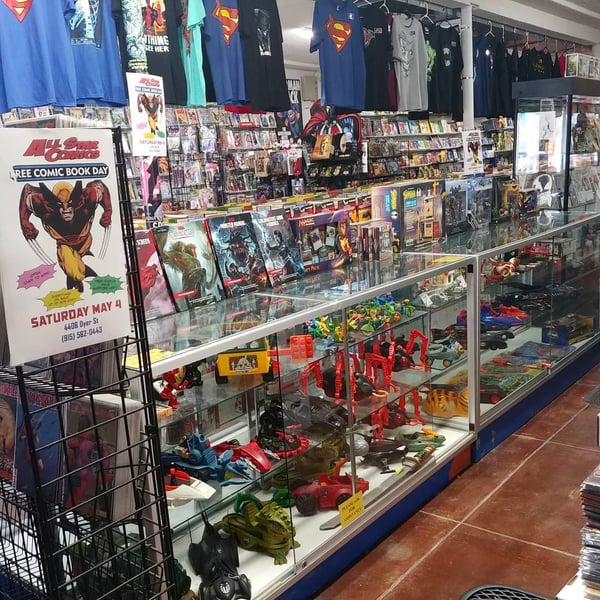 Inside All-Star Comics store (image via Facebook page).
For comic fans, All-Star Comics is located right outside of post, and families will appreciate the clear display of comics for kids, a giant Hulk statue, and a large selection of vintage toys and collectibles.
Linear Comics and Games is a small but friendly store focused on building community. Go in to buy new comics and game supplies, and stay to join a tabletop gaming group while your kids check out a video game or get into a discussion with a fellow comics reader. These are just a few of the local gaming and comic hangouts, and many will be participating in Free Comic Book Day the first weekend in May.
Have you been stationed at Fort Bliss? Share what "nerdy" activities you love in the area!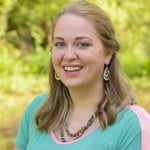 About the author: Meredith Flory is a freelance writer currently living in El Paso, TX. She has a master's degree in children's literature from Kansas State University, and her monthly column on educational issues can be read in Augusta Family Magazine. Follow her articles on military life, travel, and parenting on Facebook and Twitter.