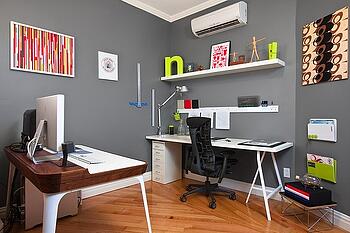 Skilled designers have known for years the timelessness of the perfect shade of gray paint. With the resurgence of all things "Grey" in home decor during the last three to four years, the color is more popular than ever. Acting as a sophisticated neutral, gray pairs well with many other color options, but it's a strong enough color to hold its own characteristics with other neutrals to complement it.
There's a subtle art in choosing the perfect shade, however. Grays have a chameleon quality that may enhance a space, but if used incorrectly can highlight imperfections. These tips and tricks will help determine which color of gray fits your room. (In case you're curious, I used grey in the title in reference to the popular book by E.L. James, but the g-r-a-y spelling is most commonly used in the United States.)
Warm or Cool Tones
A gray's shifting color stems from the background hues included in the color formula. There are many categories to define a gray, but for simplicity, a breakdown between cool or warm should capture most grays. This concept is important because warm gray will give a room a very different character or feeling than a cool gray will. Begin color shopping with a white paint swatch in hand. Compare the white to each gray considered. The white in comparison will show off the gray's cool or warm tones.
If the gray has a warm feel or look, its likely to have brown, taupe, or yellow shades involved within the mix of colors. Warm grey tones tend to give a cozy aura to a room and pair well with creamy whites. There is also a very popular sub-category of warm grays nicknamed greige. Greige is the warmest of all grays and appears nearly beige. Bathrooms and offices will become snug with these shades applied.
Grays with green, blue, or purple undertones can be considered cool. A blue-gray will resemble a steel color and blends nicely with pure whites for trim. These colors are considered soothing and would work well in a bedroom or living space. Charcoal gray is often seen with a bright yellow, but an orange or red would also be very complementary. Cool grays and pinks are frequently seen together in a baby girl's nursery.
Preparation and Application
Preparation is imperative for all paint color application, but especially so for gray, as it will take on any color it is layered upon. A quality white primer will neutralize previous shades and make a blank slate for the gray paint to adhere.
In the case of gray paint, flat is best. Semi-gloss or satin paints will emphasize flaws. Flat paint covers easily and thoroughly. Purchase sample sizes of the paints that interest you and apply 1'x1' squares of each, side by side, to the surface you are covering in order to compare and contrast the variations in each choice.
Lighting is equally as important as the preparation. Gray paint will change in appearance between day and evening light. The injection of artificial light from lamps and overheads will also change the appearance, as will shadows and window placement. It's often recommended to live with these sample squares for three days to notice how each reacts to various lighting.
Gray in Your Home
The variations of gray are endless, but there are useful guides from paint manufacturers that will take some of the guesswork out of your decision. Benjamin Moore has compiled a list of its best-selling grays while Behr offers a guide on how to use gray in different decorating styles such as "glamorous retreat" and "fresh and modern."
And don't forget--MilitaryByOwner's decorating articles that may inspire you to choose your next home improvement project!
photo credit: nkeppol

via

photopin

cc