6 Things to Consider Before Renting Out a Room in Your Home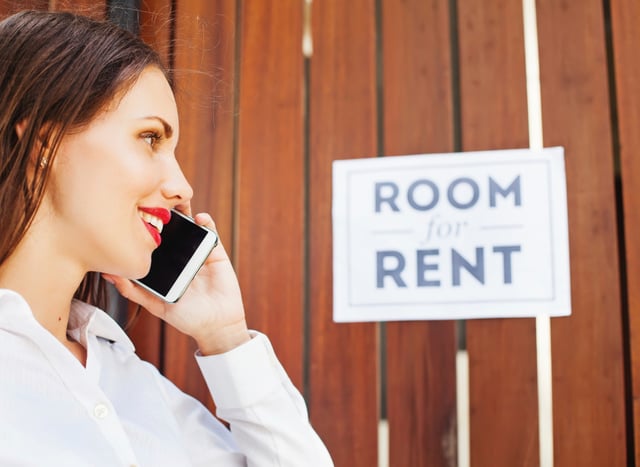 Have you ever considered renting a room out of your house?
Sharing a household can be a challenging situation. It's hard enough living with your spouse sometimes, let alone strangers! However, renting out unused space in your home can be an enormous financial benefit, provided your local ordinances allow it. Since renting property actually entitles you to a tax break, you have the opportunity to not only save monthly but also yearly. Whether that extra cash will go toward your mortgage each month or straight into savings, additional income is always welcome.
Where to begin if you decide to rent out extra space in your home?
First, choose the rental space. Are the tenants going to have one room in the house with a bathroom? Will they share the hallway bath? Is there a private living area in the basement? These are things you need to determine before listing your space. First, take a look at the space in your house. Are there rooms that are empty or serve no functional purpose in your home? Chances are, that space would benefit you more from renting than sitting empty. My brother and sister-in-law have set aside their guest room with easy access to the community bathroom and kitchen for rental property. They are comfortable with this more open set up since they rent only to close friends and family in need.
"Guest proof" your home. Once you determine the rental space in your home, you need to secure your house. Go through your home and take down anything you do not want exposed to this new person who will be living there. These things might include photos, fine jewelry, collectible items, or antiques. You should also consider putting bolt locks on bedroom doors. This action ensures security for both landlord and tenant. It also gives both parties a peace of mind that the other is not snooping in private space. All of the above is solely based on your personal comfort zone. Our family did not choose to provide extra security since they had previous relationships with their tenants.
Determine a monthly rent. How much will you be charging your tenant? What does their rent include? Does it include utilities, Internet, cable, groceries? My friends include everything they already pay for and if the tenant wants anything in addition to what is offered, the tenant provides the payment themselves. To decide on a specific amount, check MilitaryByOwner's "rooms for rent" listings for listings similar to yours (Simply select "room" under "property type" on the advanced search). You can also look at local listings to make sure you're asking an appropriate amount. In most areas, you should be able to get over $100/week, but again, keep in mind the space you're offering.
Choose a tenant. This can be the scary part. How do you choose a person to share your home with? Start with a background check. MilitaryByOwner

partners

US Legal Forms and SmartMove

provide rental applications and comprehensive background and credit checks. Other preferences will come into play as well.

If you don't want a smoker or pets in your home, be sure to advertise that fact. My friends and family who rent out rooms generally tend to advertise within the military community.
Establish boundaries. Much like setting up space for rental, you need to set boundaries for your tenants to follow. My sister-in-law, Adrienne, says, "Set your boundaries when they move in, as they are harder to change when there is an established norm." A big boundary discussion is the kitchen. If they do not have their own private kitchen area for use, what are your expectations for the main kitchen? Are they expected to eat meals with the family? Do they need to buy their own groceries and provide their own meals? Establish how you are going to share the space and make your expectations clear. Are you comfortable with them having guests over? Are they expected to host in the main area of the house or is there a designated area for them to entertain? Are their guests allowed to stay over? For instance, my friends had another single friend living with them and he enjoyed having different girls over to stay the night. Eventually, it got to the point that they had to ask him to no longer have guests stay overnight. As Adrienne stated earlier, it was a much harder discussion to have at this point than simply setting the rule from the start.
Lastly, get it all in writing. Once the space, rent, tenant, and boundaries are established, be sure to create a written document to be signed by all parties. A verbal agreement won't hold up in court if anything goes south. It's better to follow the formalities now, rather than fight a much larger battle later.
Last but not least, communication is the absolute key to sharing space. The best thing that you can do for you and your tenant is to be direct.