Tips for an Organized PCS Move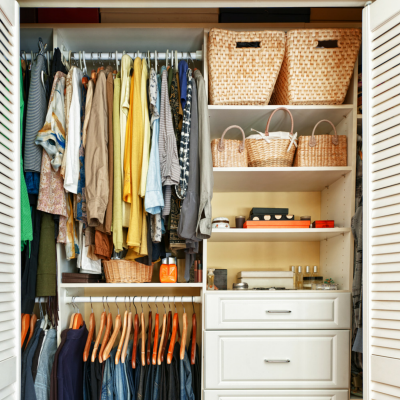 When it comes time for a PCS move to a new duty station, my desire for organization kicks into overdrive. Certainly I am not alone in the number of horror stories I could share about the chaos of items found deep inside brown boxes after a military relocation; however, I continue to strive for the perfectly organized move.
Junk Drawer
Admit it--you have one, too! Don't all homes have a drawer that is packed with take-out menus, neighbors' phone numbers, pens, pencils, erasers, and scissors? The funny thing is, I feel like this is somehow orderly, meaning that everything in there has no other logical home. I would like to keep these items together, so "Gallon Ziploc, proceed to organize." That's right, the big box of gallon Ziploc bags are my best friend, as you can rest assured that everything you zip into that see-through plastic bag will be in the same place you left it when it makes it to the other side.
Kitchen
This is the place where my Ziploc bags are most comfortable, so it is the perfect place to utilize them once again. Silverware drawer? Check. Wooden spoons, measuring spoons, and small kitchen tools? Check. And what better place for all of your spices than in a contained environment than, yes, you guessed it, a Ziploc bag! You will rejoice when you unwrap that wad of beige packing paper to find a neatly organized bag full of items that belong together and can be easily unpacked.
Linen Closet
The proverbial Pandora's box of your home is surely the linen closet. Buy new sheets and shove the old ones into a closet – out of sight, out of mind! Pillows, towels, and granny's heirloom tablecloth are all stashed away, but what happens when it comes time for the packers to box it up? Given the proximity of the linen closet to most bedrooms, your heirloom tablecloth will likely end up being used as packing material for your kids' toys. I don't want to give the impression that I am not environmentally conscious, but I am going to push another plastic bag idea… Space Bags. This gem of a tool is the perfect way to organize all things linen. I have also found it very useful to take down all window coverings and place them in a bag together before the movers come to town. You will thank me when you come across this box in the sea of cardboard and in one fell swoop, you have crushed another box and filled your linen closet in an organized fashion.
Toys
I may have misspoken when I said the linen closet was Pandora's box, because if you have kids, you have toys and probably a lot of them. Here were a few of my challenges and how we dealt with them.
LEGOS®
To say my son loves LEGO would be a gross understatement, and he was very concerned about what would happen to the pieces he'd assembled when it came time to move. I honestly could not promise that his X-Wing fighter would make it across the country in one piece, but I had to find a way to reassure him. Wait for it... Ziploc Big Bags were the perfect answer. I could place the masterpieces into these bags in one piece and that way, if any of the pieces fell off, they would remain close to home and easily reassembled. Placing all of the loose pieces that were part of a kit into smaller bags along with the instructions meant that nothing would be lost in transit. Admittedly, he may have inherited some of my organization tendencies.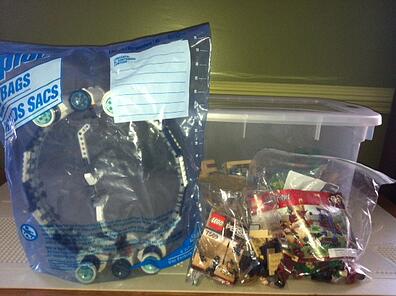 Doll Clothing
My daughter's American Girl dolls have a wardrobe that puts mine to shame, so trying to find a way to keep the items organized while moving was another challenge. Purchasing an inexpensive over-the-door shoe organizer was the solution I was looking for. The pockets were just the right size to store outfits, jewelry, handbags and shoes. Yes, they really have all of those things for dolls! We asked the packers to fold up the organizer and put it straight into a box. Pulling it out and hanging it on her new closet door was one of the easiest things I have ever unpacked.
Small Toys
We found the rack of plastic bins that you can find at a number of retail stores to be a great way to keep toys organized on a regular basis, but when it came time to move, I was thrilled at how easy these bins made the process. We decided to add each of the kid's bins to our DITY move so we could have the items with us immediately upon arrival, but you could just as easily have the packers wrap paper around each bin and then pack it in a box too.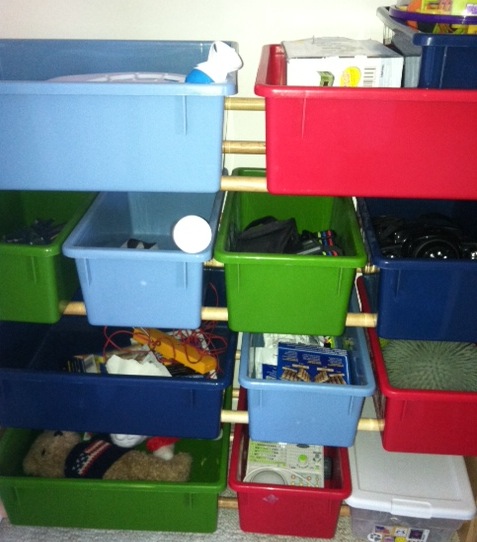 Clothes Closet
Garment boxes are cringe worthy! Guaranteed that when you open them up you will find empty hangers and a heap of clothes at the bottom of the box. I am not a big fan of hanging up my clothes on laundry day, let alone my entire wardrobe. Grouping several items together and placing a garment bag over them will help ease the mess and keep the items of your closet together as you prefer. Space Bags are an asset in this closet too, particularly for t-shirts and sweaters, keeping them clean and neatly organized.
Clear, rectangular storage boxes are ideal for pairing and storing your shoes, thus avoiding the box of mismatched and crushed shoes.
DVDs/CDs
Plastic CD and DVD cases do not fare well when moved from home to home, so invest in a storage box that will allow you to store multiple items to ensure safekeeping.
Power Cords
After multiple attempts to decipher the mound of cords that were "neatly" packed with ourstereo equipment, I decided I needed to put an end to the confusion and label each cord before it was dismantled. A few moments with my label maker eliminated this moving dilemma for good. For more tips on this subject, see our post "Simple Solution for a PCS Mess".
Packing Chat
I must admit that as hard as I try to make this work, I still find I have to monitor the packers much like I monitor my kids cleaning their room. I like to have things grouped together regardless of what room they may have come from. I do this for a couple or reasons: there may be items I won't be using at the next home or I may choose to unpack all of the artwork last and would like those items packed together. Prior to the packers' arrival, I usually gather things together that I would like packed together and explain that even if an item came from a different room, I would like it packed together. I have engaged in a battle of wills as I watched a packer continue to take items back to their home base, only for me to turn around and bring it back. Because I don't really have eyes in the back of my head, it's easy to have things go awry, but I still think it is worth the effort in the end.
Military families are savvy movers and I love to glean inventive ways to keep the stress of PCS to a minimum, so please share any tips you may have!