Permanent Change of Station = Probable Cause of Stress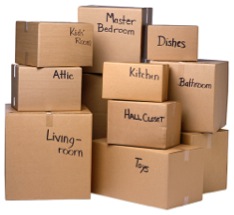 By Christy Shields
MilitaryByOwner Staff Writer
Well, here I am, in the middle of my PCS move. My stuff is packed up and on its way to Alaska. It occurred to me early on in this process, that instead of the acronym PCS standing for Permanent Change of Station, maybe instead PCS should mean Probable Cause of Stress. With every PCS move I make, there are those folks that chime in and ask, "how hard can it be? …The Army moves you right? …So what's the big deal?". Pulease! Moving is tough, every time. I have to be honest though, even with the number of times I have PCS'd, this time around has been particularly stressful, and there have been a lot of 'firsts' along the way. While not my first time PCS'ing without my husband (which is hard in its own right) with this PCS move I'm a first time landlord, a first time car-seller, and a first time "empty nester". My family is now located in 4 different states! Good thing the world is a small place, right?
But, I digress…back to the move. The orders were short notice, but quite an honor and to a place we are excited to be stationed. Upon hearing of the move, my first thought was that I wanted to sell my house. So in a frenzy of activity, my husband and I decided to have a yard sale and hauled a bunch of stuff to the garage. At the same time, I started taking pictures off walls, patching holes, and pulling up every can of paint, caulk, spackle and tools from the basement so that they would be conveniently located all over my kitchen counter and floor. Hear me now….MISTAKE!! Be smart and take pictures of your home before you tear your house up. It's great if you have time to stage your home for pictures, but when faced with a short time frame, just clean up important rooms and get a good, clear photo. I ended up being fortunate enough with my outside pictures to garner some attention with my MilitaryByOwner.com advertisement, but, note to self for the future – pictures first, tear up house later!
Anyhow, I quickly realized that I couldn't get the price I needed to sell my house. So, I used MilitaryByOwner.com to advertise it For Rent. I kid you not, within 2 hours of submitting my advertisement I received my first good lead. Within 2 days I had 3 solid leads. I used the tenant-screening tool, Transunion's SmartMove, which was convenient and quick, and I appreciated not having to ask folks for any personal information. In short order, I received a background credit and criminal check and was able to accept my tenants. As soon as I accepted my tenants, I placed my ad in a "Lease Pending" status, which kept it on the site, but let people know that there was in fact a Lease Pending. Shortly thereafter, I received my security deposit and my tenants and I both signed the Lease Contract. I felt very fortunate that the process happened so quickly and smoothly, and with such a lovely family. It was a huge burden off my back. I marked my ad as "Rented", which took my ad off of the site within days of posting it. I printed and used the MilitaryByOwner.com walk-through checklist and made sure to document my home with lots and lots of photos. All the tips, tools and guidance available through the MilitaryByOwner.com Blog and Resource Page were invaluable to me. I can't say it enough…. MILITARYBYOWNER.COM DID NOT DISAPPOINT!!
With my sons all tucked into their dorm rooms, my house spiffed up and rented (phew), all medical screenings complete for an OCONUS tour, addresses changed, one car shipped, the other car sold, mail forwarded, etc. etc., the PCS acronym changed for me again, rather than Probable Cause for Stress, it now means a Promising Chance of Success! MilitaryByOwner.com was instrumental in helping the "S" in my new acronym turn from one of Stress to Success. Thank you MBO!!
P.S. I didn't have the need to use US Legal Forms or PCS Lodging with this move but both are welcomed resources for military members on the move. US Legal Forms allows you to access state specific forms, sales and rental contracts and PCS-Lodging makes it easy to book your hotel stay nationwide near US military bases.