By Chris Birk
Guest Writer
Veteran's United

Buying a home can be an exciting time in your life. But experiencing a little fear of the unknown is still common, especially for first-time military homebuyers. This is a big-time financial decision that can't easily be made.
Trying to get a clear handle on your purchasing power is one of the key steps you can take on your own before you officially start the home buying journey by seeking loan prequalification and preapproval through Veterans United.
There are several tools at your disposal to help you set realistic expectations.
Examine and Adjust Your Budget
The first place to start is your monthly budget. Make sure you know how much money is coming in and how much money is going out. Buying a house is a big commitment, and if you can make adjustments now, it could affect the type house and loan you end up getting. Essentially, your budget will help you determine how much of a house you can actually afford.
Once you have examined your basic monthly budget, you'll want to gather your monthly major debts and divide them by your gross monthly income to calculate a rough debt-to-income (DTI) ratio. For example, let's say you have a gross monthly income of $3,500 but you have the following debts:
- Rent = $800/month
- Car payment = $250/month
- Student loan payment = $200/month
- Total debt = $1,250/month
With these numbers your current DTI ratio is roughly 36 percent (1,250/3,500). The VA generally looks for a DTI ratio that does not exceed 41 percent. So now let's say we replace your current rent rate with a mortgage payment that's $250 more than your current rent:
- Mortgage payment = $1,050/month
- Car payment = $250/month
- Student loan payment = $200/month
- Total debt = $1,500/month
These new numbers would give you a DTI ratio of close to 43 percent (1,500/3,500), exceeding the 41 percent general cut off. Going beyond that benchmark doesn't necessarily mean you can't get a VA loan, but it will likely require you to hit additional requirements.
Work on paying off as much of your debt as possible before pursuing a VA home loan. That might mean waiting a few extra months before applying, but it could save you a lot of hassle and headaches.
Play Around with the Numbers
Now that you have a better understanding of your current financial situation, you can begin to plug numbers into our VA loan calculator. On this tool you'll see a big box with sliders that allow you to select your purchase price of home, your estimated down payment, your estimated interest rate and your credit score. It is important to note that for most VA borrowers there will be no down payment, which is the single biggest benefit of the program.
Continuing with the example from above, let's say we are looking for a home in Fort Riley, Kansas, and plug the following numbers into the calculator:
- $180,000 purchase price
- No down payment
- 4.25 percent interest rate
- Good credit rating (660-719)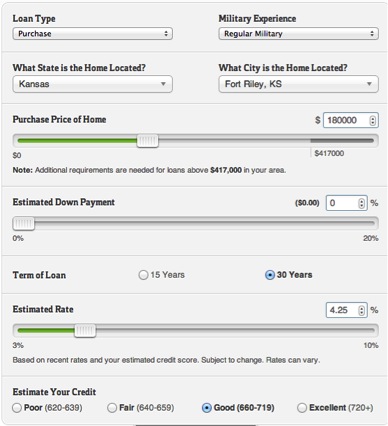 To the right, you will see a smaller box that shows you what your estimated monthly payment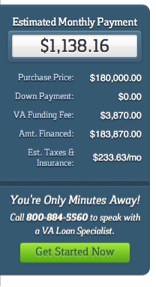 would be based on the information you have plugged in. The box also shows you an estimate for your monthly taxes and insurance rates in addition to the principal and interest. Overall, your monthly mortgage payment will consist of four elements: principal, interest, taxes and
insurance (better known as PITI). The box will also provide you with your likely VA Funding Fee, which is a fee the VA applies to every loan it backs. This fee helps keep the loan program going. Borrowers with a service-connected disability don't have to pay this. Most VA homebuyers choose to roll this fee into their loan.
With those numbers we get an estimated monthly payment of $1,138.16, meaning a $180,000 loan may be tough. So just how much house can you buy without exceeding a monthly payment of $1,000?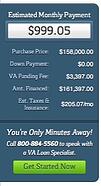 Based on our new calculations, a purchase price of $158,000 would give you an estimated monthly payment of $995.05.
This tool is a great way to get a rough idea of exactly how much you can afford to borrow. There are other aspects that will also influence this, such as residual income. Prospective VA borrowers are required to have a minimum amount of money left over for things such as gas, food, clothing, etc. The amount of residual income depends on where they live and their family size.
Calculators and back-of-the-envelope calculations can be helpful at the outset, but talking to a VA lender about getting preapproved can provide you with a much more realistic look at your situation.
Information provided by Veterans United