Overcoming Small Space Living of Military Housing
Is bigger really better? It may be if we are choosing a serving of apple pie, but if we are discussing military housing, the choice to "live large" may not be an option. With each move, housing allowances or small, off-base housing options limit military families. Living in the lap of luxury at one duty station and embracing the cozy lifestyle at the next, there certainly are advantages to small space living, but since storage isn't usually one of them, we are sharing a number of ways to overcome the challenges of limited space.
Expand Your Shelving
Even in the largest of homes, it seems there is never enough room in the pantry to store all of your dry goods. Typically a closet, no larger than those intended for coats, with flimsy metal shelving, it can challenge even the most organized individuals. Redesigning the shelving options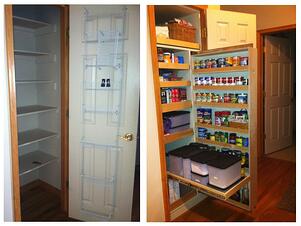 can turn a small, cramped pantry into a dream of abundant space. This before and after photo is a perfect example of a pantry makeover that went from standard to sensational with the addition of pullout shelves and custom features.
Double Duty
Storage ottomans, tables with drawers, chests and trunks are a great option for storing extra pillows, blankets, books and toys that also add a stylish touch to your home.
Television stands or entertainment centers are a great way to incorporate functionality with necessity. A more sophisticated version of the milk crate television stands used in college dorm rooms, entertainment centers offer storage space for movies, CD's, DVR's and audio/video equipment. Even stands with open shelving can act as a valuable storage area with the addition of baskets or metal buckets purchased from a home improvement store and painted to match your décor.
Accentuate the Positive
Using accent pieces such as, woven baskets, decorative boxes, lidded jars and bowls can help eliminate clutter while providing a beautiful accent piece. Baskets for car keys, remote controls, or charging stations for electronics can organize a small space, making it look and feel roomy.
Hide Under the Bed
Shoving your clothes and toys under the bed when you were younger was an easy way to get out of having to clean up our room, that is until your mother found your hiding place. Admittedly, it is a great idea to utilize the space under your bed as a dignified storage option. Obviously we are not the only ones to think of this idea, as a number of companies have developed bags and plastic storage bins that are designed to go under the bed.
Under the bed is an ideal space to store seasonal clothing items, extra bed linens and toys and stuffed animals in a child's room.
Suck it in
We are not suggesting that you need to suck anything in after indulging in that apple pie, but rather recommending the use of Space Bags, a brilliant product that can greatly increase the useable space in a linen or clothing closet. Ideal for storing sheet sets, blankets, pillows and sweaters, these heavy-duty plastic bags allow you to expel the air and condense the contents. It is not only a space saving option, but it also protects the items inside.
Look Up
There is a vast amount of usable space above our heads. Take a moment to look up and see if you can add vertical storage, bookshelves, pot rack or photo ledge that will lighten the load you see at eye level.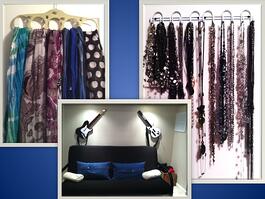 Instead of storing gaming components on the floor, these items are utilized for a decorative touch in this photo. A simple belt rack acts as jewelry hooks for organized necklaces and a special hanger makes scarves visible and accessible without taking up valuable space.
Think Outside of the Box
When space is limited, it is important to not get hung up on putting things in the tradition areas. A utility closet can act as a storage area for keeping bulk items from big box stores, china or crystal that is infrequently used or even light bulbs and HVAC air filters. Wire shelving is inexpensive, readily accessible and easily installed and can create an abundance of storage space. Large serving platters that strain your cabinet space can be stored inside of ovens while not in use. Creativity can go a long way in creating extra space in a home. If you need inspiration, visit The Container Store or look at home improvement websites, such as HGTV, which will lead you in the right direction.
Military families are known for their ability to improvise, so creating space where there is none is well within the reach of everyone. Share your tips for creating an organized, roomy space.