5 Factors to Consider for Childcare Options at Your New Duty Station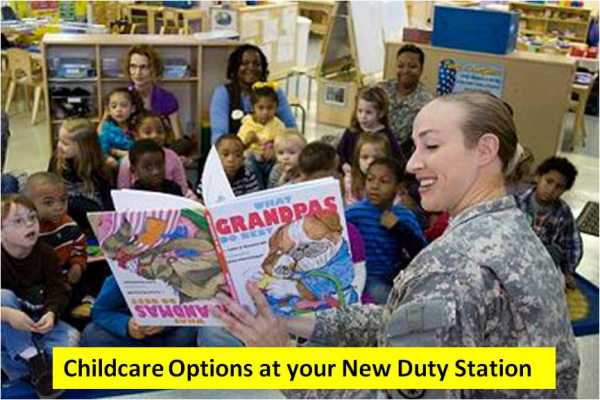 After an exhausting move and a jarring transition to yet another culture shock, the last thing most military families want to even begin to consider is trusting their most precious cargo in the hands of the locals. No, no, I'm not talking about your diamonds, pearls, China, or even your flat screen TV. Your most precious cargo is your children, silly!
You could consider sticking with the tried and true—the CDC or an in home provider on base—where at least your children will remain in the relative security of the familiar, the military community. For the brave of heart, off-base in home providers could help your child adjust to the local culture, perhaps far more quickly than you will. With an alarming alacrity, your precious darling may come home spouting the foreignisms of "y'all" or "you's guys," no matter your particular preference to either the Deep South or Yankeeville, depending on your preferred Civil War affiliation. For the even more adventurous, you could shirk off the locals entirely by entrusting your darlings to an actual foreigner, an au pair who will share her culture and cuisine with your family for the year-long period in which she will reside in your home. Then again, there are always the same corporate daycare centers that you could have enrolled your child in back home, but you're part of the military family now, so be brave!
To make the process of selecting which childcare option best suits your family somewhat easier, we have identified five key factors for you to consider when selecting childcare options: Price, flexibility of caregiver's schedule, curriculum, a family style environment, and safety. Once you identify which factors are of greatest importance for your family, it is then easy to distinguish which childcare options will help you best meet the needs of your family.
Before even considering any other factors, price often quickly limits the options available for military families. In some parts of the country, such as the National Capitol Region, daycare centers regularly charge $2,000 per child. Even for those who can afford these rates, waiting lists regularly exist, making it challenging for military families to compete for spaces, particularly when some centers have waitlists of one year or more. Other parts of the country, such as near Naval Station Everett in Washington, rates are significantly less, hovering around $1,200 per child. This, however, is still a high price for most families to consider when factoring in the costs of taxes, transportation, and business clothes that a family would also have to pay to have both parents working. At these rates, many families must consider whether having both spouses working is a prudent decision.
One of the least expensive options for childcare is daycare in a caregiver's home. However, the CDC's on base offer rates contingent upon rank and family income, so depending on these factors, the CDC can offer a lower priced alternative to daycare centers. Otherwise, the rates for the CDC are generally competitive with rates in the local economy.
Flexibility of Caregiver's Schedule
If parents work set schedules, then flexibility of a caregiver's schedule is generally not a key factor in the decision process. In this case, a daycare center or the CDC present the best options for families who cannot easily work around the schedule of an independent babysitter or in home caregiver who takes vacation time or sick time.
For parents with a greater need for flexibility, a dependable babysitting service or an au pair present the best options. For the former, the DOD has partnered with SitterCity to offer military families free access to the site where they can find pre-screened babysitters with reviews from other families. For the latter, an au pair offers up to 45 hours per week of childcare services on a schedule based entirely on the family's own discretion. If you and your husband like to work out at 5:00 AM three mornings per week, or if you would like to ensure a date night once per week as part of your time allotment, then an au pair can help make this a possibility.
If educational enrichment is key for your child's needs, then either the CDC or a daycare center typically provide the best options, though in some cases, in home daycare centers do follow a set homeschool-style curriculum. Alternatively, Montessori daycare centers follow the philosophy that each individual child will find his or her place in the world and offers the opportunity to explore their own interests in learning. For military families stationed near Norfolk Naval Base, learn more about the Montessori philosophy by visiting East Beach Montessori.
A Family Style Environment
If the essence of a corporate childcare center does not sit well with your family parenting philosophy, then the strict policies and procedures at most CDC's will likely not offer a good fit for your family either. Instead, the small, age diverse groups of daycares offered at the home of a caregiver will likely provide the best fit for your child, providing your child the opportunity to develop socialization in the context of a family style environment. In many cases, the caregiver in these daycares is a mother herself. For a list of these daycares, contact the CDC to find homes on base, and in some cases, the CDC will often keep a list of off-base homes in which military spouses serve as caregivers.
In any consideration for childcare, safety is paramount. Unfortunately, no single option exists that provides the optimum solution for safety for your child. Comprehensive background screenings and stated adherence to strict licensing regulations can bring good peace of mind to parents. Regardless of such conditions, though it is incumbent upon parents to use their best discretion when selecting a provider. In all situations, make sure to do your own research online and ask for references for any provider.