5 Tips for Selling Military Housing "By Owner"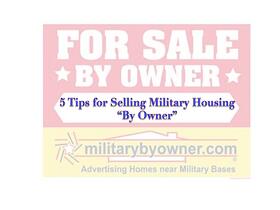 After 14 years of being a landlord and sharing advice on how to manage rental properties and foster a relationship with your tenants, I find myself embarking on a new realm of the real estate experience as a seller.
For the past couple of years, I have dispensed tips for military homeowners who are brave enough to sell their homes "By Owner". But truth be told, I have not needed to heed my own advice, until now. So for myself, and other homeowners who are selling a home during this upcoming PCS season, here are five tips for selling military housing "by owner".
When to List
The easy answer to this question is, as soon as you are ready. While time is of the essence when it comes to military relocation, it is important to take into consideration whether or not your home is ready to show and whether you have done your due diligence to ensure your success. Start the preparation for selling well in advance of when you want to put your home on the market and consider the fact that the PCS season typically runs from March to August. The following items will lay the foundation for the preparation that should be done prior to placing the MilitaryByOwner "For Sale" sign in your yard.
1. Nitpick Your House
The very nature of owning a home comes with the standard "honey do" list of nagging house projects. This is the time to finally cross those items off of your list. Grab your notepad and walk through each room of your home and write down the items that need your attention. Organizing the list by room will allow you to focus your attention on one room at a time, rather than being completely overwhelmed by the entire house. This will also allow you to prioritize each item in case you run out of time to accomplish all of them. Be critical and list the things you may have been willing to overlook, because potential buyers surely will not.
2. Spend to Save
The most common reason that homeowners choose to sell a home themselves is to save the money paid to an agent in commission. However, one of the biggest mistakes "by owner" sellers make is to believe they don't need to invest any money in the selling of their home. "You have to spend money to make money" is never truer than when it comes to selling your home. An agent's commission is paid because of the work that is put into marketing your home, from running comparable sales, proper pricing, taking photos, virtual tours, staging, entering your home on the MLS system, showings, marketing materials, presenting offers, counter offers and so much more. With all of the services you pay for when using an agent, it is unreasonable to think that you can get off scot-free when selling the home yourself. Set a budget for selling your home by calculating how much you would pay an agent using the standard 5-6% commission and evaluate how much of that savings you would be willing to invest in the improvement, staging, pricing and marketing of your home.
3. Hire an Appraiser
Agents have access to a plethora of comparable sales information for your neighborhood and are able to read the market and advise you on the ideal asking price for your home. When you are not utilizing an agent, the most accurate assessment of the value of your home comes from a professional real estate appraiser. Reminder – "you have to spend money to make money", as an appraisal may set you back an average of $300-400, however, using an appraisal to set your price will ensure that you are asking current market value. It also signals to potential buyers that you are a serious seller who has research behind your asking price. Lending institutions require a property appraisal prior to underwriting a loan, and while they will likely order an appraisal of their own, showing a buyer your appraisal will give them solid numbers on which to base their offer.
4. Secure a Closing Agent
Setting your price, marketing and showing your home and procuring state-specific legal forms are elements of the selling process that homeowners can handle, but when it comes to closing the transaction, you need the help of a professional. The laws governing the closing of real estate transactions vary from state to state, so understand the laws in the state you are selling a home and who is authorized to close the transaction. Once you have determined who can close your transaction, contact them ahead of time to clarify what they will need from you and the buyer to open the escrow process. Being prepared for the next step will set you up for success once you accept an offer.
5. Ask for Feedback
This may be the hardest element of the selling process, but it can offer great value. Homeowners are emotionally vested in their home, but when it comes time to sell it is essential to view the process as a business transaction. Yes, this is easier said than done, but emotions can wreak havoc when it comes to negotiating the sale of your home. Asking for feedback on your home from those who view it to can give you valuable insight on how to appeal to more buyers. If you are not comfortable asking directly, leave a notebook on the kitchen counter and offer potential buyers the opportunity to share what they did and did not like about your home. This takes the place of the feedback you would receive from agents who show your home to buyers. Some things may be impossible to overcome, but other comments may allow you to make small changes and tweaks that will help appeal to a broader field of buyers.
It is my hope during my own process of selling our home that I can be logical, methodical and unemotional, as I have advised other sellers to be. While we have covered several areas of the selling process in this post, be sure to peruse our Blog and Resource page for more information about preparing to sell your home.
If you have experience selling a home "by owner", and have advice or tips you would like to share, please feel free to comment.