How Virtual Tours Help Sell Military Housing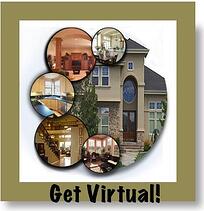 Let's imagine for a minute that you've just received orders to a duty station half-way across the country with a report date set for four months from now (a good, generous timeline for a PCS by Uncle Sam's standards!). You want to take full advantage of your Permissive TDY to secure off-base housing prior to out-processing from your current duty station; however, your spouse is busy with work and can only secure a three-day weekend for home shopping. Bummer. That leaves you both on a tight schedule, but you want to make sure that you have time to see all of your best options for a home in that time frame; after all, this is a big investment!
Welcome to the Age of Information and Instant Gratification! With a three-day turnaround for home shopping looming in front of you, you will need to quickly narrow down your options. The first step (after securing a loan pre-approval that is!) is to contact a real estate agent who can work within your narrow time frame. Then, use the MilitaryByOwner home finder tool to search for homes located near your new duty station. Knowing that your agent suggested selecting a narrow pool of fifteen to twenty homes that you could reasonably see within a couple of days, you take advantage of all of the technological tools to help create your short list.
When creating your short list, if a home has a virtual tour, you tour it; if a home features too few photos and no virtual tour, it simply cannot make the cut. Like 45-percent of all home buyers this past year, you find significant value in experiencing what it would be like to walk through the property, notice the features you admire, and the features you may have to compromise on to quickly determine if this property would make your list. A virtual tour will allow you to answer your key questions: Is it clean? Does the living area seem large? Will the dining area fit your family and guests? Why waste your limited time viewing properties that definitely won't fit your family's needs?
Now, let's switch gears and imagine that you're the home seller. You know that this military family, like so many others, has a narrow window for finding a home. They're seeking instant gratification, and if you cannot satisfy that need, then someone else will. It is important to know that the home shopping and buying process has changed significantly over the past decade, and with it have come far greater expectations. You can view the creation of a virtual tour as a hassle and an expense—albeit a minimal one—but a longer time frame for selling your home will ultimately incur far greater hassles and expense than the simple inclusion of a basic virtual tour. Hiring a professional to create a virtual tour is one option, or you can choose from one of the three easy ways to create your own virtual tour options we have offered through our blog. A virtual tour can increase your range of potential buyers by letting those who live far away to see what you have to offer without actually having to be there, which is key for marketing to military families. After all, you do want to make the short list on that military family's weekend home shopping trip, don't you?
To include a link to your virtual, purchase MilitaryByOwner's Home Tour or Home Tour Plus package.