Top 10 Reasons to Love MCAS Yuma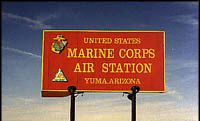 "Harriers West", the message read. A seemingly simple note from my fiancé, but the words made my head spin, my heart stop and all oxygen expel from my lungs. It was a moment of clarity that marrying my beloved Marine would mean a lifetime of notes like this announcing each twist and turn of this great adventure. As a California girl, I wasn't sure that living in the desert of Yuma, Arizona was exactly what I had pictured for my future, but what I quickly found out is that the desert southwest had amazing things to offer.
After two tours at MCAS Yuma, I have an abundance of great memories and special places that I miss, so for those that may experience a similar heart stopping experience upon hearing orders to Yuma, here are 10 reasons you may come to love MCAS Yuma too.
1. Camaraderie – While I realize that a Top 10 countdown should start at 10 and work its way to 1, it is impossible not to start with the best part first. When I think about our time at MCAS Yuma, the first and foremost thought that comes to mind is camaraderie. The memories of time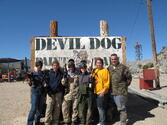 spent with a plethora of incredible people are abundant and MCAS Yuma is the one place that created more life-long bonds than any other duty station. Maybe it is being stationed in the middle of nowhere that brings people together or the rigorous deployment cycles that creates strong bonds, but regardless of the reason, time spent with other military couples, spouses and families resulted in great memories and life-long friendships.
2. Outdoor Activities – Yuma enjoys nearly 350 days of sunshine, and while the mercury gets stuck in the triple digits all summer long, there are a wide variety of outdoor activities to take part in during every season of the year.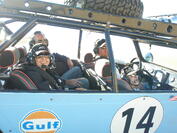 Just down the road, you will find sand dunes made famous in the Star Wars saga. Dune bugging, dirt biking and camping are literally at your doorstep and a great way to spend warm winter days and nights.
Yuma sits below sea level and has expansive areas of flat land, but it also boasts some amazing mountain ranges and incredible hiking trails that allow you to explore the diverse desert landscape and take in the incredible views from the top.
3. Water – As one might imagine, water is vital to the enjoyment of living the desert life, so you will find an abundance of it. (Find military housing near MCAS Yuma) Nearly everyone has a pool in their own backyard, creating a pool party atmosphere year round, but another body of water in Yuma provided some of the best memories I have; the Colorado River. Running right through Yuma's backyard, the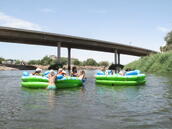 Colorado River is an incredible recreation spot. Whether you swim, float, kayak or fish, the options for year-round recreation are endless. The purchase of a couple of floating islands provided countless hours of river floats for friends and families of our unit and made for a great way to pass the hot Yuma summer.
4. Produce - Not your first thought when you think about a big, dusty desert, but Yuma is actually the winter vegetable capital of the world with its number one industry being agriculture. 90% of all leafy vegetables are grown in Yuma, which is celebrated with a community event known as "Lettuce Days". Fields abound providing an abundance of locally grown produce that is hard to beat.
5. Mexican Food – Quite simply, if you are a fan of Mexican food, it just doesn't get any better than in Yuma. From street-side taco stands, to family own restaurants the Yuma area offers

choices for every night of the week. Here are a couple of my favorites: El Pappagallo, Chile Pepper, Las Palapas and Tacos Mi Rancho. Trust me when I say that you will be spoiled by the great food and will ache for it when you PCS away from MCAS Yuma.
6. Great Restaurants – Spend some time in Yuma and you will quickly see why food makes my Top 10 several times. Not only is the Mexican food fantastic, but there are a number of other genres of locally owned restaurants that I would be remiss not to mention: Burgers and Beer, Lutes' Casino, Da Boyz Italian Cuisine, Jack & Rosie's and Market Wine Bar & Bistro.
7. Outdoor Dining – Yes, food again! Honestly when I think about our time in Yuma, it is hard not to focus on our dining memories. The great part about living in the desert southwest is the balmy winter, which lends itself to outdoor dining. Each winter, locals anticipate the opening of The Garden Café, which offers a beautiful garden dining experience. Be sure to try their spiced iced tea and tortilla soup. Julieanna's Patio Café will provide you exquisite dining ambiance complete with parrots and a wandering peacock. Dining on the patio will transport you to a distant tropical paradise.
8. Phoenix/San Diego – When you need a quick getaway, the beautiful cities of Phoenix and San Diego are an easy 2½-hour drive away. I doubt that I need to tout the appeal of San Diego, as it has beaches and after spending a summer in Yuma, leaving the heat and dust for cool ocean breezes and silky sand is a welcomed break.

Look into the beach rentals on board Camp Pendleton for an inexpensive, oceanfront getaway. A winter trip to Phoenix provides access to sporting events, first-class resorts, outdoor activities and shopping.
9. Cheekie Boutique – Speaking of shopping, one of my all-time favorite stores is a locally owned dress shop called Cheekie Boutique. In a small town it can be hard to find unique pieces, but that is exactly what this store provides. The owner travels worldwide to bring items to the women of Yuma that simply can't be found anywhere else in the area. Better yet, she only buys a few sizes in each item, so you are not likely to have that awkward moment when you show up to a party and several others are wearing the same outfit. Reasonably priced and consistent turnover of inventory means that retail therapy is at the ready.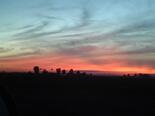 10. Sunrise, Sunset & Rainbows – This may sound like a tourism slogan, but trust me when I say that Yuma has the most beautiful sunrises, sunsets and when the occasional rain shower
passes through, you are sure to see multiple rainbows. The Yuma sky is strikingly blue and the reward for enduring sweltering summer days and nights is the way that most days start and end – with a photo-worthy sunrise and sunset.
As military spouses, we have all experienced moments of panic when our active duty counterpart receives new orders to a remote area of the planet that was nowhere on the "dream list" they submitted and for a moment your heart stops and your palms sweat while you ponder your life for the next several years in your new home. But then we pick ourselves up and start researching military housing, schools, activities, doctors and hair dressers and we turn to the "experts", those military spouses that have gone before us, and soon we realize that every duty station, big and small, has something unique to offer. We seize the moment and find the positive in any situation we are faced with. All of the apprehension I felt the moment I found out we would be stationed at MCAS Yuma was completely unfounded and I hope you too will find that MCAS Yuma ranks among the highest of your favorite duty stations.
Be sure to check out Yumamom.com, a site created by a fellow military spouse to help those looking for fun things to do in the desert southwest.
If you have had the pleasure of being stationed at MCAS Yuma, please share some of your favorite things!