What Does Snow Mean for Your Home Sale?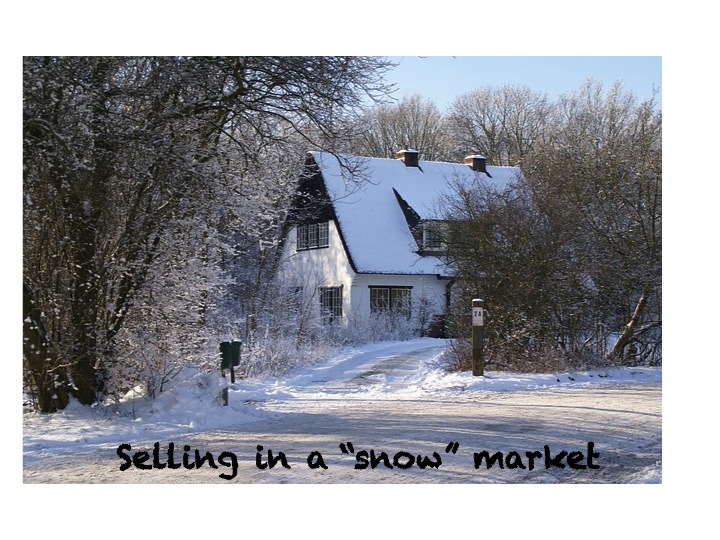 Given the commuting challenges that come with snow storms, an increased amount of snow draws a direct parallel with a decreased amount of foot traffic for home tours and open houses, resulting in a correlating decline in home sales. Research conducted by Goldman Sachs at the end of February of this year showed that the snow index nationwide has far outstripped that of the snow level average for the past twenty years, so hopeful home sellers have had far fewer good weather opportunities than usual to attract prospective buyers in the door to make a sale.
According to the National Association of Realtors (NAR), January was not a good month for home sales. They explained, "Our extreme weather conditions played a big part in our lack of activity…the activity that normally picks up in the third week of January did not show."
Even the Federal Reserve Chair Janet Yellen noted at the beginning of February that the decline in large sectors of the market, namely retail and foodservice, at the beginning of the year may have occurred as a result of the adverse weather conditions seen throughout the early winter. As we now know, those weather conditions did not improve throughout the following month, too.
For the most part, though, military homeowners move during the summer—the traditional PCS season. Therefore, the snow is less likely to have a direct impact on military homeowners with orders to PCS for this upcoming summer, as they would typically only begin to list their properties in February or March, assuming that final orders have even been processed by that time. Listing prior to receiving orders generally doesn't bode well. After all, it wouldn't serve your family well to sell your home only to learn that your career manager has decided a PCA (changing to a new assignment in the vicinity of your current assignment) rather than a PCS better suits the needs of the military! The indirect effect of a slowdown in sales as a result of the snow, however, can affect your sale in several ways:
Homeowners who pulled their listings off the market during the winter may hoist "For Sale" signs as soon as the weather turns warmer, presenting greater supply in the market, and thus greater competition for your home sale.
Homeowners who had previously tried to sell during the winter have now been holding on to a property they intend to sell for longer, resulting in more motivated sellers who may be more likely to offer greater concessions or a lower price point to rid themselves of the property before another winter hits.
Prospective home sellers who experienced damage as a result of snow storms, for example, roofing, pipes, or damage to trees, may need to use the months of March and April to make repairs, pushing their home sales further into the moving season.
For military home sellers in the latter category, listing a property for sale as late as May could result in families holding onto a vacant property for months throughout the summer while trying to sell. Assuming PCS costs and lowered income for spouses who leave employment to move to a new duty station, holding onto this property may cause significant financial hardships.
To end on a more positive note, for those military families who do move during the winter, benefits to a snowy PCS do exist. On the one hand, renting your property until a more profitable selling season arrives can help cover your mortgage costs while you wait to sell. However, that isn't a perfect solution, as with lower demand in the market during the colder months, landlords may need to comprise on rental rates to secure a tenant. A good property manager can help you analyze the market demand and set your rate accordingly. On the other hand, when you do arrive at your next duty station—assuming that it isn't Hawaii or another year-round tropical locale—you too will have greater leverage when negotiating home buying with a seller who may otherwise face many months of snowy weather without an offer.