4 Top Tips for Finding a School at Your New Duty Station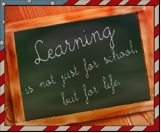 A parent's deployment aside, it's tough to be a military child. The Military Child Education Coalition (MCEC) exists to help recognize one huge component of the military lifestyle that makes a military childhood uniquely challenging, education.
Education does not simply mean classroom learning or knowledge; this is not what military children are lacking. Military children are worldly, familiar with multiple cultures both in and outside of the US, they live current events through their parents, and through their travels they tour historical sites rather than simply experiencing them through a textbook. Students at Hanscom AFB tour Lexington and Concord with their parents, experiencing Civil War reenactments. Students by The Pentagon tour Mount Vernon, the Washington Monument, and Fredericksburg, experiencing the boyhood and adulthood of our first president while seeing tangible evidence of his legacy on the capital city. No, military children do not lack for education or experiences, but they do face their own educational challenges that can present as marked weaknesses on college applications, leaving them at a significant disadvantage in terms of admissions and scholarships.
MCEC explained, "Military children generally move six to nine times during their K-12 school years." While most students have the opportunity to remain in one elementary school, one middle school, and one high school, military children often transfer within those school groups, finding themselves short on credits when moving from low academic achievement districts to high achievement districts, and finding themselves arriving too late to try-out for sports and activities at school. The discontinuity in curriculum and extracurricular activities adds up, making it increasingly harder for military children to keep pace with the robust academic and activity resumes of their peers.
By recognizing the unique challenges facing your military child, you can help your child better adjust to his or her situation by proactively preparing for each school move
Contact your base School Liaison Officer: The SLO maintains a close relationship with all of the schools surrounding your base, and it is the job of the SLO to help you understand the educational opportunities available to your student. As military families do not always have local community relationships to draw upon for favors, such as the opportunity for a late tryout or testing for gifted programs, the SLO can step in to speak with the school on your behalf. If your child is an avid football player, for example, the SLO may be able to work within her network to find a school that will permit a late tryout for military students arriving in the summer following a spring tryout. If your student needs a challenge, but the gifted testing season is over, the SLO may be able to help with that, too.
Research schools online: While the SLO is your best resource for relationships with schools, she will not provide the subjective details of the school community that may make the difference for whether or not your child will find it easy to fit in. Websites such as Military Town Advisor and School Quest, an initiative of MCEC, will help you better understand the culture of each school. Increasingly, military spouses are forming Facebook groups by base where you can ask other military families what they think of various schools in the area.
Communicate directly with the School Ahead of Your Move: You've received advice from both the SLO and online sources, but no experience can replace your own personal interaction with a school. You know where your child will thrive, and what type of mentors that he will require in terms of teachers and guidance counselors. While it won't always be possible to meet with schools to "interview" them in advance of a move, phone conferences can serve just as well. Prepare a list of your concerns in advance of the phone call to make sure that each of your concerns are addressed. If the counselor, teachers, and coaches don't seem welcoming and open to answering your questions, then it is time to consider the next option on your list of schools.
Prepare your Child for School Involvement: Though your student may have no interest in sports or drama, involvement in extracurricular activities is a vital part of your student's holistic educational experience. Without participate in after-school activities, your student will not have the opportunity to fully integrate into her new school community, and will not have the opportunity to learn valuable skills and traits, such as responsibility, accountability, relationship-building, team work, and time management, without significant effort. Though your child may seem reluctant to participate in school activities, the sooner she makes a friend, the sooner the school and community becomes her new home and educational experience.