Holiday Grocery Shopping Made Easy!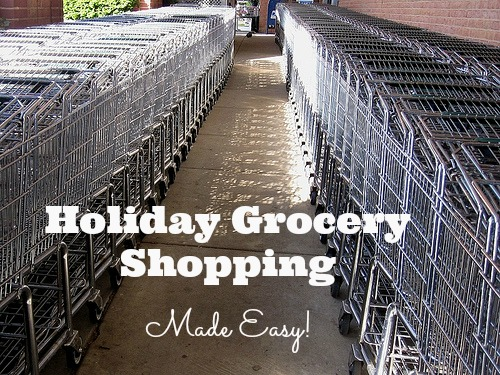 When hosting a holiday in your home, it's inevitable that shopping in all of its various forms will need to be done well in advance and, unfortunately, sometimes up to the moment of when your guests arrive.
Get ahead of the stress and prepare now with lists...and lists of your lists! In fact, take pictures of your lists with that handy smart phone. I leave my lists on the counter as I walk out the door all the time.
The Commissary and Grocery Stores
The day before you set off to holiday grocery shop, take thirty minutes and gather your store discount cards. Load them into your phone or go old school and add them to your keys. Also link them to your kid's school or any other charity that you know accepts a percentage of your spending. We received the pertinent information from our PTA when school started, and it really does make a difference.
Military families can use the Commissary Rewards Card. Simply log in and choose the coupons you need, and see the deals ring up at the register. New coupons are offered several times weekly. Reviewing your holiday recipes prior will allow you to assemble a comprehensive list and narrow your hunt for coupons online and in circulars.
I have a love/hate relationship with commissaries. Of course, the prices are so much better than off post. Commissaries usually have large selections to include the really cool international holiday treats that start showing up near Halloween. Cookies in a tin from any European country are delicious any time of year. For these reasons, I love shopping there.
Commissaries are always busy, not just on payday anymore. There is nothing to be more grateful for than your phone to play with when the checkout line is queued down the bread aisle. Ask one of the baggers which times and days of the week are slowest. Or, maybe your spouse can watch the kids after dinner one weekday evening so you can actually concentrate while you shop.
On my most recent trip, I noticed a major shift in the store setup to accommodate typical holiday products. As I entered the building, rows and stacks of pumpkin pie filling, flour, stuffing, and cans of chicken stock ushered me to a section of the store dedicated to those types of items. It worked! The spiffy cardboard marketing kits resembling a homey kitchen scene lured me into getting a jump start on holiday shopping. The prices were reduced enough so I thought I was getting a good deal, even though it takes me an hour in the car round-trip to shop there.
Specialty Stores
Typical grocery stores are most useful for staples and bulk shopping, but I add specialty stores like Trader Joe's or Whole Foods for the fun, festive, or even pumpkin-flavored holiday products to perk up a holiday event. I can vouch for the pumpkin cornbread Traders released this year, and look forward to adding it to my holiday dinner lineup.
Whole Foods has an amazing bakery selection, and just might help me out with the gluten-free pumpkin pie I need. It's worth the effort to scout places like these to see what unique and delicious additions might be available. Don't forget your local dollar stores for festive paper goods, cleaning supplies, and fun new toys to entertain nieces and nephews.
Remember, catering or taking a meal in a restaurant is a possibility, especially if your guests stay for multiple days. I know it isn't traditional, but the option to a have a guaranteed delicious, professionally prepared menu with no cleanup is very attractive! This idea is more popular than you may think. Finding reservations close to Thanksgiving or Christmas Day in the most sought after establishments will be difficult if not done in advance. An online source like OpenTable will help with reservations and descriptions of special holiday menus.
Wherever you decide to have your holiday meal, planning ahead will make for less stress, especially for the cook!
photo credit: wintersoul1 via photopin cc