Buying a House After Leaving the Military
By Kari Elkins
My husband has proudly served in the United States Army for many years now. As he has gotten older, the wear and tear of military life has damaged his body in ways even he could not have anticipated. Finally, at a routine doctor's exam, he was given a P3 profile, and thus began a whirlwind experience that would result in his final days in combat boots.
Like us, you might be nearing the end of military service, aren't retiring from the military, and want to know if it's possible to buy a house. Here are three important questions you need to ask.
3 Questions to Ask Before Buying a Home After Leaving Active Duty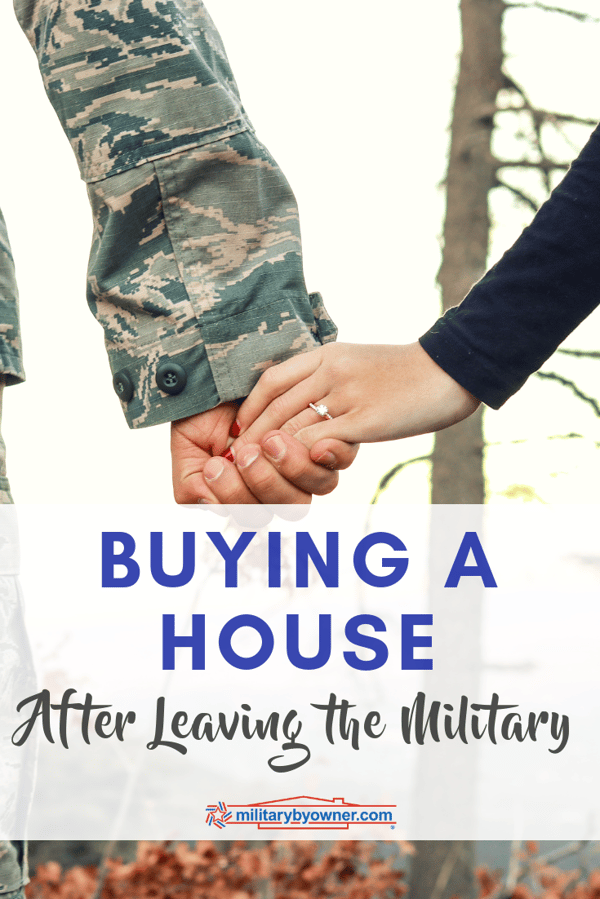 1) Do you already have a job lined up?
Lenders look at your debt to income ratio, so having a job on the horizon is a key component in securing a loan. It matters little that you have had steady pay in previous years, because lenders contact the military and acquire about your ETS (Expiration of Term of Service) date. If you have less than a year remaining in the service, they do not consider this as future income.
You either need 30 days of pay stubs from your new job or an official letter on company letterhead from your future employer. This letter needs to indicate your start date and rate of pay.
2) Will you be moving to a new location?
In order to prove to a lender that you are a good financial risk for them, they want to ensure you have a solid income in the area you plan to purchase a home. This is especially true if you plan to purchase a home using a VA Loan. For instance, if you are still on active duty in Washington state and plan to purchase a home in California, you have to wait until you have your DD-214 and the promise of another job in your desired area.
Taking this into account, it may be necessary to plan for temporary lodging in your new community once you are released from the military. The Joint Personal Property Shipping Office stores your belongings for up to 90 days; this should give you enough time to find something new. Don't forget that escrow can take anywhere from 45 to 60 days, and if you also have to sell a house, that can add to your timeline.
We are thinking about renting a fully furnished vacation home for the transition period. We might end up paying a bit more per month, but we will not have to pay additional deposits, first and last month's rent, or set up utilities this way. It also means that we don't have to move any household items with us for everyday living.
3) What do lenders look at when considering income to debt ratio?
In addition to employment, lenders will look at your outstanding loans. If you have a large amount of credit card debt or are still trying to pay down that fancy Mustang, it will come into play when deciding your loan amount. You need to make approximately triple your total loan amount each month to qualify. For instance, if you wanted to take out a $400,000 loan and your payments will come to roughly $2,000 per month, you will need a total monthly income of more than $6,000. Shocking, right?
If, like us, you thought you could use your GI Bill for education and count on BAH to go towards income, you will be sadly disappointed. That money is not counted as income, because it stops if you withdraw from school.
Similarly, Social Security Disability Compensation is not considered income for the purposes of buying a home, because you will no longer be able to pay your loan if your condition improves and your SSDI is suspended.
Many military families purchase houses while they are stationed at various duty locations using their VA loan benefits. They then move and use the houses they have purchased as rental properties. It's important to know that, even if you are renting the house out and using the rent to pay the mortgage, this is also not counted as income in the eyes of lenders. There is no guarantee the house will stay rented or the renters will pay their bills on time. Therefore, the amount you own on the rental home will go against your debt to income ratio, and you will qualify for less money when you try to purchase a new home out of the military.
Sounds pretty bleak, doesn't it? We thought so, too. Luckily, the military has taught you and your family to improvise, adapt and overcome. The sad reality is, buying a house after the military may not be easy, but knowledge is power, so be sure to stay informed, ask questions, and do you
r research. There is life after the military, but you have to work for it.