Decorating Items to Trash or Stash Before Your Next PCS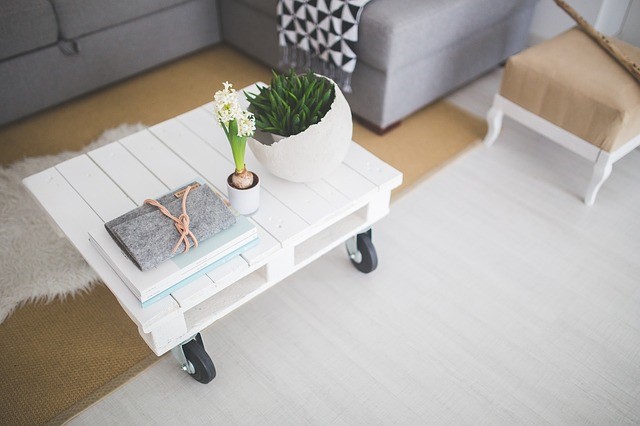 My biggest pet peeve about moving is dragging unnecessary items across the country. In our house, I am the careful curator of household items, but my family is a duo of hoarders of everything that annoys me. Military gear that spans the ages, closets of unworn clothes, and toys are on the top of my list.
Where my weakness might lie however, is with decorating items. I do love a handwoven, sea grass basket collection. But, I am aware of my propensity for woven pieces and other pretty things, so practically will typically rule out and I will schedule at least one garage sale before a pending PCS.
Learning which items have seen better days and how to distinguish between things I truly love and others that I simply am just used to is a constant work in progress. I think these issues are problems for other people, too.
When paring down for a move, keep in mind a few of these life events, then move on to my suggestions (produced from experience) for stashing or trashing your decorating collections.
Stash
Rugs. Good ones are too expensive to just get rid of. With many moves ahead, you will never know where/when it will make sense aesthetically again. Vacuum thoroughly and potentially professionally clean; just be sure it has dried entirely. The movers should do a good job of rolling and packaging for future storage.
Rug pads. These are expensive, too. Machine wash if it fits, but air dry.
Curtains. Hopefully you have been buying neutral pieces to reuse. Recycling options include dying and lengthening or shortening.
Window hardware. Very pricey to continuously re-buy. Use spray paint to update the color.
Quality photographs and artwork. If your latest house doesn't have the wall space to hang pictures or art in frames, then store them appropriately. Also for your own protection: think hard about the potential for hand carrying one-of-a-kind items while moving or entrusting UPS, FEDEX, or USPS instead of the assigned moving company, especially if they are heading to storage for months or years.
Classic table-top frames. Silver, wooden, or neutral colored frames can be used in most homes. If they have lost their charm, there are many decorative choices for updating.
Expensive and reusable painting equipment. Investments in quality brushes, rollers, and other tools are worth saving. Their life spans are longer, and some will become favorites to work with.
Drawer or cabinet pulls. These are a simple way to update a kitchen or dress up a bedroom. Definitely pack these for the next house or the house after, because their looks can change repeatedly with coats of paint or possibly inverting from vertical to horizontal orientation.
Hooks, nails, and sticky-backed hangers. The bits and pieces are tough to keep up with but totally reusable in your new space. The prepackaged "artwork hanging kits" are certainly overpriced. At the very least, help the movers out by removing hanging pictures and stuff the hangers and nails into plastic baggies to be packed.
Trash
Magazines. I suffer from poor information collection management. I LOVE magazines and feel terrible about recycling them, especially if there is one piece of useful information to be potentially used in the future. This WSJ article gives information savers like me several paperless options to feel like we are maintaining up-to-date know how.
Old paint. It's tempting to take leftovers of a color you love with you, especially if it was a name brand and expensive. I cop to dragging quarts of Chalk Paint that I couldn't bear to throw out across the country, but I don't suggest it. The worry from spillage or fluctuating temperatures that will spoil the contents are just not worth the trouble.
Cheap planter pots. They crack, break, and are not equal to the volume of storage used to make their transport necessary.
Sad, raggedy linens. Old towels, blankets, and bathmats need to be replaced, and there isn't a better time than arriving in a new house to update. Use the rags to pack special items in the trailer, for pets on the road, and to have on hand to clean all kinds of messes while making the drive to your new state. Just throw them out at the closest rest stop if needed.
Old mattresses. Because of the expense, it's hard to commit to buying a new mattress if yours doesn't make you miserable daily, but often enough. But these guys have to be changed out because of all kinds of disgusting human body related issues. You know about mites, right? By discarding it before the movers get to it, you'll save weight and it forces you to buy a new one, because hey, you deserve it after a stressful PCS.
Cheap furniture. Sometimes this stuff helps in a pinch, or when your adult life has just begun, but it shouldn't be a mainstay for years on end. These pieces don't move and pack easily. Well, they kind of do because they bend and bow, but they also maintain that odd shape after they arrive. If the TV stand has seen better pressed board days, leave it behind.
Decorative items. People change, and so do some of their decorative tastes. Just because when you were 23 you had an extensive shot glass collection complete with display case doesn't mean you can't get rid of it as you approach 35! It's inevitable--we all mature, so pick items you love now and get rid of the mistakes you made in the past.
These examples are a great place to start, but will probably stoke some of your own ideas as to what is trash and what is treasure, so start sorting today and continue to refer to MilitaryByOwner's decorating and PCS advice to guide you through the next trip.