Don't Miss These National Parks Along I-40 from California to North Carolina
If you're driving cross-country for your PCS this year, make the journey into a fun adventure! The route along I-40 from Barstow, CA, to Wilmington, NC, covers much of what was formerly the famous Route 66, so you have plenty of fun landmarks to see along the way.
You will also pass within a couple hours of several national parks, and this is the perfect opportunity to visit them. Some are right off the road, while others require a slightly longer detour, but all are worth the time and effort.
Here they are, from west to east!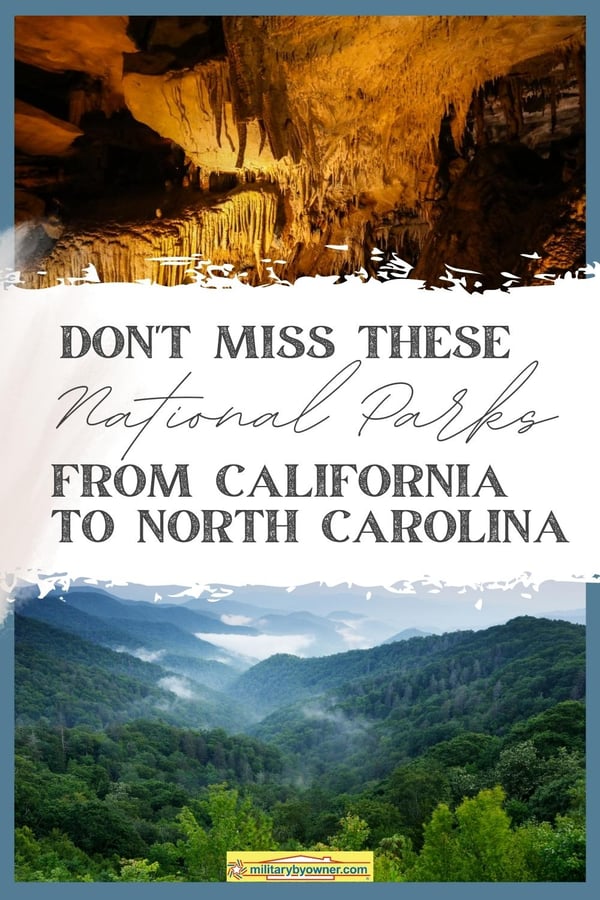 1) Grand Canyon National Park (Arizona)
If anyone in your family has never seen the Grand Canyon, you can't pass this close to it without stopping for a visit. The South Rim Visitor Center is about an hour north of I-40 and definitely worth the detour. Whether you simply drive up and take in the view, do a few hikes, or even sign up for a rafting trip on the Colorado River, don't miss this epic destination!
Part of your adventure can include staying at Fort Tuthill, a military MWR facility located in Flagstaff, AZ. It's about 90 minutes from the Grand Canyon, so you can easily spend a day exploring the Park along with a few days enjoying the many recreational activities at Fort Tuthill.
2) Petrified Forest National Park (Arizona)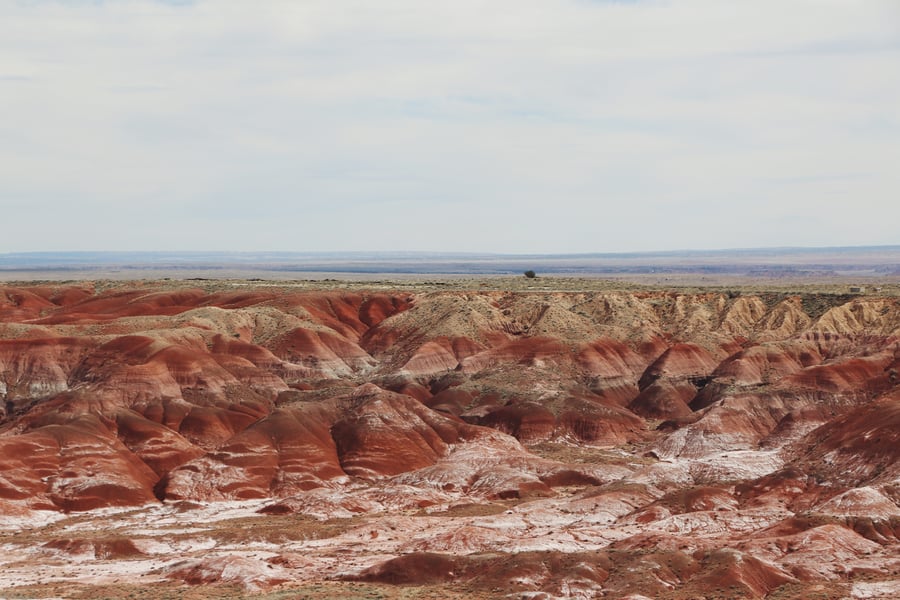 Photo by Wolfgang Frick on Unsplash
Less than 2 hours past Flagstaff and right off I-40 is another national park you shouldn't miss. The Petrified Forest is known for its colorful fossilized wood and beautiful "Painted Desert."
You can tour the park from your car by driving the 28-mile main road. There are also plenty of hiking trails of varying lengths, or you can take a guided tour. To learn more about the history of the park, visit the Rainbow Forest Museum.
Check out the Park's website for suggested things to do based on how much time you want to spend there.
3) Hot Springs National Park (Arkansas)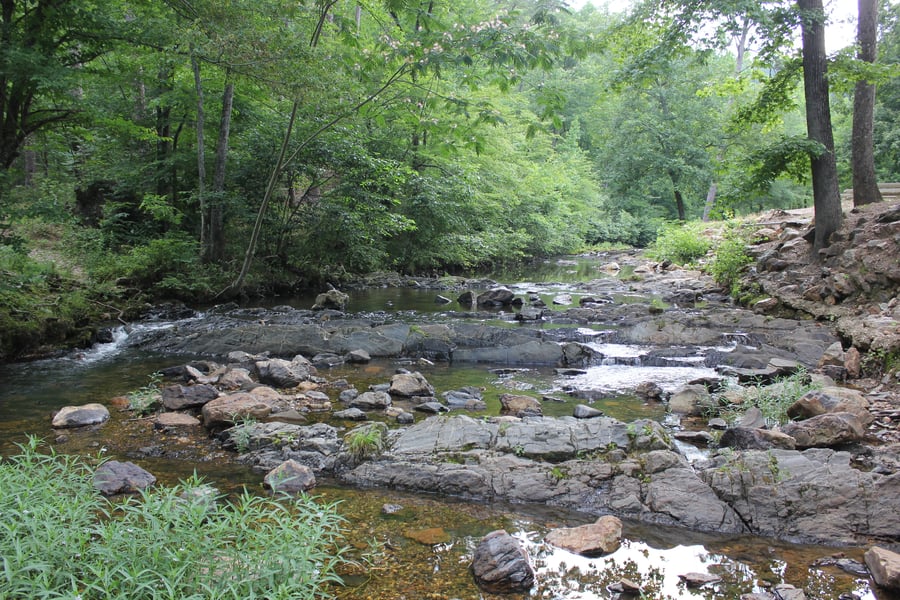 Gulpha Creek, Hot Springs, AR image from Flickr user Nicolas Henderson
Venture about 90 minutes south of I-40 and experience this truly unique national park. A very different experience from the parks in Arizona, Hot Springs NP is full of lush greenery and of course, thermal springs! It also has 28 miles of forested hiking trails along with paved roads for cycling.
Among the most famous features of Hot Springs NP are the nine historic bathhouses on "Bathhouse Row," two of which allow visitors the opportunity to try a soak for themselves. Start your visit at the Fordyce Bathhouse Museum and Visitor Center for an orientation and to see why Fordyce was considered the best bathhouse when it was operational from 1915 to 1962.
Hot Springs NP is an "urban park," located in the town of the same name. Hot Springs offers plenty of lodging and dining options, so if you have time, take a break from your drive and stay awhile!
4) Mammoth Cave National Park (Kentucky)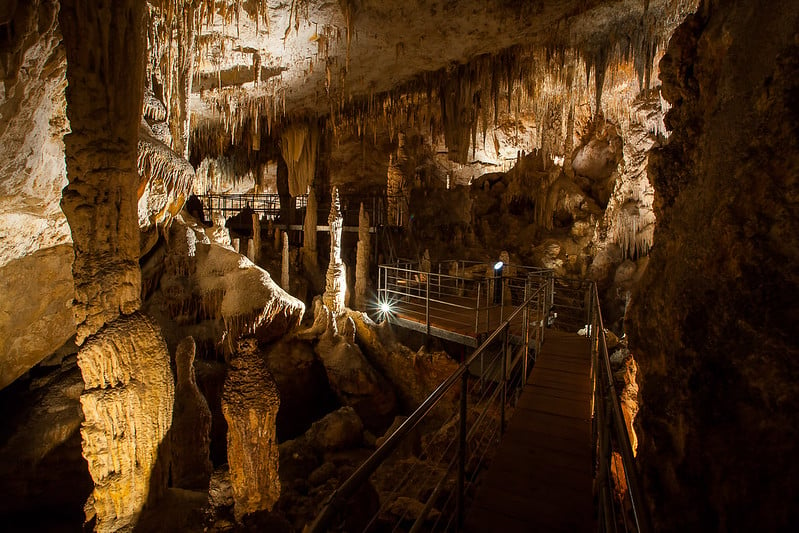 Mammoth Cave image from Margaret River Flickr
A UNESCO World Heritage site, this national park is home to the world's longest known cave system. Choose from a dozen different guided tours of the caves to explore these incredible caverns. (Note that tickets are required, and advance reservations are highly recommended, especially during the summer).
Two rivers run through Mammoth Cave NP, and visitors can canoe, kayak, and fish on these waters, part of Kentucky's first "National Water Trail." The park also offers both off-road and paved bicycle trails along with plenty of hiking opportunities.
With so many things to do, this national park is definitely worth the diversion of less than 2 hours off your route!
5) Great Smoky Mountains National Park (Tennessee/North Carolina)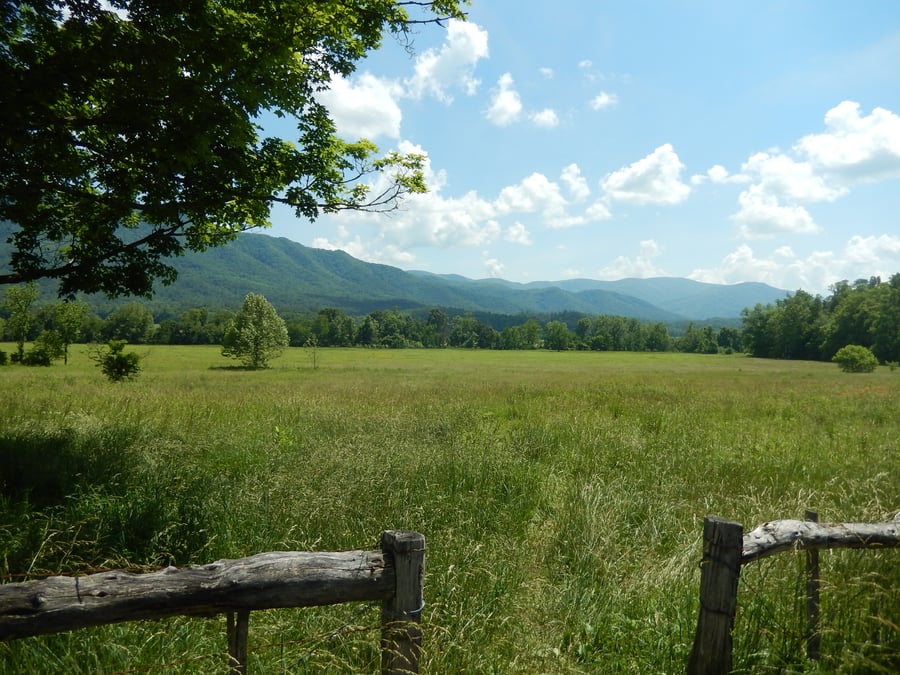 A mountain view from a drive around "The Loop" in Cades Cove. Photo by Angela Loria on Unsplash
Venture less than an hour south of I-40 to see the incredible forested mountains in America's most visited national park. Beautiful in all seasons, Great Smoky Mountains NP is particularly striking in the fall when the leaves on millions of trees are changing colors.
This national park has plenty of opportunities to spot wildlife, including black bears, coyotes, and turkeys. The Cades Cove valley is one of the park's most popular destinations for wildlife viewing. Drive the 11-mile Cades Cove Loop Road or, if you visit on a "Vehicle-Free Wednesday" (through September 2022), you can walk or cycle the trail without the disruption of cars.
Other popular features of Great Smoky Mountains NP are the numerous beautiful waterfalls and the 90+ historic log buildings. Fun opportunities for the kids include guided horseback rides, hayrides, and carriage or wagon rides.
How Many National Parks Can You Visit During Your PCS?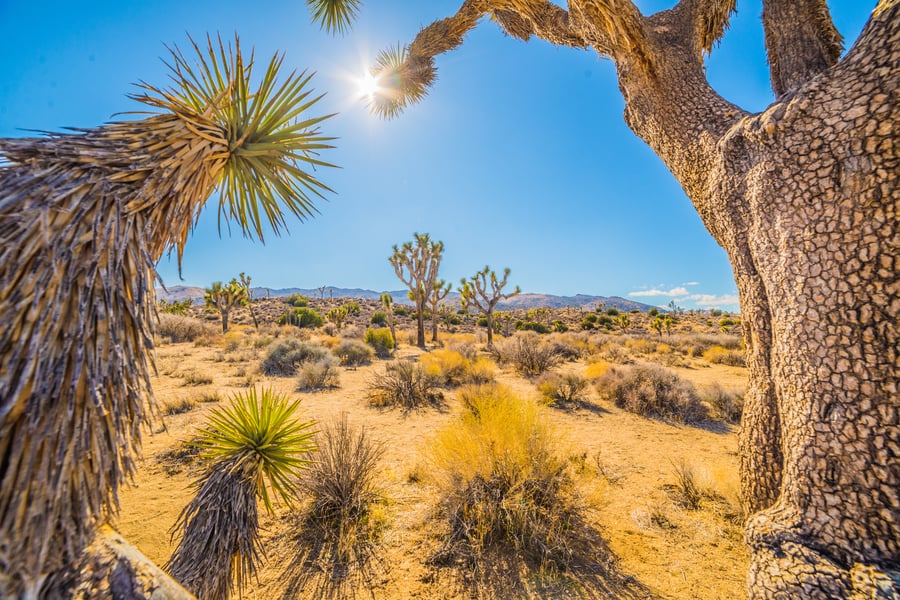 Joshua Tree National Park, CA. Photo by Chris Ried on Unsplash.
Before you set out for your trip cross-country, make sure you get your free America the Beautiful Military Pass, which covers entrance, standard amenity fees, and day use fees for everyone in your vehicle. Also, if you want to keep track of your visits to all of the US National Parks, get your "Passport" stamped at each location. Then, make the most of your cross-country road trip and enjoy the journey!
Want more travel tips? Download our free guide!