End of Summer Fun on a Military Family Budget!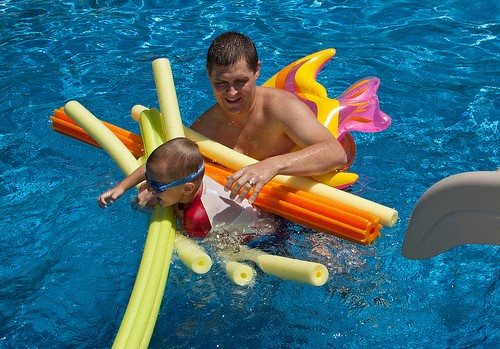 Here they come, the first thoughts of a summer fading fast! Depending on where you live, there are approximately two, four, or six weeks left until school begins. At home, parents are starting to scramble in effort to find an entertainment schedule that won't break the bank, especially if your military family has already taken a traditional summer vacation at well-known tourist site.
These dog days of summer are the perfect time to become creative and draw from some local and not so local resources to keep the family entertained inexpensively while holding onto the last carefree days and late night bedtimes.
Neighborhood Fun
Throughout neighborhoods across the country, parents are hearing the cringe-worthy choruses of, "I'm bored!" Do your best to ignore the playrooms of untouched toys and look for entertainment nearby.
Rally with your friends and neighbors to pool together enough money to rent a bounce house for a couple of days. The novelty will keep the kids outside all day, exercising more than their video game fingers.
Take some time to investigate small museums in your city. You know, the ones you drive by regularly and make mental notes to return to when the family has time. Military towns generally have some type of military history related museum, as do most big installations.
Day camps at parks and recreation facilities fill a void when the kids and parents need a break. Half or full day options exist at reasonable prices and often have multi-children discounts. If you are new to your town this summer, day camps can double as an opportunity for your child to meet kids they will likely see at school.
Local Activities
It's hot. Really hot! Resist the urge to stay in the cool house and referee another day of sibling rivalry. Find relief from the heat at these local favorites.
Yes, most people think of ice skating as a winter activity, but the juxtaposition of a sweltering summer day and 50-degree ice rink is so much fun! Many private and parks and recreation facilities operate an open or community skate each day. Dig out the fleece jacket and jeans!
Cinemark and Regal Movie theatres are offering $1.00 G and PG rated movies throughout August. Each theater maintains its own schedule, so check their websites for details on times and days.
Bowling alleys are dark and cool, and the kids have a great time trying to keep those wildly colored bowling balls out of the gutter with help from the bumper rails. Military base bowling alleys are typically less expensive than those off, and often have kid and adult summer leagues.
If arts and crafts are more your kids' style, check out a Michaels in-store class ranging from jewelry making to cake decorating. They even have a Kids Club and a Passport to Imagination Series where kids make one small craft per day with various themes. The fees are nominal ($5.00 per session or $12 for 3 sessions), registration is online, and it runs into mid-August.

Last-Minute Travel
It might seem daunting at first, but making travel plans last minute is easier than ever. Nothing says summer vacation like a weekend road trip!
Regional water or amusement parks are often far less expensive than the larger and more popular parks. Their admission deals may be advertised in mailed coupons, local hotel lobbies, or at your closest Chamber of Commerce. If the park is very close, entering at twilight or evening hours will save a lot of cash.
All the major online booking companies like Orbitz, Expedia, and Travelocity devote sections of their websites to last-minute vacations. Depending on your availability, destinations close to the U.S. (think Mexico or Canada) might be an option if the price is right. Crowd favorites Costco and Groupon also are in on the last-minute deals.
Neighborhood travel agents can easily put together a mini vacation with your particular parameters in mind. Stop in and see what they have to offer.
Similar to a travel agent services, MWR and ITRs can help with many trip options including bus tours. For example, there are regularly scheduled day trips from bases in Washington D.C. to New York and Atlantic City. And don't forget the USO for help with travel arrangements!
Get out there and enjoy the last days of vacation! And don't forget, PCS Lodging is affiliated with MilitaryByOwner and can help you save money on overnight stays.
photo credit: Anne CN via photopin (license)