Experience the Best of Washington With These Outdoor Getaways
The Pacific Northwest is famous for its outdoor recreation opportunities, so while you're stationed in Washington, make the most of them!
This region offers fun adventures for every season; you just need to make sure you have the right clothing and gear. You can rent much of the latter from your base's Outdoor Recreation office.
Here are three great getaway ideas to enjoy some of the best areas in Washington!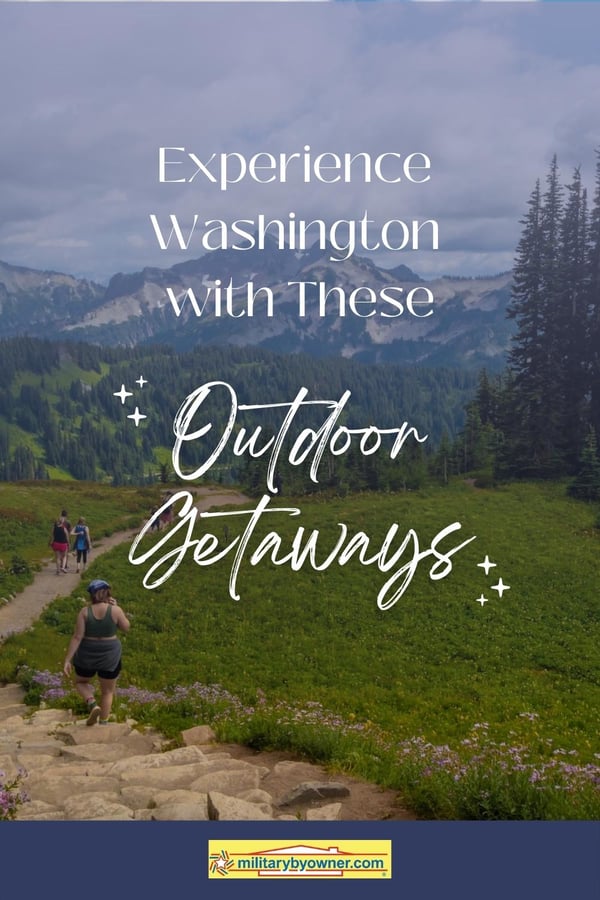 Olympic Peninsula
Washington's northwestern corner has several unique destinations.
Cape Flattery is the northwest most point in the contiguous United States. It's within the Makah Reservation, near the town of Neah Bay.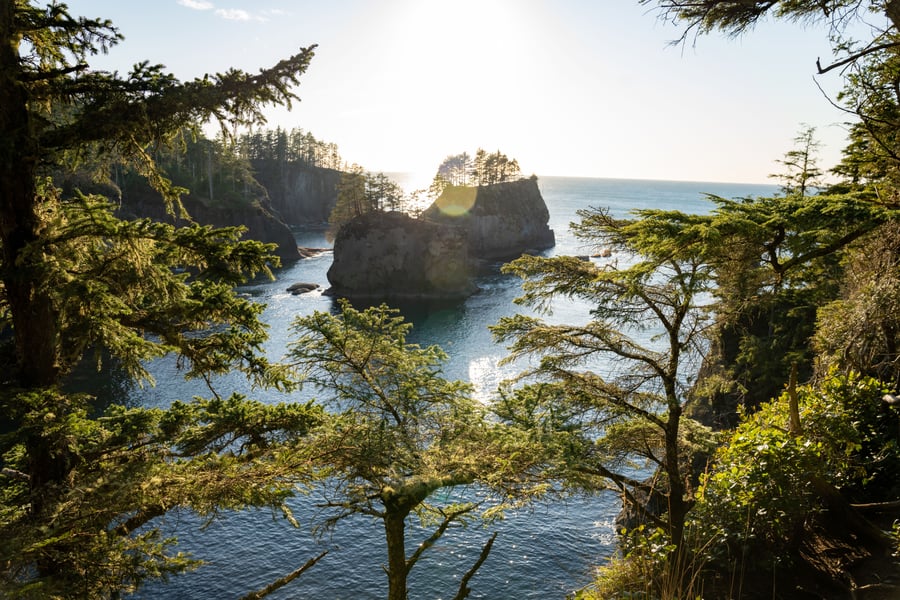 Cape Flattery, WA. Photo by Jesse Collins on Unsplash.
This is a popular area for hiking, and the Cape Flattery Trail is the most famous trek. It leads to breathtaking views of the Pacific Ocean from the towering cliffs above. The hike to the observation deck is less than a mile each way and is a combination of wooden boardwalks, stairs, and dirt.
Other things to do in the Neah Bay area include surfing, fishing, whale watching, visiting the Makah Museum, and storm watching (yes, this is a "thing" along the coast of Washington)!
Make sure you obtain a permit for recreation activities in Neah Bay. Lodging options in this area are mostly motels, cabins, and camping/RV sites.
Further inland and approximately a 2-hour drive from Neah Bay is the Hoh Rain Forest, part of Olympic National Park. Hoh Rain Forest is one of the Park's most popular areas, and with good reason. It's among the few remaining temperate rainforests in the U.S., and a walk along its emerald paths is nothing short of magical.
With trails ranging in length from less than 1 mile to more than 18 miles, you can make a visit to this park as low-key or challenging as you like.
The Park has numerous campgrounds, some of which are suitable for RVs. All but three are first-come, first-served.
The town of Forks is approximately halfway between Neah Bay and Hoh Rain Forest, so if you want to base yourself between the two sites and take day trips, it's a good choice. It also has a range of lodging options, including B&Bs, hotels/motels, vacation homes, and various RV/camping facilities.
Rainier National Park
If you're stationed in Washington, visiting the state's most iconic mountain is an absolute MUST at least once during your tour. Better yet, visit a minimum of two times, because Rainier is a totally different experience, depending on the time of year.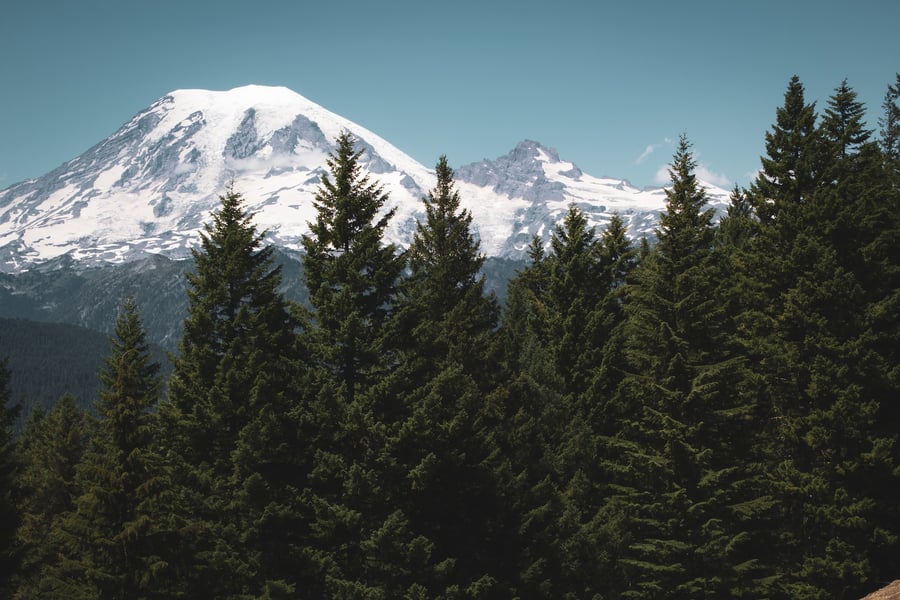 Mt. Rainier National Park. Photo by Ryan Stone on Unsplash.
In summer, the lower elevation areas of the mountain are carpeted with beautiful meadows of wildflowers. In spring, you can see the many waterfalls flowing from the melted snow, and in fall, the mountain is surrounded by forests of multi-colored leaves. Winter, of course, is a wonderland for snow-lovers!
In the warmer months, the main things to do in Rainier National Park are hiking (all levels and distances), fishing, camping, and for those who are prepared for the challenge, mountain climbing! While the upper parts of Mt. Rainier are covered in permanent glaciers, summer is the only time to safely attempt a summit or even to hike some of the higher-elevation trails.
Winter activities include snowshoeing, cross country skiing, snowboarding, and tubing.
Depending on where you're stationed, you can do a day trip to Mt. Rainier, but there are so many beautiful places to explore that it's well worth staying overnight.
The Park has two hotels, The Paradise Inn (usually open from mid-May until early October) and the National Park Inn, which is open year-round. Information about both Inns is on the Rainier Guest Services website. Rainier National Park also has four campgrounds. The season generally runs from late spring until early fall.
If you want to stay outside the Park, Whittaker's Bunkhouse is a great choice!
As you plan your visit to Rainier National Park, consult their official website for current operating hours, road status, and any alerts.
Snoqualmie
Among the most popular areas for skiing in the Seattle area, Snoqualmie is also known for its 270-foot waterfall and scenic hiking during the warmer months. It's only an hour east of Seattle, making it very convenient and accessible.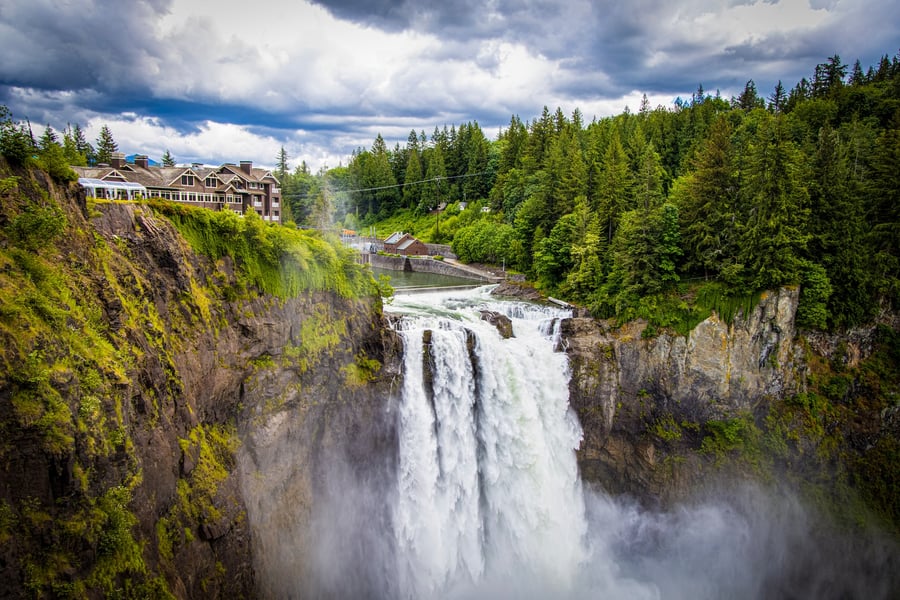 Snoqualmie Falls. Photo by Rob Shields on Unsplash.
The Summit at Snoqualmie is the resort at Snoqualmie Pass, and it has four base areas, all linked by shuttles. Ski season is generally from mid-December through April, but of course, it depends on weather conditions. Snoqualmie offers a range of terrain, with runs suitable for all levels, plus opportunities for tubing and cross-country skiing. In summer, this is a great area for mountain biking, and there are many beautiful hikes of varying distances. You can also take chair lift rides for spectacular views of the surrounding mountains.
Although the Summit at Snoqualmie is a resort, it does not have a hotel. The best lodging options are northwest of the resort, straight up I-90, either in North Bend or the town of Snoqualmie. Try the Roaring River Bed & Breakfast or for a luxury retreat, stay at the Salish Lodge & Spa. Vacation rentals, either on Airbnb, Booking.com or VRBO, are also an option for this area.
Snoqualmie Falls is about 27 miles from The Summit at Snoqualmie. The park covers 2 acres, but the most popular trail is a 0.7-mile interpretive hike between the upper and lower falls. Autumn is an especially nice time to visit to see the fall foliage. While you're there, explore the cute little town of Snoqualmie and the Northwest Railway Museum.
Don't miss the best parts of Washington while stationed here! Grab your gear and head outside for an adventurous getaway!
Relocating to JBLM in Washington? We've done the research for you! Get your free resource below.
Main image by Abigail Cook on Unsplash