Find Your Mountain Retreat with MilitaryByOwner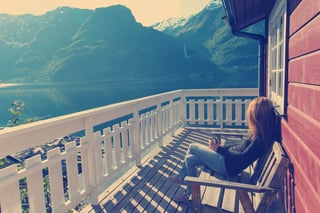 Some military families truly grab the reins of their new duty orders and steer that wild PCS ride until they're fully immersed in the culture of their new location. They wholeheartedly embrace wherever Uncle Sam sends them, and they have the pictures to show for it.
These adventurous military families rode the bucking bronco while stationed at Fort Hood, surfed at Camp Pendleton, scuba dived at Key West Naval Station, bought a house with a pool while at MacDill AFB, sampled the local craft beers near Peterson AFB, and learned all of the best coffee spots near Joint Base Lewis-McChord.
If that describes your military family, then when the military relocates you to the mountains, you begin to plan your next two to four years developing your persona as a bona fide Mountain Man. Your adventures of hiking, orienteering, and snowshoeing await, but you recognize that you'll need storage for all of your new mountain gear. You're going to need a home, and what self-respecting Mountain Man doesn't have his own quiet retreat in the mountains?
If you want to fully embrace this new mountain lifestyle, you're going to need some mountain property.
Before you stake your claim in the great outdoors, consider a piece of mountain property advice from a fellow military family who are relocating away from the area.
Though there are many great advantages to mountain living, commuting is not usually one of them. When you're shopping for mountain property homes for your next duty station, get as much information as possible about local commutes.
In this kind of niche home buying situation, you'll want to talk to the homeowner personally about commuting challenges to and from the military installation where you'll be working, even if you're using a real estate agent for your purchase. Only a homeowner can provide you with the day-to-day driving difficulties you may encounter, particularly during the winter months. If you're on a time crunch to get to work in bad weather, you'll appreciate having had that conversation so that you're prepared for parts of the mountain that may get shut down or become impossible to traverse; the homeowner will likely have shared any potential backroads or a short cut with you that you may not have otherwise found until closer to your next time to PCS!
If you're interested in at least considering a mountain property for your next home purchase, then let's first make sure that you can find it!
MilitaryByOwner's Home Search Tutorial will show you how to quickly and efficiently find the special features you're looking for in your next home, including whether or not your home is located on a mountain!
One of the great perks of the military lifestyle is exposure to a variety of cultures and activities that you may never otherwise have the good fortune to experience.
While the typical "Mountain Man" lifestyle of bear hunting, trapping, and self-sustainment may not exactly suit your military family's tastes, a cabin home or a more modern home on a piece of mountain property land may help better immerse your military family in the culture of your new duty station.
Looking to buy a home? Click below for more information on VA Home Loans.