Military Discounts for Your Trip to the Grand Canyon
The Grand Canyon is a popular tourist destination for Americans and international travelers alike. Due to its popularity, out of the way location, and stunning vistas, the travel expenses add up. However, military families may find themselves stationed close enough to make seeing it in person a reality.
The South Rim is within driving distance of many military installations in west Texas, Arizona, and New Mexico (for instance, Luke AFB is about a 3.5-hour drive). In addition to Grand Canyon National Park, there's a variety of attractions to interest everyone in your family in the Northern part of Arizona. Many of these attractions offer military discounts, and following is a list of places you can enjoy during a road trip in the "Grand Canyon State."
Discounts are subject to change and for several companies you must call or purchase in person, so be aware of that when planning.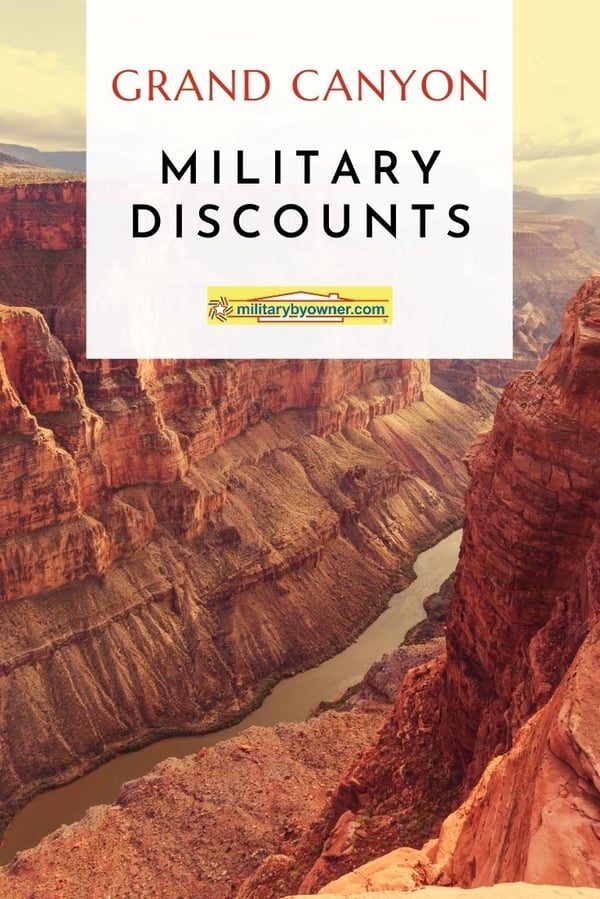 National and State Park Discounts
The Grand Canyon is a National Park, so entrance fees are included with your free Military America the Beautiful Pass. You can get this pass, or use yours, at either Entrance Station with your military ID or other proper documentation, though only the South Rim Entrance Station is available in the winter months. For those wanting the special experience of staying in the park, the Yavapai Lodge offers a 10% military discount for stays.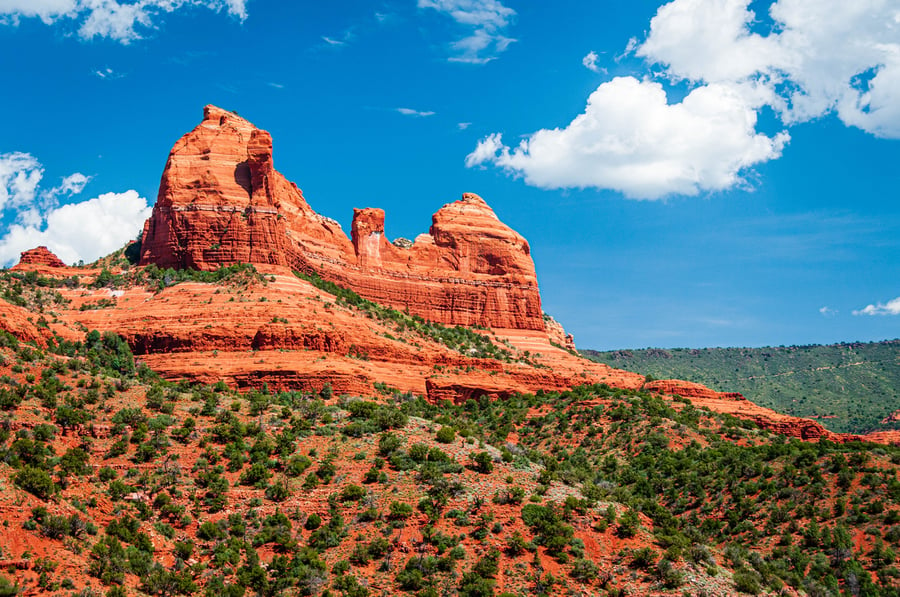 Snoopy Rock in Sedona, Arizona. Photo from iStock. com/GregMeland.
While the Grand Canyon may be your destination of choice, there are also many State Parks sprinkled throughout Northern Arizona with day use areas right off scenic byways. Make sure to see Red Rocks in Sedona or the Verde River in Cottonwood. Arizona State Parks have a discount program available for service members, including active duty, guard and reserve, veterans, disabled veterans, and military who are Arizona residents, along with three accompanied guests. These are available at in person locations and there are some exclusions; more information is available on the State Park website.
Get Close to Animals in Williams, AZ
There are also several attractions that allow you to get up close with animals in a safe setting that offer in-person discounts on their tickets. Williams, AZ is home to two of those attractions.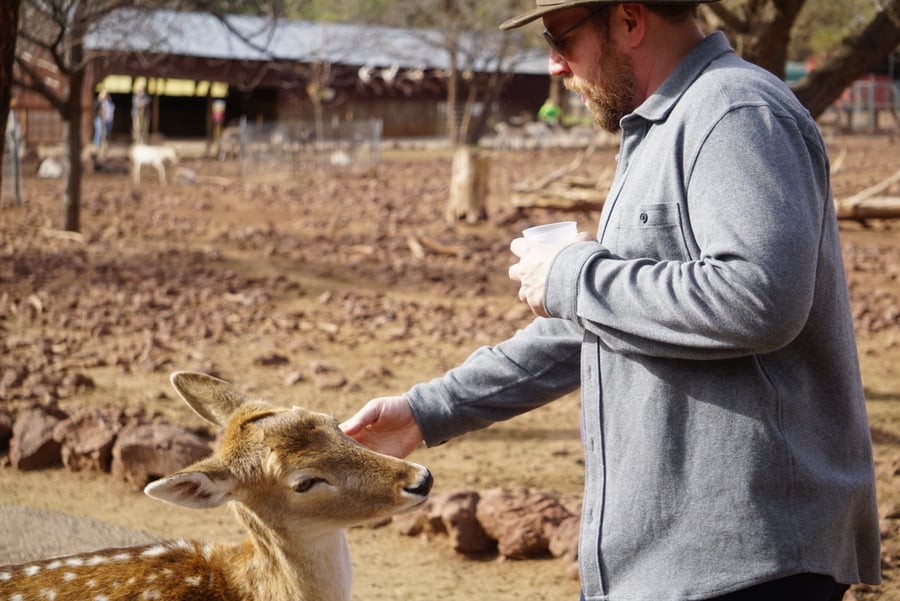 Image from Grand Canyon Deer Farm. Used with permission.
Grand Canyon Deer Farm and Petting Zoo has several species of deer, some to see at a distance and some that have been raised to be comfortable with feeding and petting. They have a variety of animals to view, interactive programs available for purchase, and a large gift shop.
Bearizona is a zoo that has both a traditional zoo walk-through portion, and a unique 3-mile drive through a ponderosa pine forest where you can see animals in natural habitats. Veterans and their spouses receive $5 off the price of admission to see both sections of the zoo.
Stand on the Corner in Winslow, AZ If you're a fan of The Eagles, Route 66, or other Americana memorabilia, you'll want to make the drive out to Winslow while in Northern Arizona. Take your picture at Standin' on the Corner Park, and shop and eat at local businesses like RelicRoad Brewing Company for delicious burgers and a selection of Arizona craft beers.
Outside of the town there are several attractions including the Meteor Crater & Barringer Space Museum. There's plenty of parking, a gas station, a pet ramada and other amenities for road trippers traveling in RVs or camping. Active duty military receive access into the museum and viewing site for free, and there is a discount for non-active military and veterans. You can see the impressive meteor impact site, as well as enjoy an indoor museum and movie.
Winslow is also a good base for exploring Homolovi State Park and Petrified Forest National Park.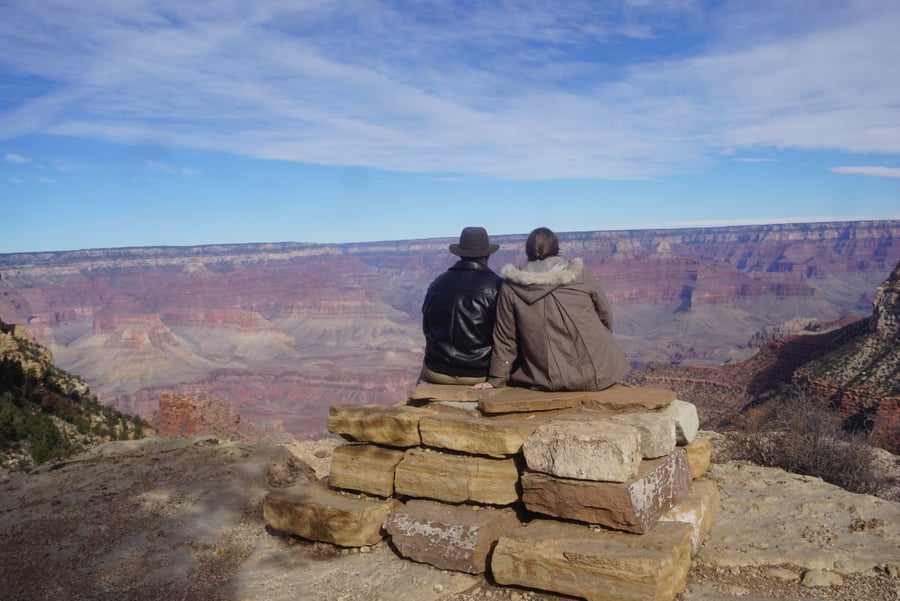 Photo from Meredith Flory. Used with permission.
Scenic Adventures
With so much beauty to look at, you may not want to spend time driving yourself around. There are several scenic adventures that give you guided tours through the beautiful Northern Arizona region. Sedona is known for its Jeep tours that allow you to enjoy all the scenic views of red rock structures. A Day in the West Rainbow Adventures is Sedona's oldest continuously family-owned Jeep tours, and they offer several options for both Jeep tours and horseback and a 10% military discount for their excursions.
There's also the famous Pink Adventures tour company, which includes Sedona and the Grand Canyon in their tours throughout the U.S. They too offer a 10% military discount over the phone. Their varied options would be perfect for a family, group of friends, or large group and events like weddings for the more adventurous.
While the drive to the Grand Canyon is scenic, you can also choose to travel in style with the Grand Canyon Railway and Hotel. You can book one day round trip train tickets, or have them assist you in booking a package that includes hotel stays and other tours. They offer a armed forces and first responders discount. They offer seasonal events as well, such as the Polar Express during the winter holiday season.
Family Fun in Flagstaff
Flagstaff offers a lovely jumping off point to explore the Grand Canyon, hotel chains, and restaurants, as well as chain and local shopping which offer military discounts on purchases. The downtown area is home to historic sites and local businesses, many of which are pet friendly, making it a perfect place to enjoy a relaxed day on your trip.
However, if you're wanting something a little more exciting, check out Flagstaff Extreme Adventure Course, where you can experience zip lines and adventure courses through the forest. The minimum age is 7, and there is a kid's adventure course for ages 7-11, then experiences for teens and adults. They offer an Active Military Personnel Discount of 10%, and group discounts for parties of 8 and larger.
Also in Flagstaff is the DOD cardholder recreation area Fort Tuthill. Fort Tuthill offers a variety of accommodations including cabins, RV parking, and a hotel. There's also recreational areas and seasonal tours you can book like snow tubing, skiing, and snowboarding.
Planning a trip and want to make the most of your military benefits and discounts? We've got a resource for you! Grab our free travel guide below.