Gym Hacks for the Military Family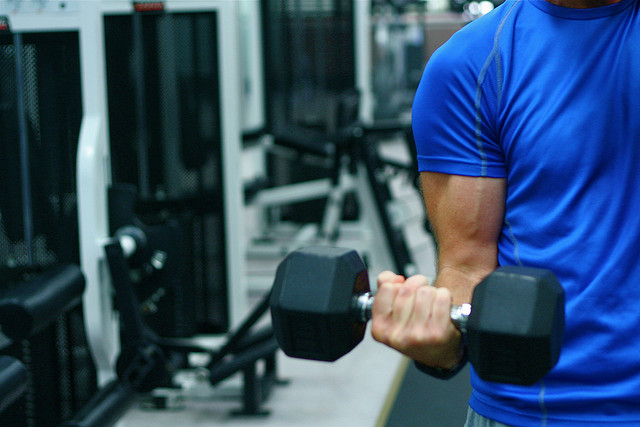 A look at both your schedule and your limited space for workout equipment may have you already reconsidering making your New Year's resolution to either get in shape or lose weight (Given that these are the top two resolutions in the U.S., I know I'm speaking to more than just myself here!).
As a new mom, I am intimately aware of the importance of efficiency of time. As a military spouse who has lived in cramped military housing as well as multiple condos and townhouses, I understand the importance of efficiency of space, too. For fellow busy military families who are short on both time and space, these tips are to help you achieve your new year's resolution to get in shape.
Consider today's post your tool for gym hacking for the military family!
Oh, and by the way, gym hacking military style isn't new. You know those bright yellow and black bands in the corner of your gym (The ones you can only use if you pay for the pricey workshops or use a personal trainer)? They were created by Navy SEAL Randy Hetrick. Using only old jiu-jitsu belts and surplus parachute webbing, Hetrick literally harnessed a total body workout that could be accomplished inside teeny tiny cabins to help Hetrick and, later, the SEALS under his command stay mission fit.
If SEALS can accomplish a total body workout inside a cabin using only scrap materials, we really have no excuse!
Avid fitness aficionado and military spouse Julia Martin has been gym hacking for many years. In addition to running as a means of exploring each new duty station from Hawaii to Florida to Virginia, Martin uses her military quarters—whether on or off base—as her gym. She suggests that military families can keep their gym footprint small by using portable, easy-to-store equipment. Some examples she suggested include:
Fold-up benches
Free weights
Foam rollers
Resistance bands
Martin uses her home office to store her weights. She puts weights under the bench in the corner along with her rollers and bands.
Other small, easy-to-store equipment include:
Bosu balance ball: This is good for squats, burpees (pick it up and use it as a weight with your squats!), balance exercises, and pushups (squishy side down). This is easy to tuck in vertically next to the sofa or between cabinets.
Kettlebell: Easy to tuck away under any bench. As with the TRX, this small tool was devised by another military member—Russian—seeking economy of space and efficiency of time in workouts. The kettlebell is also excellent for total body workouts.
Stability ball: Use this for your core exercises. You could even use this in place of your office desk chair for maximizing efficiency of workout time and space!
Ab mat: Easily slides under the sofa. Use this inexpensive tool to help with sit-ups without causing undue lower back pain.
Yoga mat: Use for yoga, Pilates, pushups, and post-workout stretches.
The good part about small, portable, and easy-to-store equipment means that it is easy to keep less than attractive weights out of sight. Unfortunately, for most of us out of sight means out of mind, and out of mind simply isn't in line with your New Year's resolution.
If you do have a dedicated little corner of a room where you can leave your equipment out, you could create a home gym. Before you rush out to spend whatever's left in your budget after holiday shopping on the interlocking foam tiles at fitness and home DIY stores, though, consider an alternative flooring option. The EVA foam tiles are soft, which means that they're likely to look dented and unsightly in no time (Gym equipment isn't pretty in the first place; don't make it worse!). Also, soft, squishy flooring just isn't a good idea unless you're solely engaged in gentle balance and core work. Consider instead virgin rubber floor matting, which is much firmer and more resilient.
If you don't have space to leave equipment out, and you aren't likely to use your easy-to-store and out-of-sight equipment, consider checking out DumBell Fitness, an online fitness program created by military spouse Christina Bell Landry. Designed for busy moms and military spouses, Landry offers videos and printable workouts for a subscription fee. Participants can stay accountable by using the site's online social forums, and since most of the participants are fellow military spouses, you might even find a workout buddy you know or know of (always good for helping with accountability!).
Is fitness on your radar for your New Year's resolution? Do you have gym hacking tips to share? We'd love to hear them!
Living in a small rental or military housing? Click below for tips on maximizing your space!
photo credit: Flickr user Richard Giles