Happy 243rd Birthday, U.S. Navy!
On October 13, 1775, the Continental Congress marked the establishment of what is now the United States Navy with this resolution (source: history.navy.mil):
"Resolved, That a swift sailing vessel, to carry ten carriage guns, and a proportionable number of swivels, with eighty men, be fitted, with all possible despatch, for a cruise of three months, and that the commander be instructed to cruize eastward, for intercepting such transports as may be laden with warlike stores and other supplies for our enemies, and for such other purposes as the Congress shall direct. That a Committee of three be appointed to prepare an estimate of the expence, and lay the same before the Congress, and to contract with proper persons to fit out the vessel. Resolved, that another vessel be fitted out for the same purposes, and that the said committee report their opinion of a proper vessel, and also an estimate of the expence."
From the War of 1812 to the world's current conflicts, our country's Navy has grown from that small beginning to a current active duty force of over 328,000 people.
The theme for this year's birthday celebrations is "Forged by the Sea," with thoughts from the Secretary of the Navy Richard V. Spencer in a message to the fleet:
Because of your hard work and dedication, the foundation for restoring readiness and increasing lethality has been set. But as we enter our 244th year of service, we must now build on that foundation. I need you to continually think of how to improve the delivery of the Navy the nation needs with a committed sense of urgency.
Chief of Naval Operations (CNO) Adm. John M. Richardson and Master Chief Petty Officer of the Navy (MCPON) Russell Smith share their well wishes for fellow sailors and families in the following video:
Happy 243rd Birthday, U.S. Navy!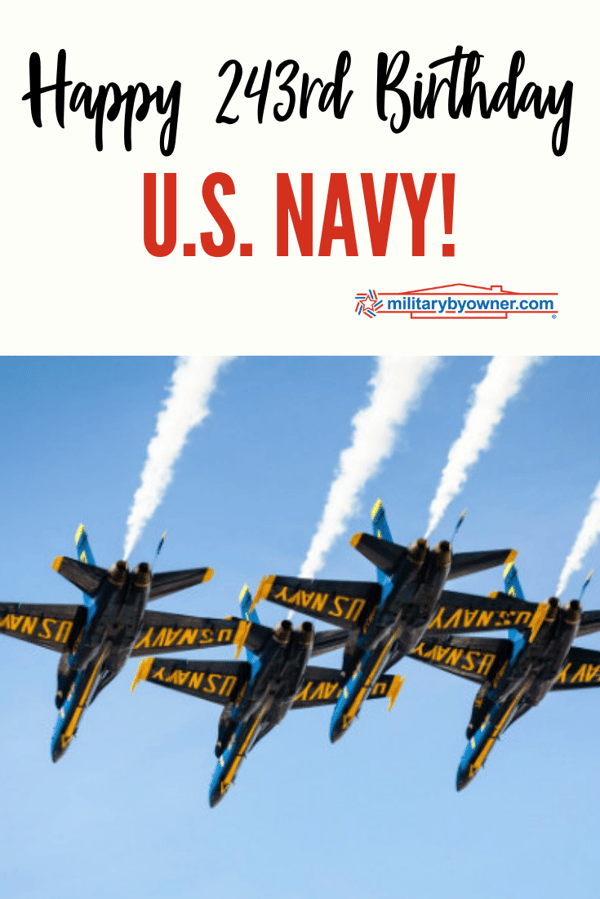 Following are just a few of the great things our amazing Navy is up to these days. All photos courtesy official U.S. Navy Page Flickr account.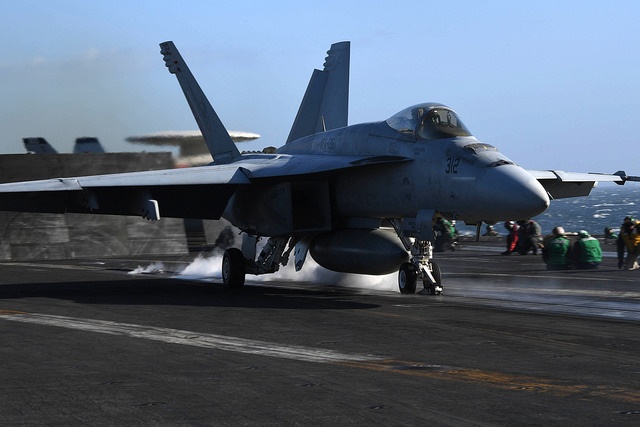 North Sea - An F/A-18E Super Hornet assigned to the Knighthawks of Strike Fighter Squadron (VFA) 136 launches from the Nimitz-class aircraft carrier USS Harry S. Truman (CVN 75). (U.S. Navy photo by Mass Communication Specialist 3rd Class Adelola Tinubu/Released)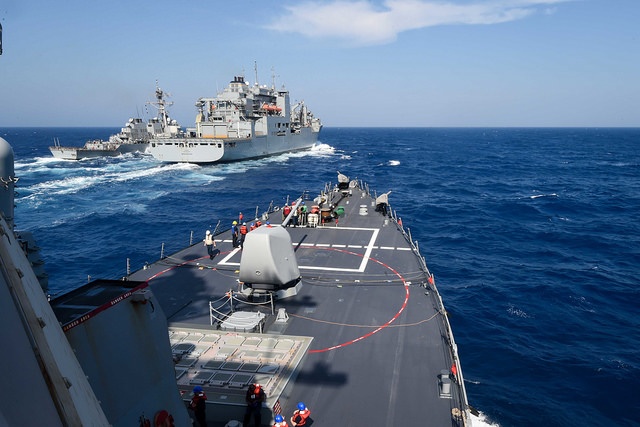 Mediterranean Sea- The Arleigh Burke-class guided-missile destroyer USS Ross (DDG 71), right, approaches the Lewis and Clark-class fleet replenishment oiler USNS Medgar Evers (T-AKE 13) and the Arleigh Burke-class guided-missile destroyer USS Arleigh Burke (DDG 51) for a replenishment-at-sea in the Mediterranean Sea. (U.S. Navy photo by Mass Communication Specialist 3rd Class Krystina Coffey/ Released)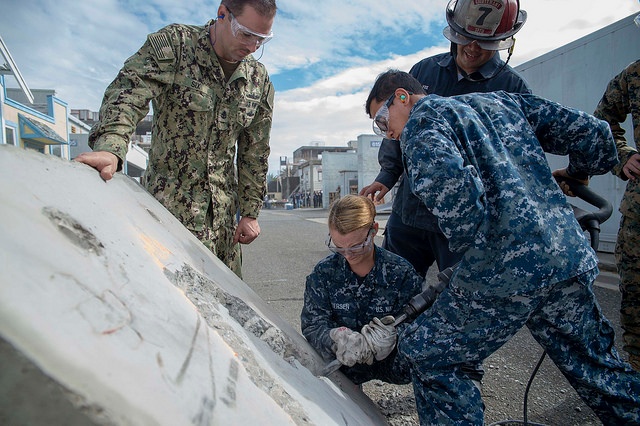 San Francisco- Hull Maintenance Technician 3rd Class Visal Sath, right, from Charlotte, N.C., and Electrician's Mate Fireman Brandi Petersen, center, from Bloomington, Calif., assigned to the amphibious assault ship USS Bonhomme Richard (LHD 6), chisel a concrete slab at the San Francisco Fire Department Treasure Island Training Facility as part of the annual Defense Support of Civilian Authorities (DSCA) full-scale exercise during San Francisco Fleet Week 2018. (U.S. Navy photo by Mass Communication Specialist 2nd Class William Sykes/Released)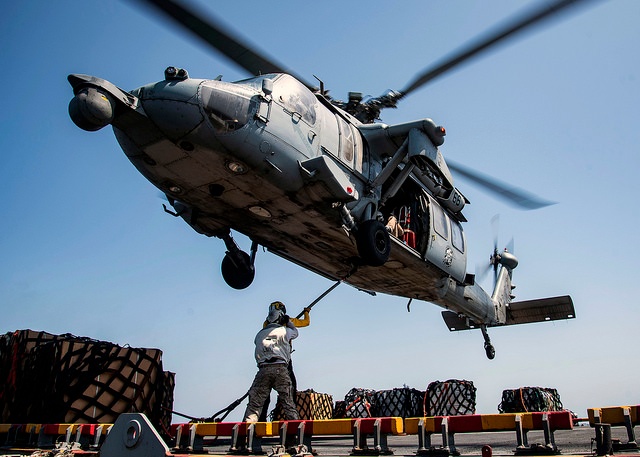 Arabian Gulf- An MH-60S Sea Hawk helicopter, assigned to the "Blackjacks" of Helicopter Sea Combat Squadron (HSC) 21, prepares to transport cargo from the flight deck of the Wasp-Class amphibious assault ship USS Essex (LHD 2) while participating in a vertical replenishment during a scheduled deployment with the Essex Amphibious Ready Group (ARG) and 13th Marine Expeditionary Unit (MEU). (U.S Navy photo by Mass Communication Specialist 3rd Class Jenna Dobson/Released)
Port Canaveral, Florida- The crew of the Virginia-class attack submarine USS Indiana (SSN 789) salute after bringing the ship to life during the boat's commissioning ceremony. Indiana is the U.S. Navy's 16th Virginia-class fast-attack submarine and the third ship named for the state of Indiana. (U.S. Navy photo by Senior Chief Mass Communication Specialist Leah Stiles/Released)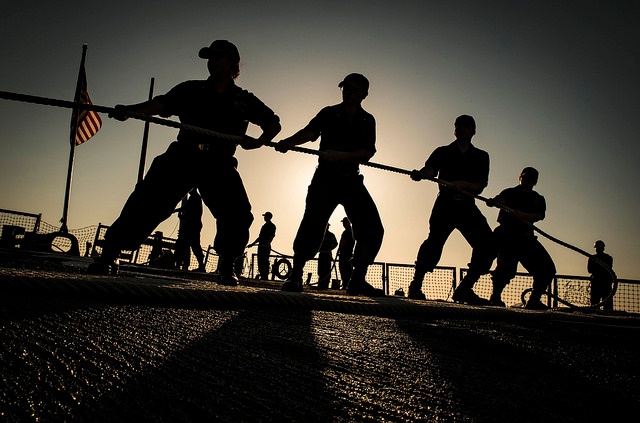 Valencia, Spain- Sailors heave mooring line aboard the Arleigh Burke-class guided-missile destroyer USS Carney (DDG 64) as the ship arrives in Valencia, Spain, Sept. 21, 2018. Carney, forward-deployed to Rota, Spain, is on its fifth patrol in the U.S. 6th Fleet area of operations in support of regional allies and partners as well as U.S. national security interests in Europe and Africa. (U.S. Navy photo by Mass Communication Specialist 1st Class Ryan U. Kledzik/Released)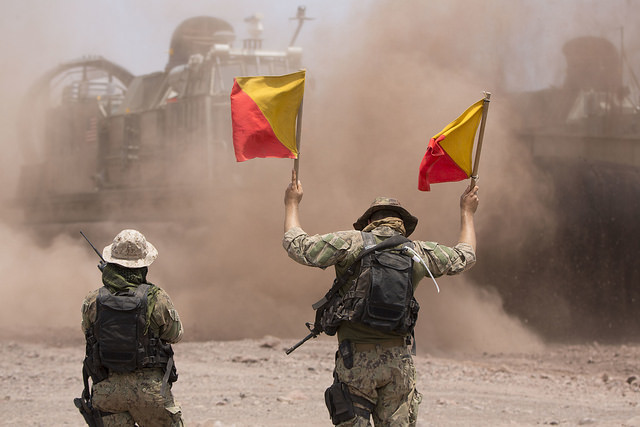 Djibouti- Navy beach masters assigned to the San Antonio-class amphibious transport dock ship USS Anchorage (LPD 23) direct a landing craft, air cushion (LCAC) onto Arta beach, during Theater Amphibious Combat Rehearsal (TACR) 18. Led by Naval Amphibious Force, Task Force 51/5th Marine Expeditionary Brigade, TACR integrates U.S. Navy and Marine Corps assets to practice and rehearse a range of critical combat-related capabilities available to U.S. Central Command, both afloat and ashore, to promote stability and security in the region. (U.S. Marine Corps photo by SSgt. David L. Proffitt/Released)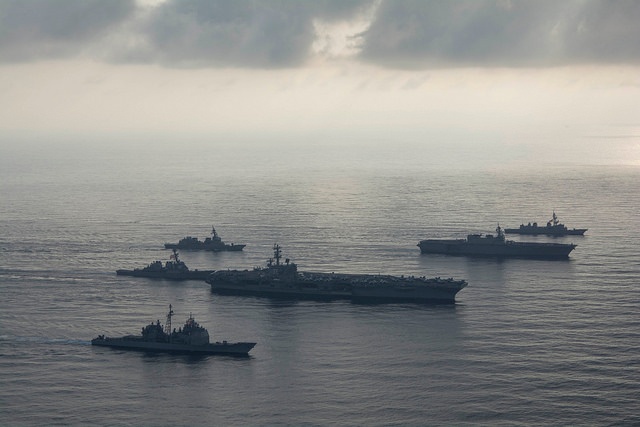 South China Sea- The aircraft carrier USS Ronald Reagan (CVN 76), second from bottom, lead ship of the Ronald Reagan Carrier Strike Group, the guided-missile cruiser USS Antietam (CG 54), bottom, and the guided-missile destroyer USS Milius (DDG 69), left, conduct a photo exercise with the Japan Maritime Self-Defense Force (JMSDF) helicopter destroyer JS Kaga (DDH 184), second from top, and the JMSDF destroyers JS Inazuma (DD 105) and JS Suzutsuki (DD 117). The Ronald Reagan Carrier Strike Group is forward-deployed to the U.S. 7th Fleet area of operations in support of security and stability in the Indo-Pacific region. (U.S. Navy photo by Mass Communication Specialist 3rd Class Erwin Jacob Villavicencio Miciano/Released)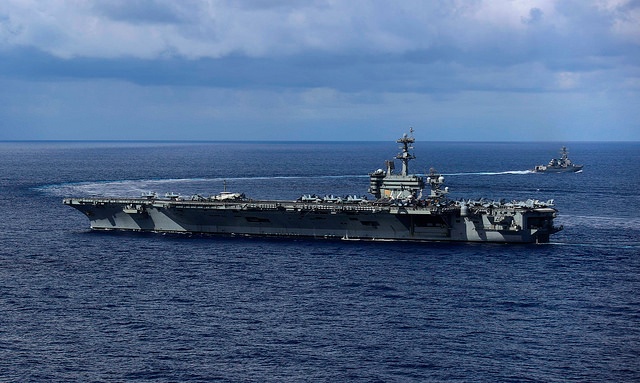 Atlantic Ocean -The Arleigh Burke-class guided-missile destroyer USS Mason (DDG 87), top, pulls away from the Nimitz-class aircraft carrier USS Abraham Lincoln (CVN 72) following an underway replenishment. Abraham Lincoln is underway with Carrier Strike Group 12 (CSG 12) conducting Operational Test-1 (OT1) for the F-35C Lightning II. (U.S. Navy photo by Mass Communication Specialist 3rd Class Jeff Sherman/Released)
Norfolk- Chief Gas Turbine Systems Technician (Mechanical) Dennis Mottley says goodbye to his family before departing Naval Station Norfolk aboard the guided-missile destroyer USS Mitscher (DDG 57). Mitscher departed Naval Station Norfolk for a scheduled deployment in support of ballistic missile defense to the U.S. 5th and 6th fleet areas of operation. (U.S. Navy photo by Mass Communication Specialist 2nd Class Justin Wolpert/Released)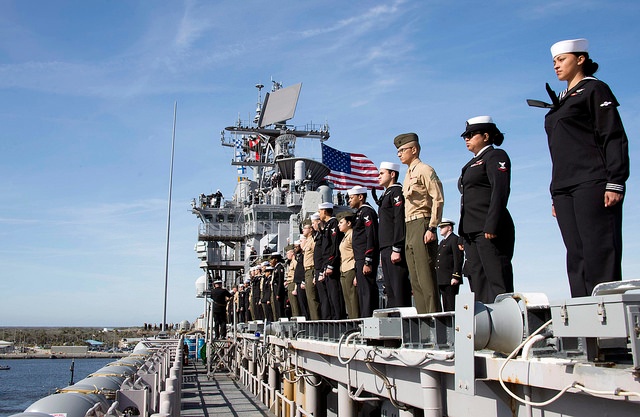 Mayport, Florida- Sailors and Marines man the rails on the flight deck of the amphibious assault ship USS Iwo Jima (LHD 7) as it departs Naval Station Mayport for a deployment in support of maritime security operations and theater security cooperation efforts in Europe and the Middle East. (U.S. Navy photo by Mass Communication Specialist Seaman Dary M. Patten/Released)