Happy Military Spouse Appreciation Day!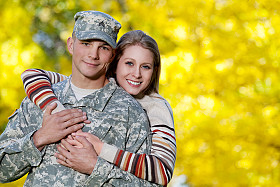 Today, we salute you, military spouses!
Every year, the Friday before Mother's Day is set aside to celebrate National Military Spouse Appreciation Day.
Military spouses are the backbones of our military families, supporting servicemembers through regular missions, deployments, and reintegration. Military spouses also volunteer countless hours at installations across the world to support their base and local communities in many ways.
Military Spouse Appreciation Day is meant to honor the sacrifices, support, and courage that military spouses show on a regular basis. President Ronald Reagan declared the first Military Spouse Day in 1984, "recognizing the profound importance of spouse commitment to the readiness and well-being of military members."
With a great number of military spouses both current and former on the staff of MilitaryByOwner Advertising, as well as a history of showing great support to the military spouse community, we've got a lot of resources for you!
We run the gamut from new spouses to more experienced, so we welcome you to pour yourself a favorite beverage and take a look at a few of our military spouse posts and articles:

There's much more in our military spouses blog category, so check it out! Thank you, spouses, for all you do, and happy Military Spouse Appreciation Day!