Help Your Military Child Prepare for the School Switch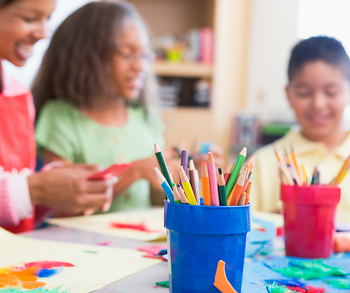 As you march on toward the busy PCS season, you've hopefully made some progress in planning your exit from your current duty station. On top of moving out and planning employment and volunteer turnovers, you may be prepping your home to rent or sell. Amid the massive life shuffle that's occurring in your home right now are your children. Depending on their ages, they may be preparing for the biggest transition that's ever occurred in their lives—switching schools.
Given the amount of transition occurring in your house, switching schools doesn't really seem like that big of a deal. For your child who has just bonded with a favorite teacher, thrived in an engaging robotics class, or finally made a best friend, the impending switch is a big deal. Around this time last year, we looked at the four top tips for finding a school at your new duty station, and we discussed the proactive ways you could help your child adjust to the school switch, but some of those tips are worth repeating.
On countless occasions over the last year, I've heard from families who are unfamiliar with the School Liaison Program, a program that exists to forge a relationship between military families and their school districts. In partnering with military families, military installations, and local school districts, SLO's have the working knowledge of schools and resources near the installation to help make the big school switch just a little bit easier. The DODEA website provides an updated directory for School Liaison Officers at each district.
I've also heard from families who rely on outdated anecdotal advice to select their school districts.
Really?!
C'mon, military families, repeat after me: There's an App for that!
Actually, multiple apps exist to help identify schools for your children, but I suggest downloading Great Schools to begin your search. MilitaryTownAdvisor, an initiative created by a military family to support other military families seeking good neighborhoods, offers some great tips for researching online school ratings. One of their tips encourages military families to go to SchoolQuest, a website that collates lists of private, parochial, public, and charter schools located around military installations.
For instance, MacDill AFB families in the past may have relied on friends to share tips about local high schools; for families who lived in the area over a decade ago, the Hillsborough County schools located near the base had low ratings. Now, however, a military family may instead go directly to SchoolQuest to find a high school, and then check out the school ratings in the areas they would like to live on Great Schools. They may then learn that Plant High School, a public school in Tampa that former military families would identify as a low performing school now has the highest rating of 10. As of the time of this writing, that particular school also has 49 reviews from parents and students, making Great Schools sort of like Yelp, but for something far more important than finding out if the chef makes a mean pizza crust.
As with Yelp, however, it's important to check the date on the reviews on GreatSchools; if the review is older than one or two years, then you may want to consider some additional fact checking. School liaisons, in fact, do recommend that you engage in additional fact checking before deciding on a school. They can help you locate data-driven report cards available for each public school under the Elementary and Secondary Education Act.
Your military children need all of the help you can offer them when making this big switch. Military children face considerable disruption in their education. According to the Military Child Education Coalition (MCEC), the average military child moves between six and nine times during their grade school years. That amount of moves adds up to significant discontinuity in their academic curriculum and extracurricular activities.
Once you arrive at your new destination, if your child is still finding the transition challenging, then know that you're not alone; a tutor may be a good option for helping your child improve her knowledge base or increase her confidence in her academics in a way that will allow her to achieve during this duty station assignment. Other families may find home education or distance learning to be a good fit.
Do you have any tips to share with other military families who may be going through the school switch with their children for the first time? How did your military family survive?