How Can You Save $3,000 on Your Mortgage?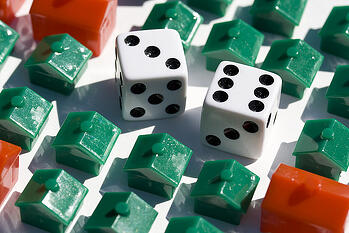 As the Federal Reserve looks set to finally hike interest rates—much to the relief of savers, but not borrowers—you may want to take advantage of the time before that happens to see if you can refinance your home. One of the refinance programs currently available for homeowners stuck in a less than ideal financing situation is called the Home Affordable Refinance Program, or HARP.
You may not be familiar with this program, but if you were following along with the State of the Union address this year, you may recall the President explaining that homeowners will be able to save roughly $3,000 on their mortgage. Yep, that's this program he's talking about.
But…can you actually save $3,000? Well, that depends entirely on the value of a) your mortgage, and b) your interest rate.
Per the White House's calculations, you could save approximately $3,000 per year if you meet the following conditions:
A mortgage of $300,000 (over $50,000 more the average home sale price last year).
An interest rate of over 6.5% (the refinance rate was calculated at 4%).
You would also need to meet the following eligibility conditions:
You haven't made any late payments in the last 6 months, and no more than one late payment in 12 months.
Your mortgage must be insured ("backed by") either Fannie Mae or Freddie Mac, and they must have acquired it prior to May 31, 2009. That means that VA loan holders, the majority of military family homeowners, are not eligible for HARP. If you are a military family homeowner with a VA home loan, though, read on because there is one refinance program that may work even better for you.
The amount of your mortgage must exceed 80% of the total value of your home (your "loan to value ratio").
You cannot have previously refinanced under this program.
The mortgage must make fiscal sense. That means that you are either reducing your monthly payment amount, or you are switching from an Adjustable Rate Mortgage (ARM) to a fixed rate mortgage.
So, not everyone would save $3,000. If you owe more than $300,000, you'd save more; if you owe less, you'd save less, but you'd have to check the calculations with your lender to make sure those numbers are accurate based on your particular situation.
As it currently stands, 4 million people are eligible for HARP 2.0, the second version of a refinance program that helps homeowners refinance even when they owe more than the home is worth. Over 1.5 million have successfully refinanced using this recession-era program, as established by the Federal Housing Finance Authority in 2009. Another 8 million will also achieve eligibility for the program if HARP 3.0 ever comes to fruition. That's a big "if," though, because HARP 2.0 is set to expire on December 31st of this year, and HARP 3.0 is not even on the House docket yet!
Actually, that's not entirely true.
HARP 3.0 has been on the docket; it just isn't on the docket for this session of Congress. Introduced first in 2013, HARP had two iterations in Congress:
House of Representatives: H.R. 736 – Responsible Homeowner Refinancing Act of 2013
H.R. 736 was introduced by Rep. Peter Welch (D-VT). The bill had 22 co-sponsors, all of whom were Democrats. The bill was referred to the House Committee on Financial Services.
Senate: S. 249 – Responsible Homeowner Refinancing Act of 2013
S. 249 was introduced by Senator Robert Menendez (D-NJ). The bill had 24 co-sponsors, all of whom were Democrats. The bill was referred to the Senate Committee on Banking, Housing, and Urban Affairs.
Despite large support in both the House and the Senate, the bill never made it any further. HARP was not without the support of large lobbyists either. Supported by groups such as the National Association of Mortgage Brokers, the National Association of Real Estate Agents, and the Center for Responsible Lending, HARP 3.0 seemed like it would pass. Given that the bill neither made any additional progress nor achieved any bipartisan support, it seems that the President will have an uphill battle if he plans to make good on his State of the Union intentions.
If the bill did move forward as originally intended, the following conditions would change:
You would not need to pay for an appraisal, assuming that valid Automated Valuation Models were available in your area. The cost of an appraisal is assumed to limit the number of people who can afford to refinance.
Neither Fannie nor Freddie would need to own your mortgage.
HARP 3.0 would still not apply to VA loan holders; however, a current refinance program called the Interest Rate Reduction Refinance Loan (IRRRL) does help many military families who are stuck in underwater mortgages.
Have you refinanced a home with either HARP or IRRRL? Did you save money? Help other military families by sharing whether your refinance helped you!
photo credit