How Much Does It Really Cost to Own a Swimming Pool?
It used to be that swimming pools were a luxury few homeowners could afford.
But over the years, innovations in pool technology have completely changed that, and depending on your budget, you might be surprised at how much a new pool costs to install and maintain.
Comparing Pool Types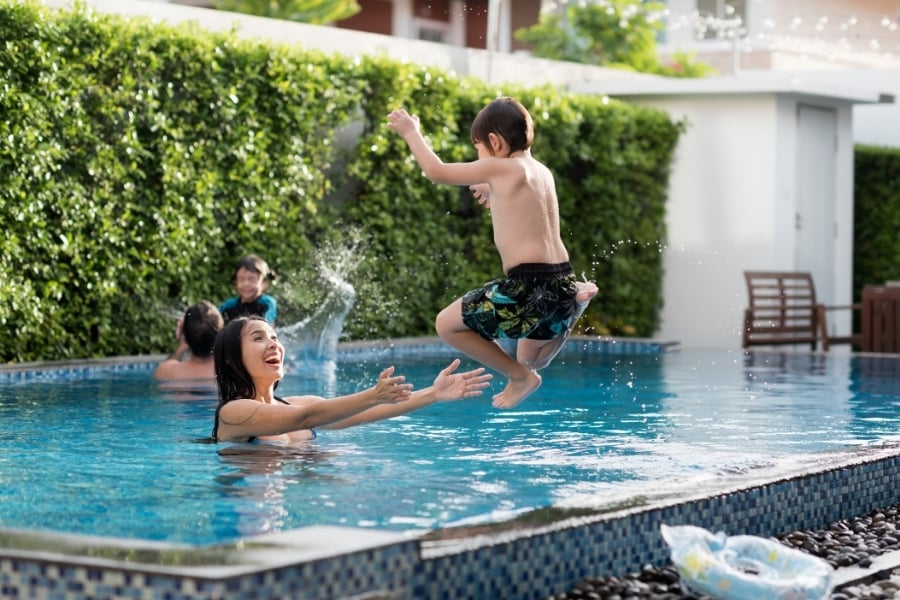 Above Ground Pools
Above ground pools will be the least expensive of the lot and are available in a traditional style, or Intex style.
Traditional above ground pools are usually circular or oval, and come in a variety of sizes. Assembling them can take a bit of time, and they also have a uniform depth throughout, which can turn some people off.
Intex pools are easier to put together, and come in circular, oval, or rectangular designs. They're also less expensive than a traditional above ground pool, while providing a quality structure that will last.
Depending on the size, an above ground pool can cost upwards of $5,500, whereas top of the line Intex pools top out around $2,000.

Vinyl Liner Pools
Vinyl liner pools are the next level up.
This in-ground pool is excavated and built with only perimeter walls. The vinyl liner then covers the walls and floor. These pools can be built to any size, shape, or depth you wish. The average price starts at $25,000, with the liner requiring replacement every 5 to 10 years (an extra $5,000).
Fiberglass Pools
Fiberglass pools have made the biggest advancement in the pool industry, and are now the best "bang for your buck" option.
They're built from a fiberglass shell with a durable gel finish that can last upwards of 30 years. They come pre-molded, so you can't customize the pool, but they have enough variety to please most buyers. These pools cost an average of $40,000, but they also have the least amount of maintenance costs.

Concrete Pools
Finally, there is the top of the line option: concrete pools.
Concrete can be finished using epoxy paint, plaster, aggregate, or tile. You also have no limits when it comes to designing the pool's shape and size. However, due to their materials and laborious installation, building a concrete pool from scratch averages around $75,000. The upside is you'll pretty much have it forever.
How Much Does It Cost to Maintain A Pool?
Aside from installing a pool, you'll have to maintain it so it doesn't fall into a state of disrepair. Let's look at how much pools cost to maintain.

Regular Maintenance
Without regular cleaning, the pool will become a cesspool of pollutants that can harm swimmers. The easiest way to ensure your pool stays clean is by creating a maintenance schedule and adhering to it.
Most pool owners perform a weekly maintenance routine on their pool. This consists of testing the water, topping up sanitizer, skimming the pool surface, brushing down the pool walls, and/or vacuuming out debris.
With your pool running every single day, and cleaning required at least once per week, you'll have a sizable bill to be paid at the end of the month.
Electricity bills will run anywhere from $30 to $50 per month, and water between $40 and $60. You'll also need to take into account the chemicals you're using in the pool. Things like chlorine, bromine, salt (for saltwater pools), shock, cyanuric acid, and muriatic acid are all chemicals that one may require to keep pool water clean and balanced. Budget for between $80 and $100 for monthly chemicals.
Of course, if you don't want to clean your pool and would prefer a professional company take care of it, that can also be arranged. Monthly pool cleaning services range between $100 and $150.
Opening And Closing Your Pool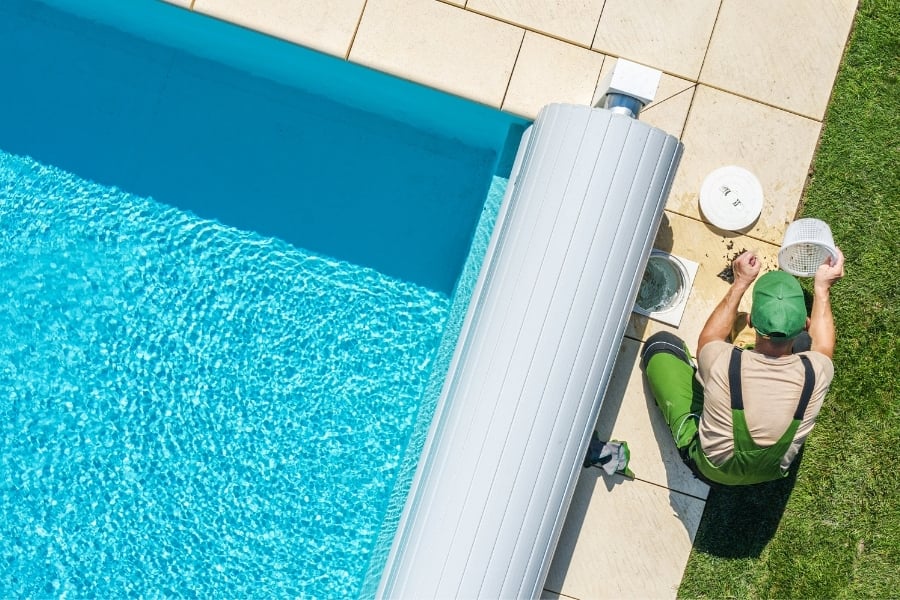 This cost is dependent on where you live. Some areas of the world stay warm and sunny year round. But for a large portion of pool owners, the pool will be subject to multiple seasons. This requires you to close down the pool during the winter months, and reopen it once the weather warms up.
Opening and closing a pool isn't a hard process to learn (and can cost a few hundred dollars), but it is a time-consuming one.
If you'd rather leave it to a professional, they can charge anywhere from $150 to $300 each time. Looking at it from the point of potentially saving $600, we'd highly recommend you learn how to open and close your pool.
Troubleshooting Pool Issues
Like all things in life, pools will eventually break down and need servicing.
Your pump might need to be replaced. Repairs or resurfacing to your pool finish may need to be done. You may experience the dreaded "pool pop".
Whatever the case, something will happen, it will have to be fixed, and you'll have to pay for it.
Equipment issues can run anywhere from $600 for servicing to $2,800 for full replacement. Plumbing issues vary even more, costing $175 for a basic issue and up to $1,000 for a major one.
There might also be times where your water won't cooperate, no matter how much you try to balance it. An emergency treatment can run upwards of $500 depending on how severe the problem is.

Adding It All Up
Total pool costs are never 100% accurate because there are so many variables that can affect the overall price.
But generally speaking, monthly bills will be between $250 and $360, with your opening and closing costing between $150 and $600 (although this is dependent on whether or not you do it yourself).
As for troubleshooting and emergencies, budgeting for as much as $8,000 isn't unheard of, as anything can go at any time.
Overall, pools today are affordable for many homeowners, and can create lasting memories for you and your family.
Want more helpful content like this? Subscribe so you don't miss a post!