PCS and Explore Charleston's Historic Downtown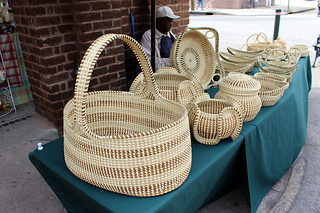 If a PCS to Charleston, South Carolina, is in your future, make the time during your house hunting planning sessions to include a day trip investigating downtown Charleston. Although I find the city very unique, charming, and historical, others familiar with cities such as Annapolis, Maryland and Old Town Alexandria, Virginia, will probably identify similarities in architecture and the waterfront lifestyle.
The streets are historically narrow, uneven, and typically under some type of construction, not to mention often one way, so I recommend finding a parking garage and leaving the car for the day. An even better suggestion is to find a centrally located hotel, spend the night, and leave the car until departure.
The heart of the downtown area is centered on the historic Charleston City Market. This open air market serves tourists and locals with wares of all types, from the signature sea grass woven baskets made in traditional fashion to contemporary handmade silver jewelry and local snacks. I think of it as what a brick and mortar Etsy would be like. The Market's hours are 9:30 a.m. to 5:30 p.m. daily, and during March through December the Night Market is open between 6:30 to 10:30 p.m. on Fridays and Saturdays only.
There is not a shortage of hotels in Charleston's historic district. From national chains to award-winning boutique hotels, there is something for everyone. Although there are many choices, the heart of its local business scene is tourism and room rates reflect how popular a visit to Charleston really is. Expect to spend near $250.00 per night or higher for this area. This should include the high tourism taxes and daily parking fees.
Two of my personal favorite stays are found right on Market Street: The French Quarter Inn and Market Pavilion Hotel. Both have extended a military discount for us in the past, but it is not a typical rate they advertise--you'll have to ask. The French Quarter Inn has several delicious amenities that make the stay even more enjoyable. Champagne upon check-in, an evening wine and cheese reception, Port wine night cap service, and fresh baked cookies and milk each evening make it difficult to actually leave the property.
Market Pavilion Hotel boasts the best views in the city from its luxurious rooftop pool and bar area. This is one of our favorite places for a cocktail before and after a meal in the area. I also highly recommend splurging on the concierge level. This restricted floor offers deluxe hot breakfast, afternoon tea service, and hors d'oeuvres reception.
Fantastic restaurants are also prevalent in this area and entirely walkable. Old standbys such as Magnolias, as well as of the moment eateries like Halls Chophouse line the streets of Market, King, Broad, East Bay, Queen, and Meeting. Reservations are generally necessary for the most popular places like Chef Sean Brock's McCrady's and Husk.
The above mentioned are just a few of the many, many options for dining and lodging for historic Charleston. Consider perusing PCS Lodging to find a stay suitable for your needs.
photo credit: wallyg via photopin cc