What to Know for Your PCS Move to Joint Base Elmendorf-Richardson (JBER), Alaska
Joint Base Elmendorf-Richardson (JBER, frequently referred to as "J-Bear") in Anchorage, Alaska, frequently ranks high on dream sheets, and for good reason. When it comes to quality of life, a tax-friendly state, and endless, rugged beauty (conveniently located next to Alaska's largest city, Anchorage, with metropolitan amenities), it's easy to see why those who PCS to JBER often decide to make this Arctic destination their forever home.
JBER is a large installation, comprised of both Elmendorf Air Force Base and U.S. Army Garrison Fort Richardson. The Anchorage military community is home to over 29,000 joint military and civilian personnel, three Air Force total-force wings, two Army brigades, and 75 associate and tenant units.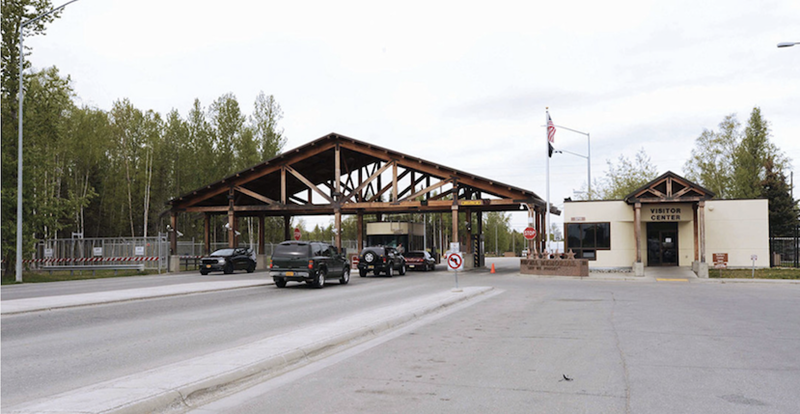 Base gate at JBER. Photo by JBER
Alaska has long been a strategic location for a military presence in the Arctic, dating back to 1867 when the US brokered a deal to purchase Alaska from Imperial Russia. As military missions became increasingly important during World War II, military units and airfields continued to expand across Alaska. In 2010, Elmendorf Air Force Base and Fort Richardson merged to form Joint Base Elmendorf-Richardson, with combined missions to support and defend U.S. interests for the Asia Pacific region.
Getting to JBER might be a trek, but it's well worth the adventure. The installation offers a high quality of life and job satisfaction. Coupled with numerous base-facilitated outdoor adventures and an overall lifestyle factor, it's easy to see why JBER earned distinction as the 2020 winner for the Commander in Chief's Award for Installation Excellence. (JBER clenched the winning spot out of 183 USAF Installations worldwide).
Getting to JBER
There are three ways to get to JBER: fly, drive, or ferry (ferry departs from Washington state), or a combination of the above. A key consideration for travel will be the time of year you will be moving to JBER. From the end of September through mid-April, it's best to fly–unless you are experienced in driving in severe winter conditions. For those wishing to drive, particularly in the summer months, the Mile Post Magazine and the Facebook group, Driving the Alcan – Alaska Canadian Highway, are both excellent resources to help you with maps, travel planning, lodging, gas stations, and more.
Note: At the time of this post, Canada is imposing restrictive COVID-19 travel policies for any transit through Canada. As this guidance is frequently changing, ensure you check the latest travel and border guidance from the Canadian government. If you do plan to drive through Canada, ensure all family members are listed on military orders, and you allow sufficient time to get passports (if you do not already have them).
Dispelling a Few Myths About JBER
Alaska has a well-earned reputation for being a wild, rugged state. After all, the state's motto is "The Last Frontier." And while the state does gets its fair share of snow, and it is true that the moose may eat the roses in your front yard, Anchorage has a few pleasant surprises in store.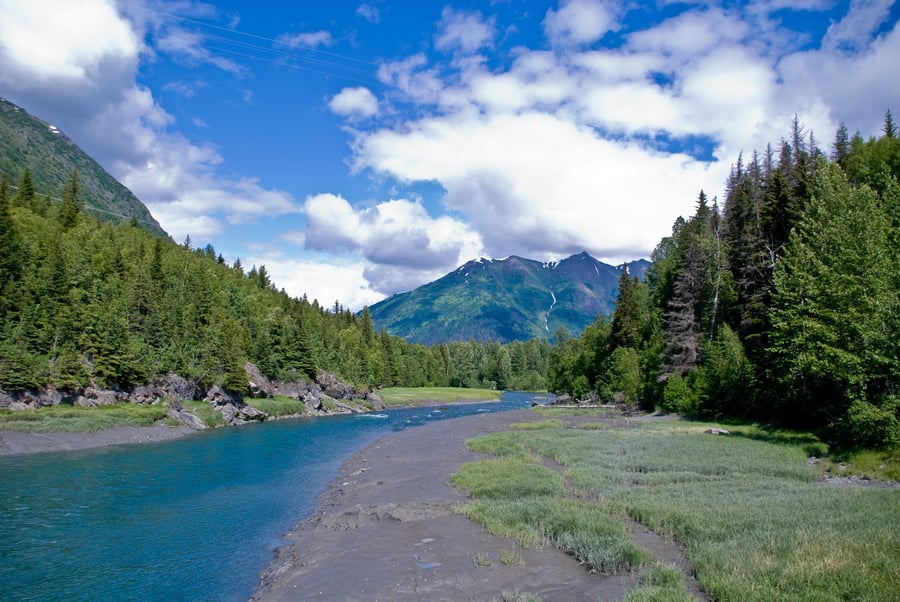 Photo by Anthony Cox on Unsplash
Anchorage Area Weather Might Surprise You
The Anchorage area has a more temperate climate than might be expected. Sure, the area does get snow, and quite a bit of it (averaging 182 inches annually), but it's not a squalling, constant blizzard that might come to mind when someone mentions Alaska. In the coldest months of January and February, the temperatures average 14 to 23 degrees. While still cold, it's not the sub-zero tundra that you may be expecting.
Anchorage Does Not Experience Total Darkness in Winter
There are towns in Alaska that do live in complete darkness for months during long Arctic winters, but Anchorage is not one of them. While the days will shorten during winter, Anchorage will still enjoy daylight for five to six hours, even in the winter. On the plus side, by April the days stretch to twelve and thirteen hours of daylight. By July, it's not uncommon to enjoy a sunset at 11 p.m.
But It Is True About the Wildlife
There are bears and moose that live directly on JBER, in the wooded areas. Sometimes they do make it into residential neighborhoods in base housing. Don't approach them, give them space, and never, ever feed them.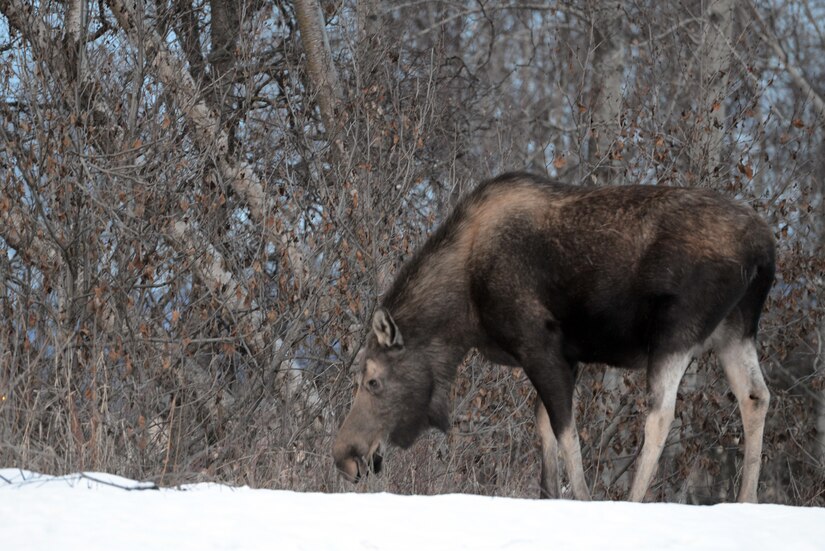 A moose grazes near the fence line at JBER. According to the Alaska Air Force Dept. of Fish and Game, more people are injured by moose than bears. Air Force photo by A1C Javier Alvarez.
Where To Live at JBER
Rent, buy, or live on base – you'll have all three options at JBER. Even before the recent housing spike, Anchorage has been a notoriously high cost of living area, so be prepared for a bit of sticker shock if you are looking to buy a home.
On Base: Aurora Military Housing
Privatized housing on JBER is operated by Aurora Military Housing, and there are a number of home plans available. There are 3,262 units across 19 neighborhoods, and schools directly on base. Average occupancy is currently running at 92 percent, meaning that the wait lists to get a home on JBER tend to be more manageable (and realistic), averaging one to two months. As soon as you know your arrival date, and want to live on base, contact Aurora to get put on the wait list.
Living in Anchorage
Homes in Anchorage are pricey, and a good home in a nice area will easily run into the $400,000+ price point. South Anchorage is a popular neighborhood for families looking to buy.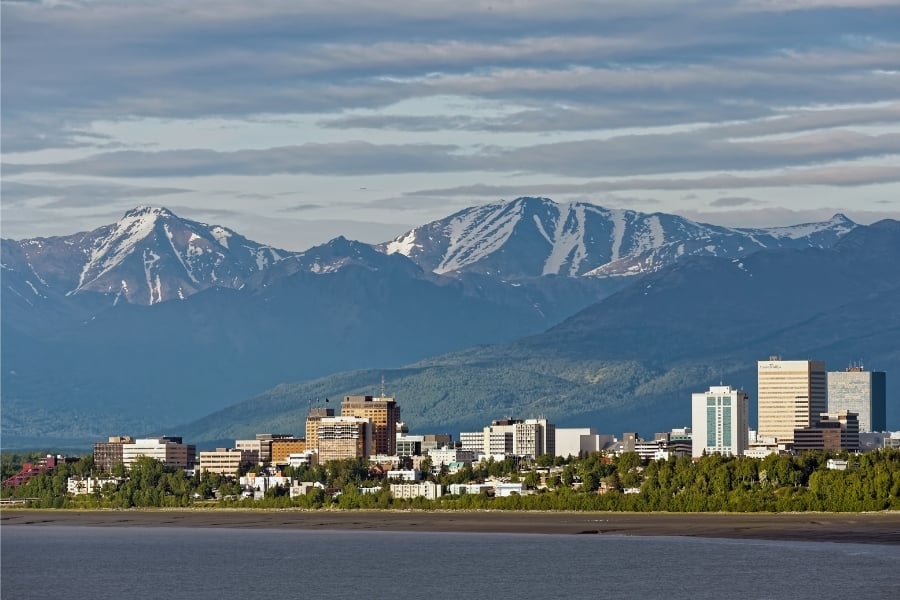 A view of downtown Anchorage.
Eagle River
For a small-town feel, many families look to Eagle River when buying a home. Eagle River is north of JBER, but with a fairly easy commute of twenty or thirty minutes. As the town is nestled at the base of the Chugach Mountains, it's hard to beat the beauty of Eagle River, and would be a good choice for families considering military retirement in Alaska.
"The Valley"
For those that don't mind a commute, you'll get a bit more bang for your buck by living in "the Valley." The Valley is comprised of the communities of Palmer and Wasilla, and home prices do tend to run 10 to 20 percent less than a comparable property in either South Anchorage or Eagle River. The prime drawback (or prime benefit for some), will be a 45- to 60-minute commute. In the summer when roads are clear, the commute is a breeze. But in the winter, an hour-long commute can stretch into two hours in inclement weather.
Things to Do Near JBER
Quality of life is the prime draw for those seeking an assignment to JBER, and is an outdoors paradise. With a major international airport, mountain ranges, forests and hiking, and access to the sea, there are plenty of both solo and family-friendly things to do. Here's a few ideas!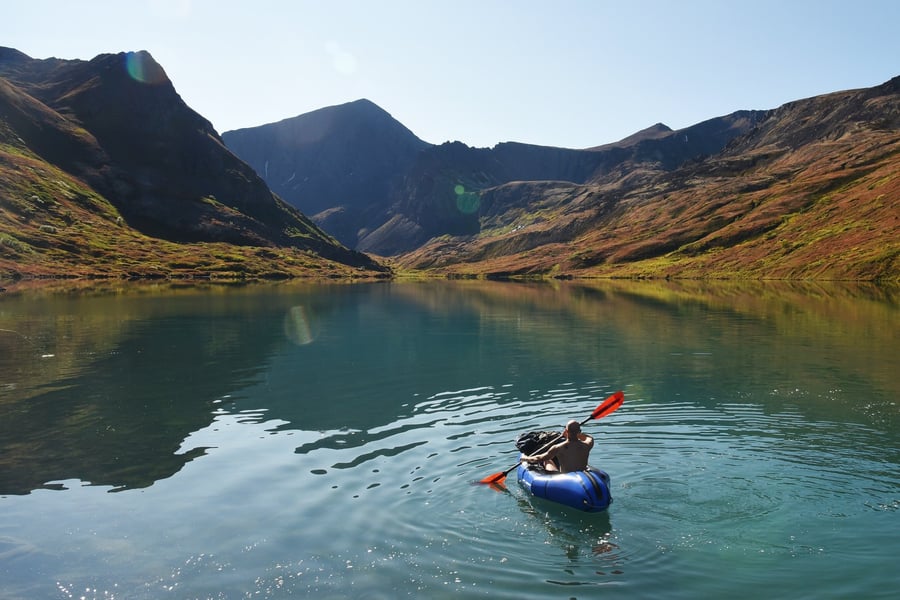 Photo by Paxson Woelber on Unsplash
Nature cruises to the Kenai Fjords in Seward.
Explore the Alaskan coast and wilderness aboard the Alaskan Railroad .
Learn about Alaskan history at the Iditarod Headquarters
Fish to your hearts content (winter or summer!), and watch the salmon run.
Bears love salmon too, and you can watch them in action at Brooks Falls, Katmai National Park.
Visit North America's tallest mountain, Denali – and explore six million acres of wilderness in Denali National Park.
Lace up those hiking boots, and explore hundreds of trails around Anchorage.
In winter, hit the slopes next to JBER at the Hillberg ski area.
Get your pilot's license right on JBER, at the Elmendorf Aero Club. One out of every 50 Alaskans has a pilot license!
The JBER Area Is an Attractive Retirement Destination
Many military members choose Alaska for their retirement, and particularly JBER. In addition to a tax-friendly environment (there is no state income tax in Alaska), JBER often parlays into a satisfying post-military career as a federal civilian. Additionally, the Anchorage area is very military friendly, and offers excellent veteran medical care through the VA Hospital, which also shares state-of-the-art medical facilities with the JBER medical group.
The convenience and amenities of a large city, combined with the retiree benefits of continued military installation access, make JBER an attractive retirement destination. The jaw-dropping beauty of the surrounding mountains, endless hiking trails, rivers and lakes, glaciers, and wildlife are truly a nature-lover's dream come true.
Want to learn more about JBER? The installation has several helpful resources to help you get settled to Alaska!
Moving to JBER? Take a look at MilitaryByOwner's inventory of homes for sale or rent in the area!