Planning Travel While Your Service Member Is Deployed
When your service member has a deployment looming, you need something to look forward to while he or she is gone. Planning a fun vacation— whether to visit family, relax on the beach, or explore a new city— is the perfect distraction!
The good news is that planning travel while your service member is deployed can actually be easier in some respects, because you don't need to deal with a constantly-changing work schedule or the possibility of a last-minute leave revocation!
With that uncertainty out of the way, here are some tips for making the most of travel opportunities during the deployment.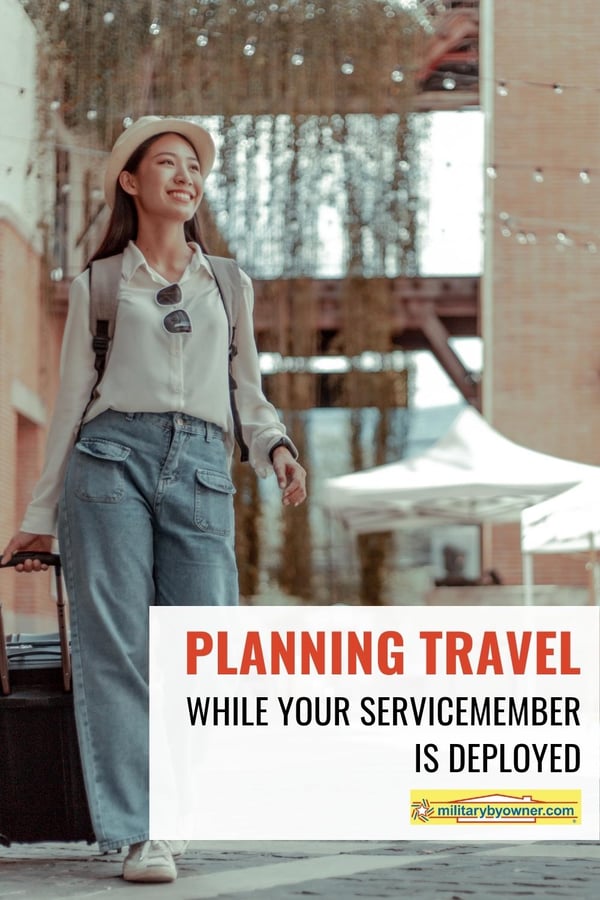 Take Advantage of Space-A Travel
The first thing you should know if you want to travel while your service member is deployed is that you are eligible to fly space-available ("Space-A") unaccompanied.
You can take "military hops" to destinations all over the world, as often as you want, for the duration of your sponsor's deployment.
This is a fantastic privilege that can save you a lot of money on airfare! To take advantage of it, make sure you understand how Space-A works, then get a Deployed Sponsor Dependent Verification Letter from your service member's command.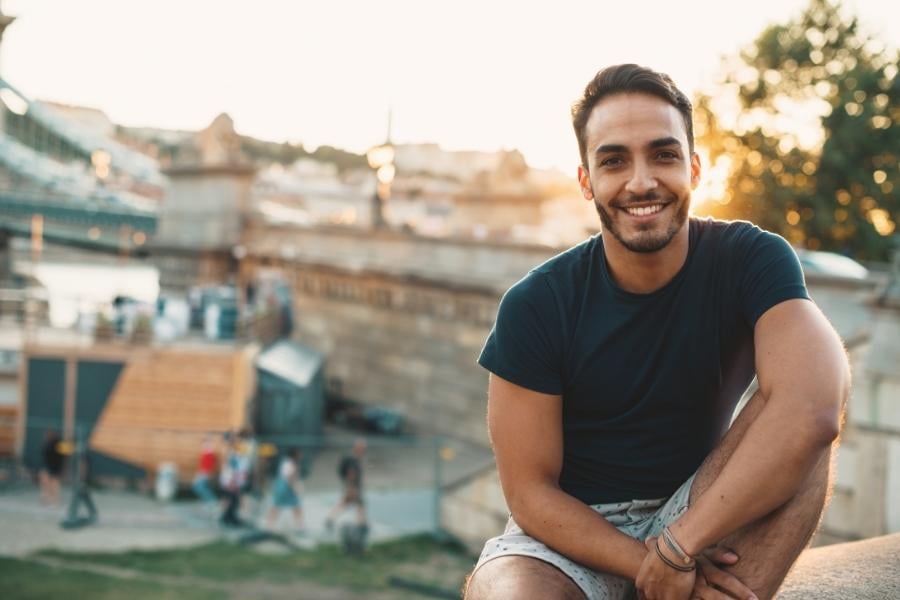 Image from Canva
Traveling Solo
If you don't have kids, this is your chance to do exactly what YOU want to do on a trip!
For first-time solo travelers, planning a trip on your own can seem intimidating, but there are many benefits of traveling alone.
It's a great time to visit a place you've always wanted to see and to take as much or as little time as you want to explore. You can visit every tourist attraction in the city, or you can simply wander the neighborhoods and sit in coffee shops.
To truly make the most of this self-directed adventure, do something you wouldn't normally do when traveling with your spouse, such as taking a language class, attending a cooking workshop, or joining a tour. You will likely find that when traveling alone, you meet new people much more easily than traveling as a couple.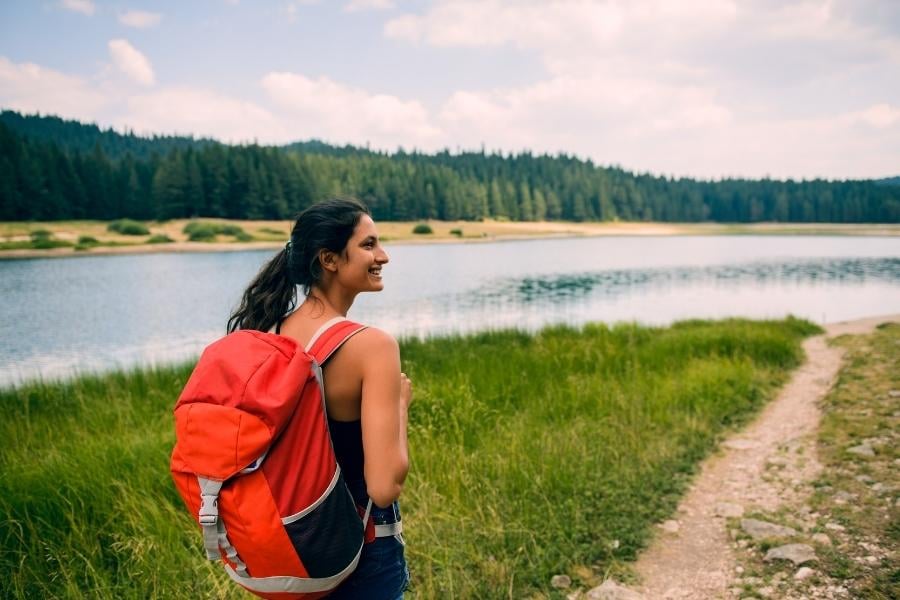 Image from Canva
Traveling With Kids
When traveling by yourself with kids, do what you can to make the experience as fun and low-stress as possible.
For Kate Horrell, spouse of a recent Navy retiree, the theme when traveling with four children during numerous deployments was "simplify, simplify, simplify." That meant no complicated itineraries requiring lots of advance coordination or precise timing.
In fact, one of the best ways to reduce stress while traveling is to avoid daily itineraries altogether. Rather than planning exactly how you will spend each day of your trip, research in advance some things your family wants to see and do so that you know what your options are. But allow flexibility in terms of what you do when.
After some trial and error during her husband's first few deployments, Kate figured out what worked best when traveling with her kids. Rather than having a strict plan each day, "we woke up in the morning and asked 'what do people want to do?'"
This approach also lets kids choose what's most interesting to them AND it prevents another frequent cause of stress on vacations: overscheduling your days. Just because you're "there" doesn't mean you need to maximize every moment. Cut yourself some slack when traveling without a partner, and do only as much as is comfortable.
Another option to consider if the idea of traveling by yourself with the kids seems overwhelming: ask for help! A family member or friend might be happy to join. Even better, if you know another spouse whose service member is deployed, partner up and plan a trip together!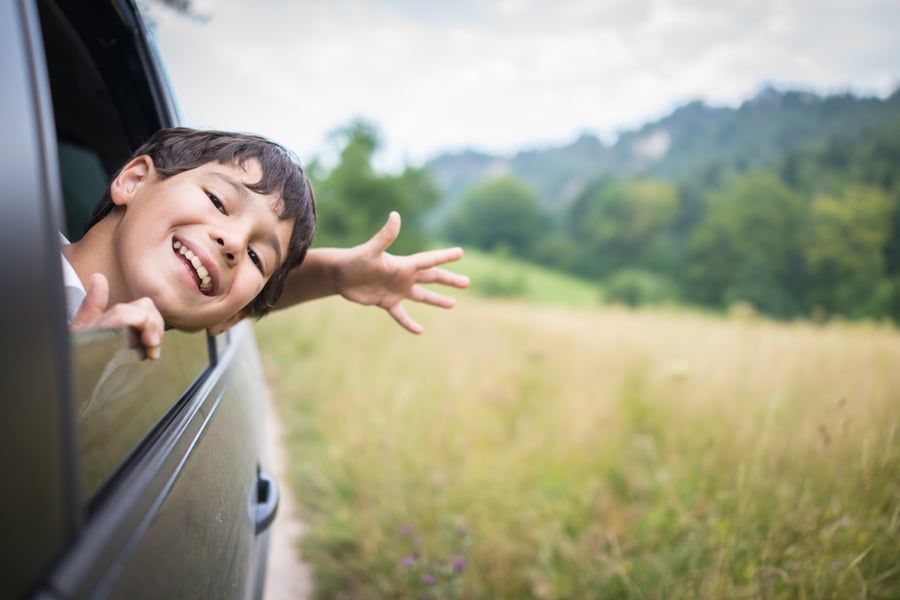 Image from Canva
Could You Do an Extended Trip?
With a long deployment on the horizon, if you don't have any commitments that require you to stay put, this could be a unique opportunity to get out and see the world!
Shannon Jones, Air Force spouse and founder of the Facebook community SpaceAtheWorld, did just that. When her husband deployed in 2016, she found a homeschool curriculum, packed up their two sons, ages 9 and 10, and traveled the globe for 4 months, primarily using Space-A flights.
Since that first adventure, Shannon has taken every opportunity to travel with the kids during her husband's deployments, usually for several weeks or months at a time. Homeschooling is still the best way to make it work. She explains "With longer travel, we found homeschooling was really the only option that didn't cause issues with prolonged absences from school."
Extended travel also required extra logistical planning, particularly for the house and pets. The easiest solution was to hire a house sitter who could take care of their home, pets, mail, and any other household issues.
If you really want to go on your own adventure while your service member is deployed, follow in Shannon's footsteps!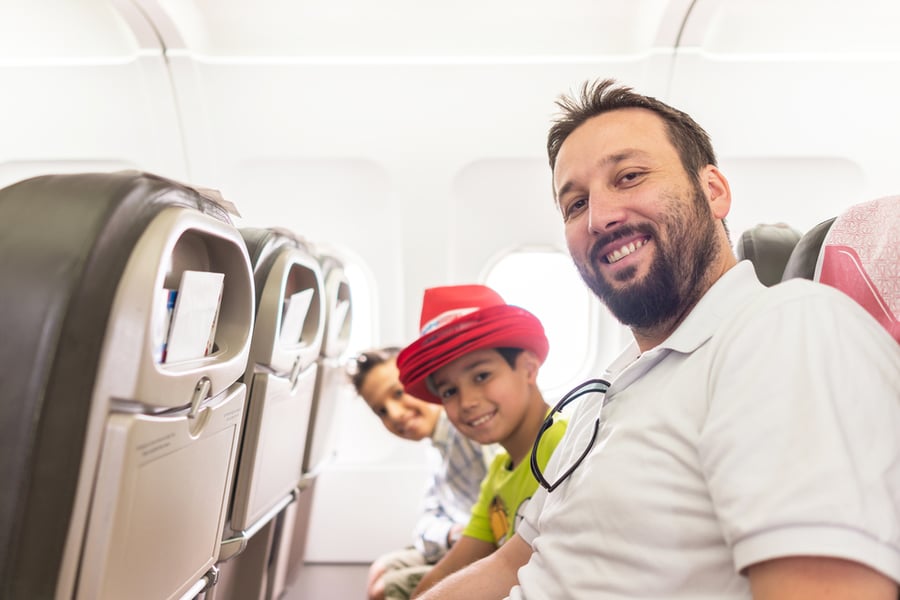 Image from Canva
Final Advice for Traveling During Your Spouse's Deployment
By all means, get out there, plan a trip, and have fun! Make sure you take plenty of pictures and videos so that your service member can share as much of your experience as possible, Shannon advises, "Remember that they most certainly would want to be on that trip with you. Keep in touch often, send pictures, and let them know you are thinking of them."
And when your spouse returns from deployment, plan a vacation for the whole family!
Looking for more ideas and help for your upcoming travel? Download our free guide below!