Real Help for Self-Employed Military Spouses Overseas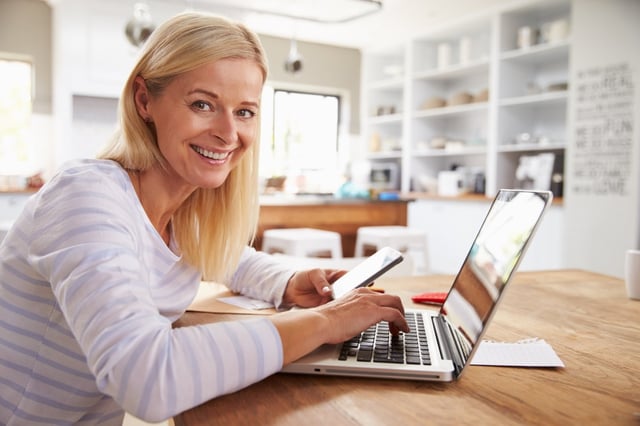 by Stephanie Brown, CEO/Founder The Rosie Network
The boxes are unpacked, the kids are busy, and you're ready to start your small business. Where do you even begin? What is a SOFA? Sifting through all the conflicting information has left you even more confused…and frustrated.
We hear you. In fact, you are not alone.
"We don't choose to become unemployed and shipped overseas. We choose to support our husbands and country from the back seat and try to keep busy, active, and maybe make a few bucks while doing it.
"Sadly, no one cares about the earning value of a military spouse."
"If this issue were more well-known, families could make an educated decision to move overseas…..It would be our decision to make, instead of moving overseas and suddenly learning my earning capacity as an entrepreneur was zero."
And we do care. Being a military spouse can be challenging when it comes to having a career and it is even more so when doing it overseas. While entrepreneurship offers portability and flexibility, there are some basic things you should know when starting a small business overseas.
Before we begin, let's clearly identify what qualifies as a Home-Based Business (HBB).
Home-based business (HBB): Any private business conducted out of the home for profit. An HBB includes businesses where the services are performed or goods are sold outside of the home (for example, an artist who paints at home but sells paintings, by appointment, at the customer's home; a tutor who operates at the customer's home but maintains business records at home). An HBB also includes any business that arranges personal demonstrations of goods (for example, lingerie, cookware), advises potential customers on the use of those goods, and solicits individual orders at social gatherings, even if orders are mailed directly from a wholesaler to the customers. An HBB also includes activities normally performed as a hobby if an individual, on a frequent and recurring basis, sells the goods produced or performs services for profit. (Source)
First Steps
Before you pass GO, march into your installation's Housing Office and get the facts. They should be able to provide you with everything you'll need to start a HBB. If not, make sure they refer you to someone who will!
Check! What's Next?
Written Request. Submit a written request to the Installation Commander, Housing Director, MWR (service equivalent) and Exchange Director at least 30 days before beginning operations. Check out this sample letter here. If you operate a business that requires a permit or license by the Host Nation, you will be required to provide a copy. A permit to conduct business without a permanent local office in Germany is called a reisegewerbekarte.
U.S. Taxes. You may not be required to register your business with the HN, but there may be a significant tax incentive if you register it with the U.S. For example, in 2010, the Foreign Earned Income tax credit allowed you to claim up to $91,500 for which you are not taxed, provided you spent at least 330 days per year out of the U.S. If your business is registered with the IRS, it will be easier to substantiate the origin of your income.
Host Nation Taxes. Sorry, but there is no simple answer to this question. Each country is different. If you are required to pay host country taxes, you can receive a credit for the taxes paid when filing your U.S. taxes. This will eliminate the double tax burden. Your Housing Office has a list of resources.
What is Not Permitted. The list may seem long and in some cases, unfair, but don't let that discourage you. Use common sense and educate yourself on what is and is not allowed at your installation and within your host nation.

No competing with Exchange or MCCS/MWR. If residing in government housing (GH), you may not sell a product or service that directly competes with similar product or service provided by your exchange or MWR (service equivalent).
Don't use the Exchange or Commissary. Don't expect to purchase tax-free items from the commissary or exchanges in support of your business.
No door-to-door solicitation. However, you can advertise in on-post publications.
Don't use your spouse's rank. You can't solicit junior spouses. If you are the CO's spouse, don't try to sell to junior spouses. If a junior spouse approaches you, that's different.
Military Post Office and Gas Rations are off limits. The military post office (MPO) is off limits for your business. If you are in direct sales, and products are shipped directly from the parent company, then educate yourself and use discretion.
The gas ration may seem unfair--after all, if you are driving to a client's house on fuel you purchased on post, what are you expected to do? Again, use discretion. If you operate a business that requires a lot of driving, purchase a percentage of your fuel on the local economy. Save your receipts and write it off your taxes.
Nothing worth doing is easy. We've been there. Literally! Stationed overseas and running a small business. We made lots of mistakes, but it was worth every effort and opened up experiences (and shopping trips) that wouldn't have happened otherwise.
Take it one step at a time and use this checklist to help keep you on track. Once your business is up and running, get your FREE profile page and shopping cart on Rosie's List, the nonprofit platform featuring only verified military family-owned small business around the globe. Rosie's List is part of The Rosie Network, founded by military spouse entrepreneurs just like you and is designed to help you launch and grow your small businesses.
For more information, please contact us at Contact@TheRosieNetwork.org. And be sure to click here for information about The Rosie Network's year-end Give Back Challenge!
For more information about starting a home based business as a military spouse, check out MilitaryOneSource. And remember, this post and the links are not intended as legal advice. Check with your installation's legal office for specific questions regarding your situation.
Photo: Monkey Business/Dollar Photo Club