Time for a Laugh! Sharing Stories Around the Thanksgiving Table
Happy Thanksgiving!
One of my favorite parts of the Thanksgiving holiday is sharing stories around the table. Whether getting together with family or gathering with friends who seem like family, we here at MilitaryByOwner hope you top off your meal with a slice of pie and a fun tale to share.
With this in mind, I'm sharing a few of my own memorable Thanksgiving moments!
Turkey Tales
When our family invited a couple of friends from our squadron to join us for a Thanksgiving meal, those friends extended the invitation to a few more of our military compadres. Now expecting a crowd around our dining room table, we purchased a ridiculously large turkey. This former sumo wrestler of a bird just barely fit within the confines of the cheapie aluminum roaster pan. Supported underneath by my grandmother's cookie sheet, the house smelled magnificent, as the turkey was slow roasted and basted. When it was time to pull the turkey from its heated haven, rather than sliding out the cookie sheet to fully support the glistening fowl, my ever-helpful spouse chose to pick up the pan by the purely decorative wire handles on the sides.
As if with one final act of defiance, the heavyweight bird made the flimsy pan cave in on itself. The spray pattern of grease was splashed throughout the tri-state area. Not only did the kitchen floor now look like an aftermath snapshot from an oil spill, the drippings that leaked into the depths of the oven quickly caught on fire. Flames shot out, crisping decorative tea towels hanging nearby and singeing the arm hair of my shocked husband.
Thankfully, the turkey remained in perfect shape for carving and serving. After significant clean up, the kitchen was once again ship shape. Our guests shared a toast of thankfulness with a side of laughter!
It's a Little Dry...
As one Thanksgiving neared, I traveled back home to help move my elderly aunt into a small apartment. After spending several days convincing my aunt to pare down her household goods for small space living, I also planned a mini Thanksgiving meal to ease the transition.
Rather than cook up an entire bird, I discovered that the grocery store meat department offered just turkey thighs. A smaller portion of meat seemed to fit the downsizing vibe of the week. The bird parts were happily cooking while I whipped up classic comfort food side dishes.
Somehow, I must have lost track of time in between periodic basting breaks. When I finally removed the turkey from the oven, it looked delightful but seemed difficult to slice. Sadly, the meat had become what seemed like rubber. Imagine chewing on a balloon? That's pretty much how it tasted. Eating a sliver of meat was like an Olympic event for your teeth, without even a whisper of flavor.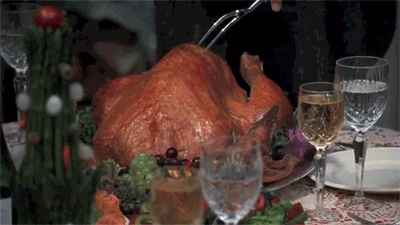 Apparently I had set the oven on too high of a temperature for too long of a time. Super bummed with the main dish, my aunt and I made a low-key meal out of mashed potatoes and gravy, stuffing, corn and a whipped Jell-O salad. Thankfully, the next day, those leftover side dishes paired perfectly with ready-to-eat deli sliced turkey from the grocery store! We celebrated my aunt's new home with new memories and much more tasty fare!
Organic What?
Okay, I'll admit, I am not always the most adventurous eater. However, I am often willing to give a new dish a try. This is a helpful trait to have when my in-laws are busy in the kitchen, as their go-to menu for Thanksgiving is far from traditional. Ever wondered who buys those unique items you've noticed at organic grocery stores? Yeah. That's my in-laws. They are the ones requesting "tofu ginger muffins" or "enlightened rice."
Although not allowed to bring our own dish for Thanksgiving, my spouse and I are often put to work tending to something in their kitchen. Last year, I was handed a bowl that looked innocent enough. Cranberries. Orange slices. Some sort of nut. All three ingredients were ready for the pulsating power of a food processor. One thing lacking? Sugar.
Turns out, raw cranberry is extremely tart. It leaves you with a parched aftertaste, which must be what paint thinner tastes like. It was a truly remarkable side dish. With my in-laws' inventive recipes, we are guaranteed a memorable Thanksgiving experience every year!
No matter if your Thanksgiving table seats two or twelve, we here at MilitaryByOwner are thankful for you! We are grateful every day for the opportunity to share with you our real estate connections, informative articles, helpful resources, and our personal stories.
Thank you for spending your time with us, as we embrace the holiday season, wrap up this busy year, and look forward to new opportunities!