The Certain Uncertainty of a Short-Term Military Move
How many times have you uprooted your life?
If you're a military spouse, then you've probably moved quite a lot. The military doesn't provide us many options when it comes to this. No one comes to your door and asks where you want to move to and for how long. Can you imagine!
No, the military says, Go here for two years. Or sometimes they say, Go there and wait an indefinite amount of time until we tell you to move again.
We know this is how it goes, and we've learned to accept it. Sometimes, military relocations can be predictable. We might know that we'll be in a location for 2-3 years. I can handle that. Even a smidge of a timeline allows me to plan a little.
But how do you handle a move where you'll be living less than a year? How do you plan for such a seemingly tiny amount of time? And what does that mean for you as a military spouse?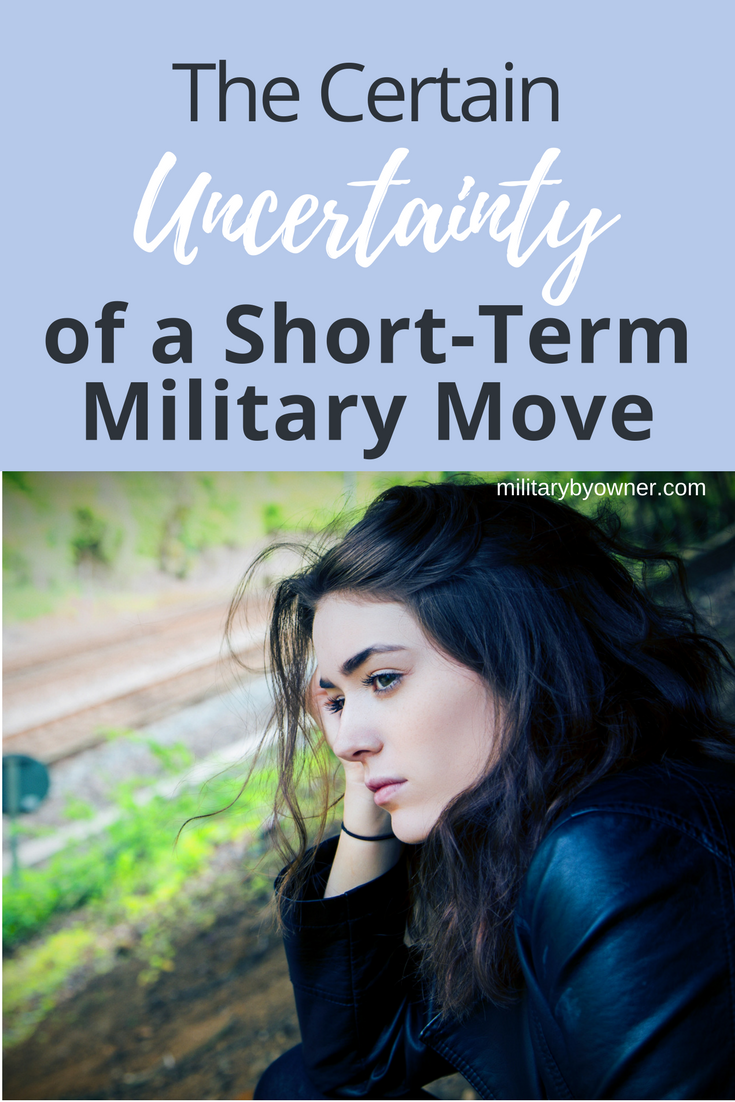 It means uncertainty
.
It means question after question with little clarity to discern an answer. My husband and I have moved five times in four years. Our first move was for six months to Virginia. The most recent move was for less than a year. Eek! As you can imagine I felt insecure; correction, I feel insecure. These small moves make me question what I need to do with my time. I constantly ask:
Do I get a job?
Is it important enough for me to go through the job-hunting process if I will be here for two months? If I do choose to work, do I attempt to find something within the field of my degree or find something quick and easy?
Is it even worth making friends?
Why should I invest in people that I know I will have to say goodbye to soon? As soon as we get to a solid friendship, we will have orders to move again. Is it worth the effort?
Do I get involved in the community?
Do we establish ourselves in a church, Bible study, and spouses' club? Do I volunteer? I don't want people to rely on me if I'm going to have to leave them with the same hole they had when I came.
I don't have the right answer for you. I'm not entirely sure I have the right answer for myself, but these are the conclusions I have come to.
Yes, I try to find a job.
Personally, I chose to because a) that is what my husband and I decided would be best for our family, and b) it is something else I can add to my resume.
I graduated college right before our first move, and I haven't had the opportunity to use that hard-earned degree yet. I wrestle with this thought often. I don't plan to be a career woman. In fact, with our new little one, I love being home full time while working remotely. So, even though I don't have the opportunity to work in the field of my degree, I am still able to gain work experience, make a little money, and keep busy.
Yes, I make friends!
I have friends who struggle with this concept more than I do because, as you know, it takes effort to make friends--effort that feels futile in the moment when you realize your time is temporary! As military spouses, we build friendships because we provide support for one another. As a matter of fact, we will more than likely see our friends again one day.
The military makes up a small percentage of the population. Each branch within the military is an even smaller portion of that percentage. I often hear stories of friends meeting at a particular duty station, and 20 years later being reunited. If you choose to look at the military and potential friendships this way, it is a great blessing.
I get involved to an extent.
Many times, spouses decide how involved they will become with the community based upon their location. I think it has less to do with location and more to do with the amount of time you will spend there.
For example, I became heavily involved with volunteering at our last duty station. It just so happened that the timing worked out perfectly with the turnover some organizations were experiencing, so I filled a necessary spot.
A friend once told me not limit myself. It is necessary to find a balance that works for you. There is no foolproof way to emotionally handle a short PCS, but I believe the more you do it and the more you establish your priorities, the easier it will become.
Are you in the middle of a short-term assignment? What advice would you give?