The Dangers of Having a Crush on Your House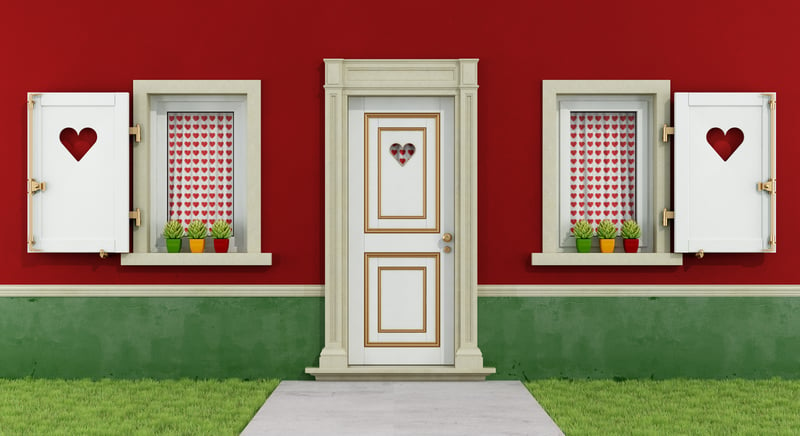 I have a confession. I know that I regularly discuss the importance of buying a house with a firm business plan in mind: Analyze the market to find the demand, and identify whether you can cover your housing costs with rental income if you can't sell at the end of your PCS. That kind of home buying demands objectivity, logic, reason; emotions be damned! It's important to put your feelings away when you are buying a home at each duty station, military families!
But...it's really hard to practice what you preach all the time.
So, when I saw the listing with the adorable cherry red front door and a covered backyard patio that just screamed for some drapes, a rocking chair, and some iced tea (okay, maybe a mojito), I just had to have it.
Now, I have a major, head-over-heels crush on my new home. It's pretty bad. I'm whipping out the gel pens and doodling my name with my new address right after it, drawing hearts around it, and Pinterest planning how to beautify my new kitchen. I've practiced writing my new zip code everywhere. I'm fantasizing about the day my new home and I will be together. I can unite my stuff with his stuff (if cars and boats are feminine, then I think I can use the masculine for a house, right?).
Here's the worst part: It's not even official yet. We just went under contract yesterday, which is basically the equivalent of smiling at the cute boy I like and having him smile back at me while I've already moved on to planning our wedding and where our six children will go to school. Actually, as I write this, I really should be on my way to FedEx to overnight the earnest money check and the option period check…
If you're buying a home for the first time, you should never skimp on having a good inspection. If for any reason the house doesn't meet your approval upon inspection, you can end the deal and have your earnest money refunded. In most cases, though, you cannot have your option period money refunded, though it is usually a nominal amount. In our case it is $100; many states do not have an option period fee.
Fortunately, as soon as I saw my little red-doored home, I knew that we could be together because I had done my homework in advance. Before I even began looking at listings, I spoke with multiple property managers and identified demand in the market. We number crunched to determine just how much it would cost to maintain the home as a rental after we PCS again with the following fees considered:
Mortgage fees
Taxes without a homestead exemption (disappears when the house becomes a rental property except in some states such as South Carolina under the Military Homeowner Protection Act)
A 10 percent allowance for maintenance
10 percent for property management fees
Knowing these figures helped us identify the maximum amount to spend on the home. We then identified areas on the map where rental amounts matched what we needed to make and targeted those in our search. It took about a month to identify the right home; but when we did, we knew it was love--at least for three years.
Now, if you'll excuse me, I must get to FedEx to send my checks and then call a home inspector before I hop back online to obsess over more home décor!
If you've ever fallen head-over-heels with a home listing, what tips do you have to share about staying focused on the home buying mission of buying with a long-term investment strategy in mind?
Want to learn more about your VA home loan benefits? Click below!
Photo credit: archideaphoto/Dollar Photo Club