The Rosie Network: Helping Military Family-Owned Businesses Succeed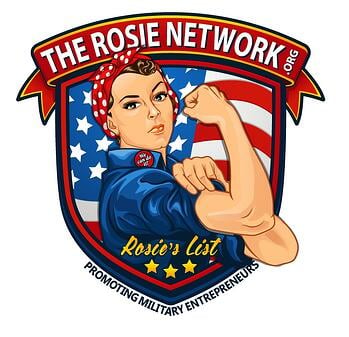 Are you a military spouse or veteran who owns their own business?
Do you have a home-based business, but have recently moved and are finding networking difficult?
Do you wish to expand the client base of your existing business?
Then, meet The Rosie Network, a non-profit founded by military spouses with a mission of promoting military family-owned businesses to the public by making it easier to connect with them.
The Rosie Network was founded by Stephanie Brown, Robin Elliott, and Jill Ivie after Stephanie spent hours searching Angie's List and Craigslist for a contractor to do repair work on her home. Not comfortable having someone unknown coming into their house and preferring to hire a veteran, Stephanie set about creating a means for the American public to locate our nation's military family-owned businesses.
Jill remarks, "To truly be successful, these businesses needed to reach clients beyond their neighborhoods and market themselves more professionally than just on Facebook. 70% of the American public that would prefer to patronize a military-owned business now have a way to find them."
What is The Rosie Network?
One thing that sets The Rosie Network apart from other lists is just that…it is a network, not a list. If you provide a service or have a product for sale--homemade, national brands, or anything in between--the website is there to help you promote your product and business. Best of all, The Rosie Network is completely free to use!
Your Rosie Network webpage gives you a web presence without the cost of maintaining a website. You'll get a photo gallery, content tabs, a place for testimonials, and more. This profile page is customized to suit your business needs. Your affiliation with the military will be verified through ID.me (formerly TroopID), a veteran-owned company which provides verification services to the Veterans Administration, Overstock.com, and many others.
The Rosie Network only features military family-owned businesses on their Rosie's List search tool, but they don't stop there. Through a network of like-minded partners, they provide access to valuable business support and resources, on-line entrepreneurial training, mentoring, and more. All of this is done at no cost, whether it's just the beginnings of a business idea or an established business looking to expand.
Business Help for Veterans
The Rosie Network also addresses the needs of transitioning veterans and already established veteran-owned businesses by offering military family-owned businesses more than just a profile page on Rosie's List with resources such as:
Opportunities to attend entrepreneurial training programs
Small business startup and expansion grants
Opportunities to showcase their products or services to the public during events that bring in over 20,000 people
Coming soon: e-commerce opportunities via a shopping cart.
Success!
(The Rosie Network Team from L-R: Stephanie Brown Founder/CEO, Jill Ivie Co-Founder, Robin Elliott Co-Founder, Leona Sublett Executive Director)
The Rosie Network has some great success stories, and here's one example from Jill:
"Andrea Gallagher of Andrea Gallagher Photography has been working with us since inception. Because we practice what we preach, we have employed her during different showcase and fundraising events. These opportunities have helped her reach new clients and grow her business. She has expanded her business and created the Better Business Babe geared toward helping other military family owned business with branding. She continues to give back to The Rosie Network through her time and talents!"
The Rosie Network is a non-profit organization and operates through the support of sponsors and fundraising. For more information, please visit their website.