Understand the Fair Housing Act When Listing Your Property
Military homeowners have dozens of tasks to consider if they're planning to either sell or rent a home. The list is lengthy and filled with to-do's like market research, cleaning and prepping for advertising photos, and interviewing real estate agents.
But, and especially if you're selling or renting for the first time, add to your list "Understand the Fair Housing Act." The Fair Housing Act is federally mandated to protect buyers and renters from discriminatory practices during real estate transactions, including securing financing.
Understand the Fair Housing Act When Listing Your Property for Sale or Rent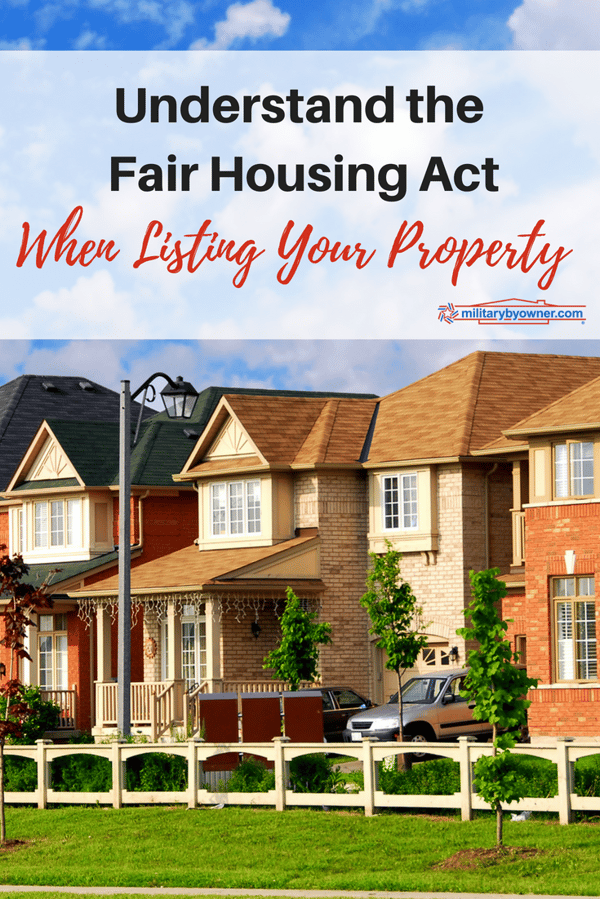 As the homeowner or landlord, you likely have no intention of discriminating against anyone interested in your property, but even with your best intentions, inadvertent discriminatory language could get a complaint filed against you with the Department of Housing and Urban Development (HUD).
For example, although you truly feel your neighborhood is not suited for small children (no sidewalks, playgrounds, or schools nearby) if you add the words "child-free families only" in your advertising, you are most definitely discriminating against families with kids.
Or if you've ever advertised your rental property as "seeking military members to rent," thinking you'd like to support the troops, this is in violation of the Fair Housing Act. As the landlord you cannot convey preference of one group over another. For more information about restricted uses words, phrases, symbols, and visual aids in advertising, see HUD's guidance for Fair Housing Advertising (Part 109)
If all of this sounds a little confusing, let's start from the beginning to see why and how the Fair Housing Act was created.
The History of the Fair Housing Act
As part of the 1968 Civil Rights Act, the Fair Housing Act (FHA) was written to fight against the rampant racial segregation within collections of housing. In simple terms, the FHA forbids housing discrimination based on race, color, religion, national origin, sex, disability, and familial status. The initial 1968 legislation did not include protections for the qualifiers of sex, disability, or familial status. They were later added in 1974 and 1988, respectively.
Local governments may also insert protected classes of people into the federally protected group already established. It's common to see states or cities legislate discrimination against people with certain income levels, military history, marital status, sexual orientation, or gender identity.
The FHA reached a milestone this year by celebrating its 50th year anniversary of existence. Because of this historic event, the act and its regulations are more visible than ever within the real estate business as a whole.
What Homeowners Need to Know Before Renting or Selling
In addition to avoiding any discriminatory behavior against the protected classes, homeowners are legally bound to uphold the same terms and conditions for each applicant. Homeowners cannot attach different qualifiers to a protected class applicant, for example, requiring a deposit for one set of renters, but not another.
Discriminatory verbal or written statements are also illegal, as is misleading an applicant as to the availability of the property. If a family with young children requests to apply, you many not tell them it has been rented only to later rent to a single tenant.
In a survey of 2,300 National Association of REALTORS members, 11% say a transaction of theirs failed to close due to a fair housing issue, including the agent's refusal to work with someone they perceived to be discriminatory.
It's common for homeowners to be unaware or confused by what the FHA requires regarding disabilities. As the owner, you must make reasonable accommodations to their living conditions to enjoy all parts of the house that a non-disabled person would. This includes allowing the disabled tenant to make and pay for the structural modifications needed. Service and support animals are a common accommodation that have to be acknowledged even if the property is advertised as "no pets allowed."
If a compliant is filed against you, HUD has a process to investigate the incident. HUD maintains authority to take depositions, issue subpoenas, interrogatories, and compel testimony or documents. Simultaneous to the investigation, both parties and HUD can go through a voluntary process called conciliation to remedy the situation, but the result must be in the favor of the public's interest in order for the investigation to close.
If not compliant with the FHA, owners face expensive litigation and likely fines for the violations. For 2017, HUD describes the following FHA discrimination penalties:
"A maximum civil penalty of $20,111 for his or her first violation of the Fair Housing Act. Respondents who had violated the Fair Housing Act in the previous 5 years could be fined a maximum of $50,276, and respondents who had violated the Act two or more times in the previous 7 years could be fined a maximum of $100,554."
It's also important for homeowners to know of exceptions to the FHA. It exempts owner occupied buildings with four or less units, single family housing sold or rented without the use of a broker, and housing operated by organizations and private clubs that limit occupancy to members. Keep in mind, however, that advertising with discriminatory language may not be used, even if the exception is legal.
This is why you'll notice that age related communities such as "Active 55+ Adults" are permitted. Still, even in this circumstance, 80 percent of the units occupied have to be by people ages 55 or older.
Owners do reserve rights to legally reject applications, evict renters, and defend their property if they have valid reasons that do not relate to the protected classes descriptions. Nolo's Legal Encyclopedia offers this example to clarify a homeowner's rights:
"A landlord who rejects an applicant because she's female and Hindu is violating the FHA's ban on discrimination based on sex and religion. But a landlord who rejects a female Hindu applicant because she has poor credit or can't afford the rent isn't violating the FHA—assuming the landlord applies the same screening requirements to all applicants."
Landlords who Use Consumer Reports for Rental Property
If you choose to run background checks on potential tenants, be aware that the Fair Credit Reporting Act (FCRA) requires steps be taken in order to deem the investigation lawful. Review consumer reports with the FHA in mind in addition to local protections. Although you might feel you have the right to refuse applicants for specific reasons noted in consumer reports, such as a criminal history, this may be in opposition to the applicant's rights protected by the FHA.
Traditionally, credit checks come from sources like Trans Union, Experian, and Equifax. In addition, tenant screening services provide rental history and reports from previous landlords and housing court records.
After reviewing the reports, landlords can choose to perform adverse actions against the applicant. Adverse actions impede the application processes.
Deny the application
Require a co-signer on the lease
Require a deposit that would not be necessary for another applicant
Require a larger deposit than might be necessary for another applicant
Raise the rent to a higher amount than for another applicant
If the landlord performs any of these adverse actions, they are obligated to let the applicant or tenant know either orally, in writing, or electronically.
Landlords must obtain permission to seek these reports, usually included in the application that is required to apply for tenancy. It also has to be stated with the reporting agencies that you are only using the report for housing purposes.
The Fair Credit Reporting Act mandates destruction of the reports after the pertinent information is used. This includes burning, pulverizing, or shredding paper documents and deletion of electronic information. The Federal Trade Commission governs the FCRA and provides landlords with more information about consumer reports and adverse actions on their website.
The National Fair Housing Alliance
The National Fair Housing Alliance (NFHA) works hand in hand with HUD and is regarded as a leading civil rights organization that specializes in monitoring and reporting on all topics related to fair housing. "NFHA works to eliminate housing discrimination and to ensure equal housing opportunity for all people through leadership, education, outreach, membership services, public policy initiatives, community development, advocacy, and enforcement."
It is through their investigations that many details and statistics are reported to highlight the continued efforts to bring equal housing opportunities to everyone. According to their 2017 report, more than 25,000 housing discrimination complaints were filed with federal, local, and national fair housing agencies across the country. Disability claims were the most prevalent, followed by complaints about race discrimination. Interestingly, 91.5% of the cases were during the process of a rental house transaction.
Although 25,000 housing discrimination cases may seem like a small number compared to the population in the U.S. who buy or rent homes, The NFHA estimates that over 4 million instances of housing discrimination occur annually; the vast majority of occurrences do not get reported. Most of these are instances are unknown to the housing seekers because they do not realize there are laws to protect them while searching for housing.
The Important Part a Real Estate Agent Plays
It is up to the landlord, renter, homeowner and buyer to familiarize themselves with the FHA to maintain fairness during any real estate transactions, but the guidance from a real estate agent can prove to be invaluable for avoiding any missteps.
A real estate professional is prohibited from discriminating against any protected class and in fact, is held to higher standards in fair housing matters. This is why when a client asks, "Is this area safe?" or "Are the schools good?" an agent has to explain that they cannot answer these questions as they are likely violating the FHA.
Even if the agent's client requests transactions that are framed in an off-the-cuff manner and not viewed discriminatory by the homeowner, but the agent knows the requests violate the FHA, the agent cannot legally fulfill the transaction. The agent may even feel it necessary to report the unlawful request to a local housing agency or HUD.
According to a REALTOR magazine survey, 64% of agents discuss fair housing with buyers and sellers, with only 26% of clients bringing up fair housing issues.
Real estate groups gladly take it upon themselves to continue and maintain their education about the FHA. It's normal for agents to update their local licenses every 2-3 years through FHA training at the local level. Remember, these laws may extend beyond federal stipulations.
Fair housing acts both federal and local are designed to help renters and buyers find quality homes regardless of race, color, religion, national origin, sex, disability, and familial status. Violations, although unintentional or made in ignorance of the laws, are still illegal and could have costly ramifications.
Homeowners are cautioned before advertising their property to, at a minimum, talk with a real estate agent to understand your rights as an owner and to ensure the lawfulness of your future transactions. Real estate attorneys specializing in fair housing acts are also recommended for consultation.

Copy & Paste Text in Box to Share this Graphic On Your Site!