What About Me? Coping with Military Spouse Career Challenges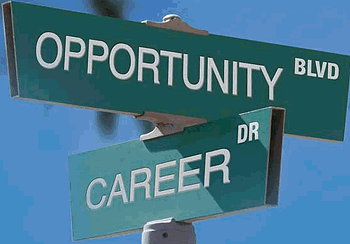 According to the Military Spouse Employment Survey, 90% of responding female spouses of active duty service members are "underemployed," i.e., possessing more formal education and experience than is required at their current or most recent position. The survey also notes a continued income gap between armed forces spouses and their civilian counterparts. And if that isn't enough, 55% of respondents indicated it was "difficult" to find their current or most recent job.
Well, that's just dandy, you might be thinking, Why don't you also give me a nice paper cut and hand me a bottle of lemon juice to top it off?
While we all wish that the challenges that go along with military spouse employment would be fixed yesterday, what I find encouraging about reports like this vs. when I was a young spouse is not only the fact that the issue is being discussed at all, but that the military itself and other agencies are dedicated to helping spouses keep their own careers afloat while dealing with the ups and downs inherent to life in a military family: relocations, childcare issues, and coping with the ever-changing schedules or deployments of the military member.
I recently polled a few military spouse friends about the issues they've faced in their careers and what advice they'd give to younger spouses. Here's what they had to say.
1) Don't shy away from your military spouse background.
I recall being asked at one of my first job interviews as a spouse: What brings you to the area? Followed quickly by How long will you be here? I hemmed and hawed my way through that interview, didn't give a straight answer to the second question, and (surprisingly) landed the job.
A friend of mine confessed that she's straight out lied at job interviews about how long she'll be in an area and avoided altogether any mention of her husband's military service after being passed over for opportunities several times. However, I'd recommend answering truthfully!
For one, our society is more mobile than ever, so moving often is not unheard of. And secondly, the strength and flexibility you've developed as a military spouse may be to your advantage. In "Do I Tell the Interviewer I'm a Military Spouse?" from Military.com, one job seeker notes that being a military spouse is an asset and makes you "flexible, independent, and a team player."
2) Reinvent yourself.
How many of us have thought, I would leave this job and do something else if only… Well, you get the chance! My friend Debbie Sweitzer commented,
"The advice I'd give would be to find a new short-term career every time you move! I get to reinvent myself and try out new things. And, perhaps, someday, I'll get to choose one and stick with it! I've been an engineer, computer programmer, piano teacher, homeschooling mom, full-time volunteer, pianist, youth leader, and substitute teacher. I'm sure there will be more!"
3) Look for flexible job opportunities like telecommuting or starting a home business.
If you're not keen on switching jobs with every move, perhaps you'd be interested in telecommuting or working remotely with a portable job that you can take with you wherever you go. More and more companies are open to telecommuting, with telework rising 80% since 2005! In fact, telecommuting continued to grow while the total workforce declined.
Remote jobs range across many careers, including nurses manning call centers to editors and writers to graphic artists. Google documents and video conferencing have certainly changed the face of the workforce. One company's president recently made a push for more opportunities for telecommuting in the highly competitive tech field, especially for moms wishing to be home with their children. Other spouses have parlayed their careers into work-at-home situations or started a home business.
4) Be open to building your resume through alternative means, like volunteering
.
If you're not able to find the exact job you're looking for, think creatively while you bide your time. Penny Everett, who operates a home business, comments,
"Find something flexible that can be planned into your life. Not planning my life around my job has been key and essential. Loving what you do also makes a huge difference! Be flexible and prepared to accept changes in your career path."
Volunteering can help fill employment gaps or even lead into other paid work. Katie Green notes,
"If you're at a duty station where jobs are limited, volunteer! It's valuable experience that can be put on a resume."
Tanya Saenz adds,
"Volunteering is the best tool to gain experience needed, make new friends, and do something you might not have thought of before!"
5) Challenges with certifications and licensing.
"Careers which require professional licensure are especially challenging. My advice--don't give up. We work hard to get our degrees, experience, and knowledge. Push through the red tape, be flexible, and work to change the laws about professional licensing for military spouses," says Michelle Moore.
Laura Murray faced challenges with keeping certification in her field when she moved overseas and returned and adds,
"Some allowances should be in place for spouses of active duty military."
50% of the respondents on the survey indicated that their chosen career requires some sort of certification or licensing. The initiative by Dr. Jill Biden and Michelle Obama, Joining Forces, seeks to streamline licensing requirements for military members, veterans, and spouses.
At the time of this writing, less than 10 states have passed legislation that expedites professional licenses or certifications for military spouses when they move to a new state. There is much room for improvement. One hopeful sign is a recent bill introduced into the Senate that would offer a tax credit to military spouses who renew or transfer a professional license after an interstate military move.
6) Some final advice: take advantage of resources to further your education or retrain into a different field.
Recognizing the unique challenges of military spouse employment, MSEP (Military Spouse Employment Partnership), as part of the broader goals of SECO (Spouse and Education Career Opportunities) and funded by the DOD, exists to provide training and opportunities for military spouses.
You may also want to take time to further your education or finish your degree, so be sure to take a moment to learn about the scholarships and grants available to military spouses.
7) In addition to those listed above, check out these resources for education and career help:
The Rosie Network: a nonprofit founded by military spouses to promote the entrepreneurial efforts of veterans and military spouses.
In Gear Career: addresses the needs of spouses seeking employment opportunities which match their education and experience.
Military.com: spouse employment resources.