What You Should Know About Homeowners Insurance
With the excitement of searching for and buying a new home, the costs of home insurance tends to get lost in the big picture.
You already know a house is a huge investment, likely your largest, so it seems logical to insure its structure and contents if a disaster occurs. The constant barrage of unbelievable natural destruction viewed on TV and online every day visualizes why it doesn't make sense financially or emotionally to ignore the costs of a home insurance policy when planning the overall costs of buying a home.
Look at the natural disaster statistics the Insurance Information Institute (III) reported for 2017.
"The National Oceanic and Atmospheric Administration Billion-Dollar Weather and Climate Disasters Table of Events shows 16 individual weather and climate disaster events with losses of more than $1 billion in the U.S. in 2017. The flood damage to residential and commercial properties from Hurricanes Harvey and Irma is estimated at between $69 billion and $105 billion. Approximately 75 percent of the residential property damage caused by Harvey and 80 percent of such damage from Irma was uninsured."
Almost 80 percent of the homes were uninsured! For simplicity's sake, think about how many active duty military members are located in Texas and Louisiana—not to mention Florida and Alabama. The stats are stacked against each member having enough insurance, if any, to weather the storms.
With the summer storm season coming, it's time to make sure your homes have adequate insurance. Understanding the vocabulary and the Whys and Hows of home insurance policies puts you at a greater advantage when it comes time to shop for coverage. Landlords, there's information for your rental properties, too.
What You Should Know About Homeowners Insurance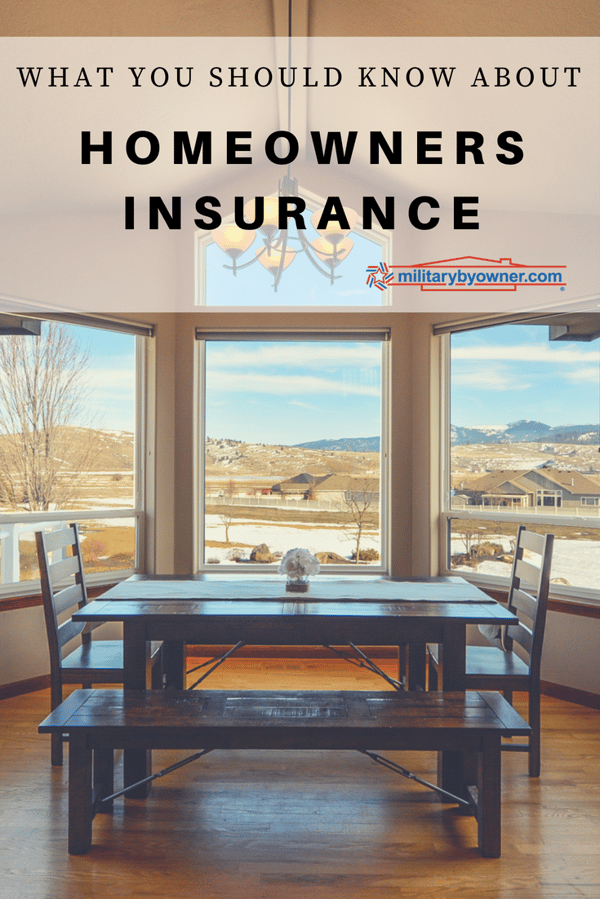 Before You Rent or Buy a House
If you don't have renters insurance...Get some. Now. Not only do you need the coverage to prepare against disaster and thefts, renters policies are exceptionally affordable, about $20 a month. By establishing a history with an insurance provider, it may help secure homeowners insurance from the company in the future.
Work on your credit rating and correct anything misrepresented on your credit report. You've likely heard this to prepare for securing a mortgage, but good credit is useful for obtaining a competitive insurance policy rate as well.
Wouldn't you like to know about the previous damages claims filed on the house you're interested in? Investigate the source of the damage through either a Comprehensive Loss Underwriting Exchange (C.L.U.E.) report, or an A-PLUSTM property report from ISO. These reports partially determine how the insurance companies charge for a policy. If the current owners put an upgraded roof on due to storm damage, insurance companies look on this favorably. The same is true if they see water damage was properly corrected after a bout of burst pipes.
The house needs an accurate and thorough home inspection from a licensed professional if you're purchasing. It's likely if that the home inspector has concerns or questions, so will the insurance company.
Know Your Level of Potential Coverage
Homeowners require different coverage for their property, so a one size fits all policy doesn't apply.
Actual Cash Value. (ACV) This policy replaces the structure of your house or contents but subtracts for depreciation.
Replacement Cost Value. (RCV) This policy covers the costs of rebuilding and repairing your home. It also pays for new items without a deduction for depreciation.
Guaranteed or Extended Replacement Cost. This policy is more expensive to buy, but offers the most protection.The policy pays for all of the costs associated with rebuilding your home even if goes beyond your policy limits. Homeowners often choose this type if they are concerned a rebuild will be affected by climbing prices of building materials if a disaster strikes.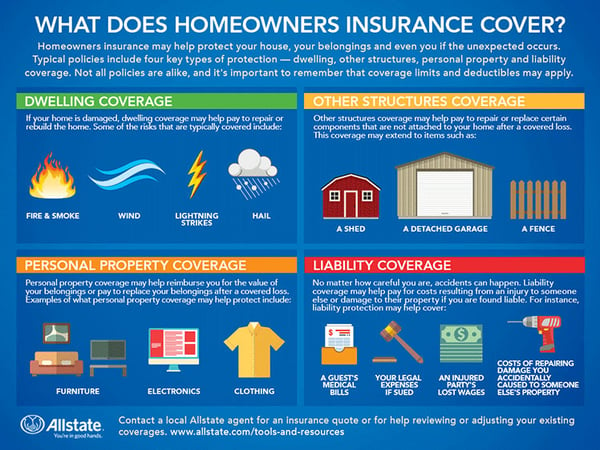 Image via Allstate.com. Check with your insurance provider for your specific coverage.
How Much Coverage Do You Need?
Traditional home insurance commonly offers relief from these disasters: fire and smoke, wind, lightning and hail damage.
Although it's best to talk to an insurance professional about calculating the costs of rebuilding a home and buying new possessions, it helps to understand the basics of how to calculate the amount of appropriate coverage. The price you paid for your home is only a starting point to gather the numbers needed to gauge accurate insurance coverage.
Rebuilding the Structure
A simple calculation to determine your insurance requirement is summed by multiplying the total square footage by local per-square-foot building costs. The value of the land is not used in the calculation.
Other rebuilding costs such as: the money needed to take repairs up to code, exterior construction, style of the home (traditional, craftsman, etc.), the amount of rooms and bathrooms, roofing materials, outside structures like sheds, fireplaces, and custom features are some of the details that go into determining the rebuild costs.
Replacing Possessions
Understanding the difference between ACV and RCV levels of your homeowners policy helps to determine the amount of coverage you need to replace your items. Standard policies are generally written to cover 50% to 70% of your belongings, but often this amount is not enough. Conducting a survey of your items and producing an inventory of their worth is an important step. The III has a useful inventory guide.
It's possible an additional floater policy is recommended to provide enough coverage for items of high value such as jewelry, artwork, and collectibles. A common limit for these kinds of items in a standard homeowners policy is $2,000.
Additional Living Expenses (ALE) is a part of a homeowners policy and it guarantees money to cover living expenses like hotels and food if you have to be out of your home for repairs or rebuilding. Landlords need ALE to cover the rent missed while the tenants are not living in the home.
Liability protection is also party of your policy. It should equate to enough money to protect your assets against lawsuits for bodily injury or property damage caused by family members and possibly pets. It's recommended that homeowner seek $300,000 to $500,000 in liability.
How to Shop For an Insurance Provider
There are dozens of insurance providers out there, and some specifically cater to military members. Many variables factor into calculating the cost of a homeowners policy, so carefully shop for the best rates among providers. Be aware that the cheapest policy isn't always the best to secure your home and assets. The Insurance Information Institution recommends investigating at least three home insurance providers to compare options and pricing.
To start shopping, ask your friends and family for recommendations. After you've chosen a few, contact your state insurance department to inquire about the company's complaints and how those were rectified. When contacted, your top choices should be eager to answer any questions and concerns you have. Remember, you'll have to deal with them extensively if you ever require assistance to recover from a disaster.
What Landlords Need to Know
Long-term rentals require a landlord or rental dwelling policy. Homeowners can expect to pay about 25% more than a typical policy. Vacation or investment properties follow the same standards as a traditional rental property.
In addition to the common damages caused by fire, wind, and ice, a landlord policy covers their personal property left in the rental home. Appliances and maintenance machines left for the tenant's use like snow blowers and lawnmowers are included. Liability coverage to cover legal fees and medical expenses is also contained within. Liability protects the owner from damages if sued by the tenants or guests.
If the home becomes unlivable for the tenants, landlord policies provide for the loss of rental income, but for a specific time frame.
Landlords should require in the lease that their tenants have renters insurance. In the event of a catastrophe, only the structure is covered, not the renter's items.
Why is Home Insurance Expensive or Denied Altogether?
The insurance business is a business, and their end game is to stay in business, profitably. What this means to everyday policy buyers is that some requests for coverage will be denied or the policies will have hefty premiums.
Coastal homes are known to be expensive to insure and often require separate hurricane and windstorm deductibles.
Earthquakes are not covered in traditional home insurance. If your house is located in a known earthquake zone, be prepared to purchase insurance from private insurers.
Homes situated in flood plains will not be protected by homeowners insurance. Flood insurance is available from the National Flood Insurance Program and a select few specialized insurers.
Older homes outfitted with time period finishes or that have out of date plumbing and electrical systems are costlier to insure.
Homes that are not well built, lack proper building code features, or have an old roof cost homeowners more when searching for an insurance policy.
Swimming pools and hot tubs mandate higher limits of liability insurance. Umbrella policies that offer more protection often accompany normal liability insurance.
Options to Reduce Insurance Policy Rates
Home insurance is a necessary expense to add to the total cost of homeownership, but is wise to shop around. With the security of your home in mind, there are options to try and reduce policy rates.
Raise your deductible to reduce your rates. Most policy minimums are $500 or $1,000. Even a $500 deductible increase could be cost effective.
Start with your current insurance provider for auto or renter's insurance. They may discount the policy for being a loyal customer, or a bundled policy price could be less expensive.
Review your current policy and make adjustments. Your home's inventory could be considerably less, or a previous floater policy might no longer be needed if the item's value has been reduced.
It doesn't hurt to ask your provider for discounts that aren't typical such as a retiree rate or by reporting an upgrade in plumbing or electrical systems.
Home protection and security devices are often discounted. Smoke detectors, fire alarms, and home security systems are common reductions. As smart devices merge into homes, it's possible insurance companies consider them to be loss prevention tactics, so be sure to ask about those too.
Ask your insurance provider for a list of suggestions that will reduce your rates and prepare your home for disasters, especially if you live in an area prone to costly damage. Older homes in earthquake zones have options to solidify the structure and coastal properties benefit from storm shutters.
The insurance industry continues to evolve to address climate change and other external factors such as the impact of varying business models emerging in the home insurance business. Recently, Amazon not only has stepped into the real estate sector, but has forecast a move into home insurance. Surely this means the mainstay providers will adapt to how consumers research and buy their homeowners policies.
For years, study after study has proven the benefit of adequate and appropriate homeowners insurance. It's up to the consumer to dive in and ask the pertinent questions to address their needs and budget. Military members often become long distance landlord or renters without a lot of time to consider insurance needs. Choosing a company that can address short timelines and a military lifestyle is well worth the research.
Connect with MilitaryByOwner on
Facebook

and

Twitter!