Why You Should Attend the Military Influencer Conference
As a military spouse, entrepreneur, community leader, or business owner, envision a space where you can exchange ideas with others who understand the unique language of military life and who know the issues with trying to build a brand or keep a business going in the midst of PCS moves. Imagine having the time and luxury of simply sharing ideas, asking questions of those more experienced, or connecting with brands. Sound too good to be true? It's not.
Bringing together brands, entrepreneurs, small business owners, bloggers, writers, and military influencers, the upcoming Military Influencer Conference in Orlando promises to be amazing!
If you're looking to build your knowledge or simply to connect with others in the veteran, active duty, or military spouse space, then you'll want to make plans to attend this year's conference, which has only grown from last year's inaugural event.
Created by organizer Curtez Riggs, retired Army soldier and entrepreneur, some of the MilitaryByOwner team attended last year's conference and the company is a sponsor this year. Here are a few reasons you shouldn't miss it!
Why Attend the Military Influencer Conference?
Featured Speakers and Breakout Sessions
Learn from and get inspiration from speakers like Jim Koch of Samuel Adams, Janine Boldrin from Military Spouse Magazine, and David Gale of We Are the Mighty, along with many others. Get the complete list of all the speakers and panels here.
Last year's speakers shared their unique stories of building businesses from the ground up and working through the common difficulties facing digital entrepreneurs. If you're looking for fresh ideas for your own military brand, look no further! In fact, MilitaryByOwner has chosen to be a sponsor at the Military Influencer Conference to be part of helping to make sure the event continues.
In our founders' words:
We saw the impact and value that networking, strategy sessions, and tactical 'how-to' discussions helped our community last year. We are excited to meet more milspouse and veteran entrepreneurs this year. During the 18 years that MilitaryByOwner has been serving our military community, we have rebuilt the website from the ground up four times. What we learn and who we meet at #MICOrlando will impact the 5th rebuild that we are working on now.
Networking Opportunities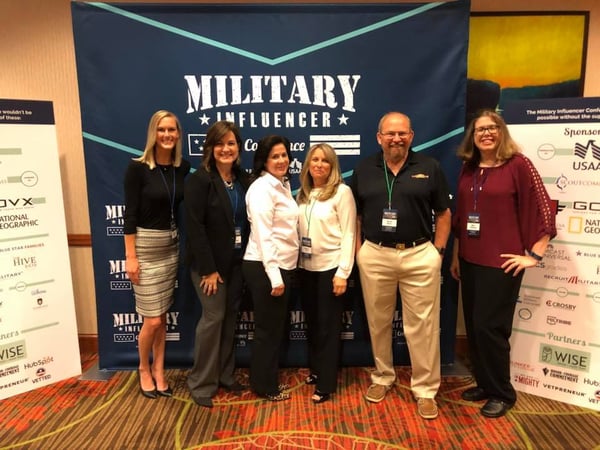 MilitaryByOwner at the Military Influencer Conference in Dallas, 2017
Putting names with faces and connecting with those we might not meet otherwise proved to be a big plus for the MBO team.
From MilitaryByOwner cofounder Dave Gran:
Number 1 on my list was the networking. I met and networked with entrepreneurs that I didn't know existed from both the veteran community and the those working the active military niche. There was a more diverse set of companies represented than I expected: coffee, apparel, content, bourbon, coaching, PR, ecommerce, social…

We are a sponsor this year for the sole purpose of helping to make sure this event continues. I plan to meet more milspouse and veteran entrepreneurs, but more importantly I hope that as a group we learn from each other and make our collective community stronger as a result.
From MilitaryByOwner cofounder Sharon Gran:
MIC is an avenue for active duty military, military spouses, and veterans working in the military space to network, learn, and grow with each other. There are several conferences solely for military spouses as well as conferences for active duty targeted to MOS. MIC is a place for all to come together to then reach others in the military community.
Fresh Ideas
Many attendees we met up last year with commented how getting together as a military community helped them not feel alone in their ventures. Whether you're a seasoned brand or business owner or new to this space, you'll find realistic and practical strategies to implement.
Last year's topics included growing your presence on the web, hearing stories from military brands who'd been on "Shark Tank," and tips for creating brand ambassador opportunities. This year's event promises more great content such as dealing with legal issues as a small business owner, telling your story as a military brand, launching and monetizing your business product and much, much more. Here are a few more takeaways from the team that attended:
MilitaryByOwner writer Danielle Keech:
As a relatively new military spouse, I found it enlightening to meet others in the community outside the bubble we exist. It was empowering to see so many ambitious and successful fellow military spouses and veterans take their experience and this lifestyle and create something that many would think impossible.
MilitaryByOwner writer Dawn M. Smith:
Teaching and empowering milspouses to find work from home/transferable career options was a definite highlight for me. The bonus was putting the names together with the faces of the influencers we all keep up with every day.
Interested? There are still tickets for sale! This year's event will be held at the Rosen Shingle Hotel in Orlando, Florida from September 23-25, 2018. And be sure to stop by MlitaryByOwner's table (#116) and say hello! We'll see you there!