Why You Should Childproof Your Child-Free Home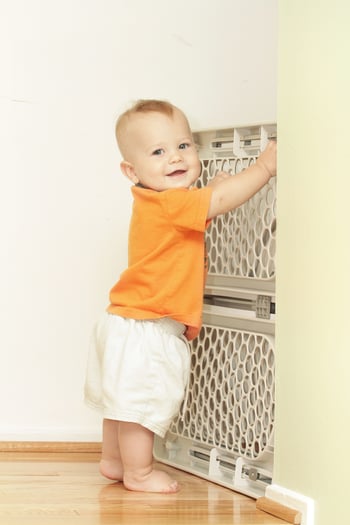 Have you seen that ad on TV where the dog drags his owner through a fence and straight into a pool? The insurance guy watches knowingly while the homeowner stares in horror at her pool. This wasn't the relaxing backyard oasis experience she had clearly hoped for that day. She doesn't even own a dog! Imagine, though, if that were a child.

Every day, approximately 10 people die by drowning; one in five of each of those deaths is a child aged 14 or younger. In 2009, a study by the Centers for Disease Control showed that death by drowning was the second most common cause of death for children ages 1 to 4; for children ages 1 to 14, it is the second leading cause of unintentional injury-related death. Most of those deaths occur in home swimming pools, but a four-sided isolation fence can reduce that risk by an astounding 83 percent.

As a parent, an 83% reduction in child death by drowning would compel me to install a fence around my pool today. However, I can say without reservation that if I did not have children, there is no way I would invest in a fence that would likely make my pool area look ugly and uninviting. In fact, prior to having children, childproofing anything at all never occurred to me until friends would show up with crawlers and toddlers who waged devastation on my home in mere minutes! We would wind up spending the duration of their visit running after said children and salvaging items from feisty little grasping hands. It wasn't relaxing or fun for me, and I can only now imagine how stressful it was for my friends. Without having had the experience of spending much time around young children, I simply couldn't understand why the children wouldn't sit still and play quietly with a toy so that I could chat with his or her mom.

Now I know.

It takes roughly 5.0 seconds for my little rugrat to crawl the length of the room at my mother-in-law's, hoist himself up on a set of drawers using the drawer pulls, open a drawer, pull all of the contents out, slam the drawer shut on his teeny fingers, and fall smack on his butt.

I wanted my friends to come visit, but it was tough for them. My home was not child-friendly at all, and as a childfree couple at the time, I had no interest in covering up light sockets, moving items to high shelves, and installing a series of locks and baby gates. I know now, though, how uninviting my home must have seemed, and that's definitely the last thing that I would want to impart to a friend. As military families, it isn't as though we have the luxury of dropping the children off with family as we rarely live in the same state, let alone the same town, and drop-off care at the Child Development Center is hard to come by at most installations.

Without having childproofing invade your child-free home space, you can easily make your home child-friendly, and more importantly, a welcoming space for your family and friends who have children.

An easy solution that will both help you avoid childproofing your home and risking the possible destruction of your furniture and knick knacks is to keep a kiddie corral. Yes, literally I mean a place to corral the kiddos. These corrals exist in many different iterations, ranging from a simple off-the-ground pack 'n play to a playpen.

The first of the two kiddie corral options features mesh sides which provides an option for allowing the child to nap. The Graco Playard offers many good options, though make sure to not bother to pay for the options that include napping and changing stations, as parents with children young enough to require those items will likely have a carseat and changing pad with them. The latter playpen is not great for napping, but is more appropriate for older toddlers and playtime for little crawlers. It's a little larger, allowing for more playroom and more children. Fortunately, both options are portable and will occupy no more space in your closet than a folding chair when the tykes have gone home.

Brand new, you could expect to pay between $60-100 for one of these two options. New isn't necessary, though. Check out baby consignment stores in higher net worth areas, as you can usually find one of these items there for about $25-45. While you're at those stores, you may want to buy a few little toys, too, as they're usually quite inexpensive. Blocks, soft books, small balls, and anything with buttons to press are all baby and toddler pleasers.

This period in your friend's life won't last forever. Show some love with your child-friendly accoutrements, and before you know it, you'll be back to girl's night out in no time!

Want more helpful tips like this? Subscribe to MilitaryByOwner's blog!
Photo credit: Chasing Moments/DollarPhotoClub