Wishing You a Stress-Free Thanksgiving!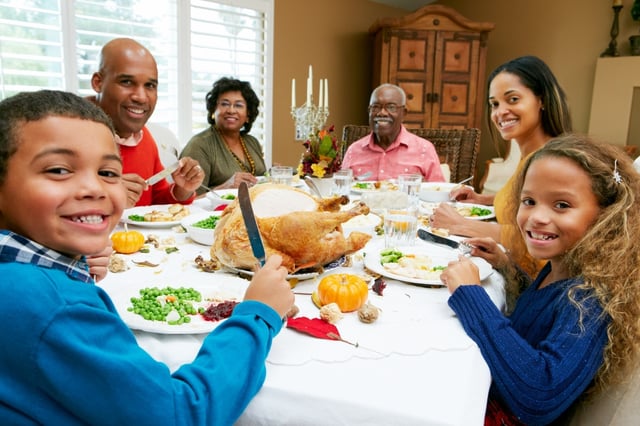 Ahh…Thanksgiving.
That special time of year where dear ones gather and favorite foods are shared. When circled around the table counting our blessings, our family resembles a little slice of the American dream.
Or not. Whatever.
If you're like me, you may have those relatives--you know the ones. Those members of your family tree who excel at vague Facebook posts and have perfected the backhanded compliment.
But no matter who may attend your Thanksgiving feast, here are three tips for keeping your cool when carving the turkey.

1) Third grade was a good year.
Maybe it's an older brother who should know better. Or maybe it's that Great Aunt who is in love with Pat Sajak. But even though you are a fully functioning adult, sometimes members of your family may think you're unable to make decisions on your own because they envision you as if you are still in 3rd grade.
Sanity Saver: Be the awesome person that you are! Maybe share a personal story of your part in a military spouse volunteer project. Maybe choose not to share a tipsy tale from a "girl's night out" get-together. Shine the best light on yourself, without going all Kanye boastful. Family may still view you as a child due to a fear of how much time has passed since you've left home.
2) "Isn't that charming?"
Standing at the corner of the kitchen island is the somewhat wealthy relative who finds chatting about your military lifestyle a charming novelty. As that cousin compares and critiques your spread of appetizers to the trendy charcuterie at a New York City French bistro, just smile at them and nod.
Sanity Saver: Sure, that cousin may ramble on in great detail of the privilege that comes with their country club lifestyle. In return, be thankful for the opportunity to serve and to protect the freedoms that others so readily embrace. No need to play "Battle Hymn of the Republic" in the background. An honest story from a recent deployment should clam them up.
3) Your robust Rolodex.
While you baste the golden turkey and buzz around the kitchen with your meal prep tasks, there is bound to be a family member hovering. In an attempt to make polite conversation, they may ask a question that you've heard many times. It goes something like this, "Our neighbor's grandson just joined the Air Force. His last name is Jones. Do you know him?"
Sanity Saver: Chances are that you do not have a Rolodex (old school contacts list) with the name and number of every person serving in the Air Force. Politely explain, "It's a pretty big Air Force." Consider riding their wave of enthusiasm and ask where the grandson may be stationed and what job he may be doing. Taking interest in their inquiry may please them. Plus, you may be able to share a personal experience if you've been stationed at a similar place or have held a similar position.
Celebrating Thanksgiving wouldn't be the same without a cast of characters. As you gaze upon the feast you've prepared, give thanks for this time together and remember the military stationed overseas or deployed and away from their families. And when Grandpa swirls his false teeth in his water glass, feel free to indulge in another slice of pie.
No guilt.
You've proven to have the patience of a saint.
From our MilitaryByOwner house to yours, Happy Thanksgiving!
Photo: Monkey Business/DPC