10 Tips for Selling Your Home When You Have Little Kids
I was the mom of one sweet newborn baby and three other adorable, active children all under the age of 7 when my husband came home one autumn day and announced that he had military orders and we'd be moving. In a matter of months. While not strange for military life, this also meant we had very little time to get our house on the market and complete our home sale. (Did I mention we had a newborn?!)
After a moment of panic, ok, several days of it, I knew that like most things military related, there was no getting around it and so we needed a plan of action. We would be living in our house and preparing for an off-season PCS move, while being ready to show our house at a moment's notice.
Though it's been some years, here are a few things I learned during that time, along with some wisdom from other home sellers who've been there. And as with all things home selling, whether you're selling your home as a FSBO (For Sale By Owner) or with a real estate agent, preparation is everything!
Keep Your Sanity and Your Home Show-Ready: 10 Tips for Selling Your Home When You Have Small Children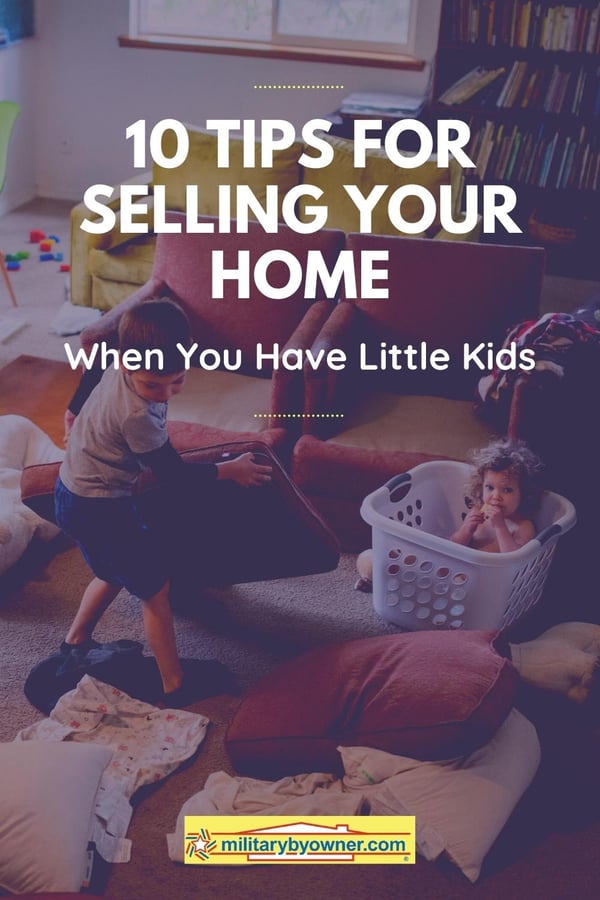 1) Do a major clutter purge before you even put your house on the market.
Give yourself several weeks to do a deep clean and organize your house. This is also the time to make any needed repairs or cosmetic fixes. Plan on making numerous trips to the Salvation Army, Goodwill, or your installation's thrift store donation to offload some junk. (Psst....also plan for a nap or two. This part's exhausting!)
2) Store whatever you can live without for the next few months.
Now that you've weeded through your belongings, set aside some favorite outfits and toys, along with enough kitchen and personal items to get you through the coming months, and store everything else. Box up extra bedding and seasonal items. Prospective home buyers will mind a few stacked boxes in the garage much less than extra belongings scattered around the home.
This is also the time to put away personal items like family photos. And, while you're still living in the house with your young family, consider keeping bigger toys (i.e., play kitchens, tricycles, etc.) in a shed or garage.
3) Time to go neutral!
Look around your home with a critical buyer's eye and remove any décor that is cartoonish or overly bright. A room decked out in My Little Pony will be difficult for a home buyer to envision as a home office, so this is the time to paint walls a more neutral color.
Remove decals or paint over murals. And here's something you might not think about: check for stickers! My little ones had a penchant for placing stickers in all sorts of hidden spots. ("Goo Gone" is a wonder for removing sticky items.)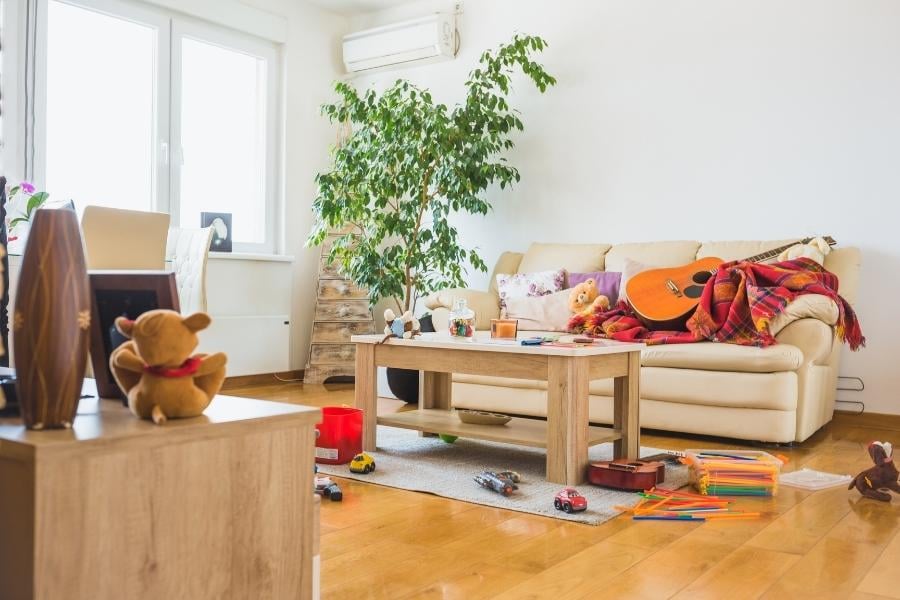 Image from Canva
4) Simplify your life with a daily routine.
Home shoppers will expect to view a clean, clutter-free home. You don't have to do a deep clean of your house every day, but there are simple routines that can make being "show ready" less stressful, since you never know which days will be home showing days!
Some tips to keep the clutter and dust of daily living under control:
Make the beds each morning. (Enlist your kids' help in this!)
Store shampoo, soap, bath toys, and other shower/bath items in a bin under the bathroom sink and make it a habit to put them there after each bath time.
Keep kitchen counters clear of clutter so they're easily wiped down at the last minute.
Have a drawer free to sweep small items into when you're in a rush.
Keep bathroom wipes on hand for a quick once-over each day.
Vacuum/sweep main areas daily.
Run a load of laundry daily so it doesn't have a chance to pile up.
Put dirty dishes in the dishwasher.
While this sounds like a lot, simple routines will help keep your stress level down when you get a call that someone wants to look at your home in a couple of hours! And since you already cleared the clutter, maintaining a level of cleanliness will be that much easier.
5) Consider hiring someone to help with cleaning.
Especially if you have an infant or many little ones, it may be time for reinforcements. If you can find room in your budget, this is the ideal time to pay for some weekly or bi-weekly help with deeper cleaning to keep the house ready without driving yourself crazy. Some items to add to the cleaner's list: wiping down light switches, doorknobs, or other spots where sticky fingerprints might rest, dusting, deep cleaning bathrooms, cleaning windows, and mopping floors.
6) Enlist on-call help for short notice showings.
There may be days or evenings that you need extra help with childcare. If your spouse isn't available, find at least one friend or a drop-in care situation that can keep your children on short notice.
7) Consider locking unused rooms.
Have a half bathroom, office, or guest bedroom that's rarely used? Deep clean it and then keep it locked. (Kids have this tendency to forget that they're not supposed to use a room...) Just remember to unlock it before you leave the house!
8) Create a checklist for when you need to leave the house quickly.
Add tasks such as: quick clutter pick-up, put dirty dishes in the dishwasher, flush all the toilets (don't ask) and close lids, check all beds, empty the trash and diaper bins, do a quick damp mop of the kitchen floor. Whew!
And if you have unfolded laundry or a pile of toys that you cannot deal with quickly, throw it in a laundry basket kept for this purpose, and put it in the back of your car as you leave.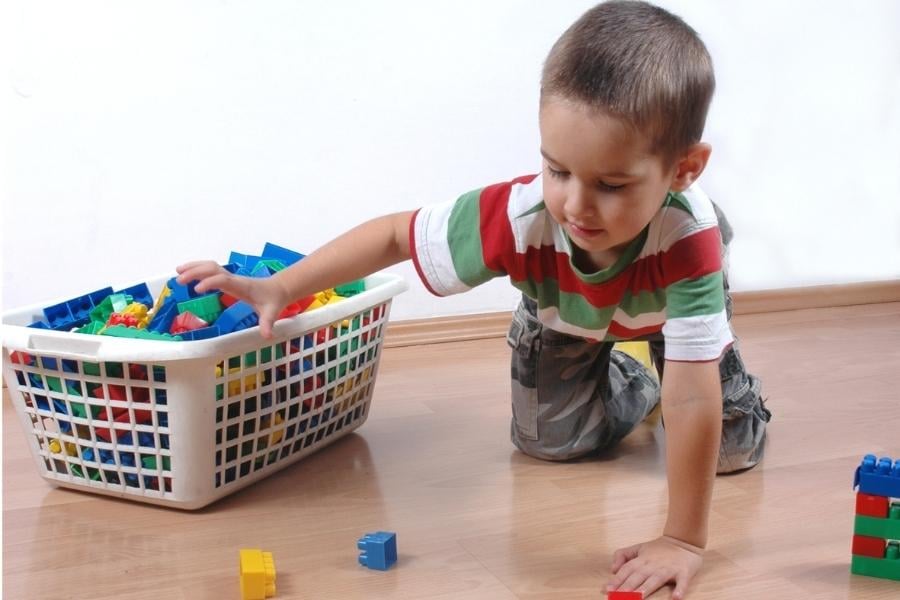 Image from Canva
9) Let your kids pitch in.
If you have all little ones like I did, they may not be much practical help, but let them do what they can. It never failed, of course—the toddler would be in her high chair with food smeared in her hair and my little boys in the midst of a Lego explosion in the living room when we'd get a call for a home showing. But even my 3-year-old could understand the reasons why we needed to move quickly and could help put away toys. Let children do what they can, and if they're too little to help, keep them safely contained in a bouncy seat or high chair while you do a quick pickup.
10) Set home showing hours if you need to.
We ended up blocking off time for no showings for a couple of hours in the afternoons during the baby's nap time or after a certain time in the evenings when our kids went to bed. You may want to do this for whatever is the most chaotic time in your home, such as right after school pick-up or your typical "just getting home from work" hours.
Knowing there was built-in time to catch up on cleaning or simply get some rest ourselves helped alleviate some of the home selling stress. Since we had a newborn, we needed to set some limits so we could all get adequate sleep. If you're working with a real estate agent, let them know your schedule, while also being as flexible as reasonably possible, since may buyers will want to view homes in the evening hours or on weekends.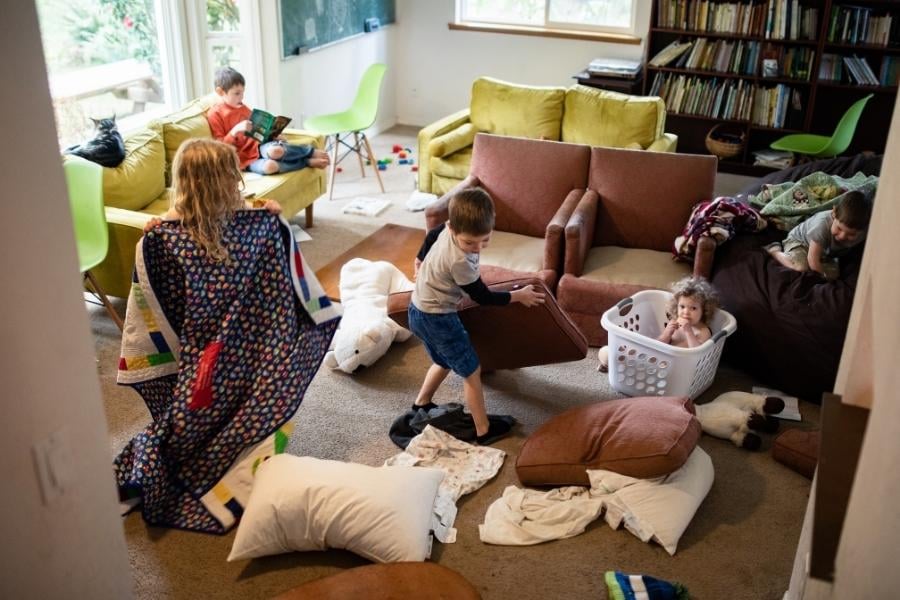 Image from Canva
We survived and lived to tell the tale of putting our house on the market with lots of little ones, and you can, too! Have you sold your house while raising small children? Please take a moment to share your tips with us in the comments or on Facebook.
If you're facing a PCS move and wondering whether you should sell or rent out your home, you'll want the free resource below that MilitaryByOwner created just for this situation. We've been there and can help!