12 Facts You Didn't Know About Alexandria, Virginia
It's easy to learn something new about Alexandria, Virginia, even if you've been here a while. The city's history and geographic boundaries are so vast that they encompass a multitude of lifestyle factors. Both characteristics allow visitors and residents opportunities to try a different activity or unearth a previously hidden connection to the history books.
This is just a small collection of the fun and historic facts you probably didn't know about Alexandria!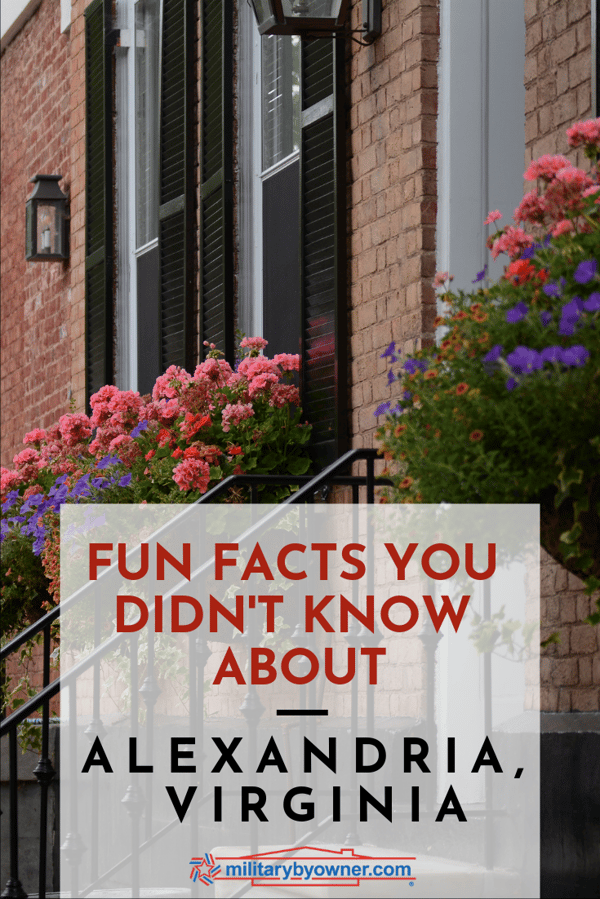 12 Facts You Didn't Know About Alexandria, Virginia
1) Alexandria is older than the U.S., which means there's plenty of history to dive into.
Whether old wives' tales or straight up facts, Alexandria continues to entertain locals and tourists alike.
2) An English ship captain was Alexandria's first official "owner."
Sir William Berkeley, the governor of Virginia in 1669, gifted Robert Howson the land known as today's Alexandria, but the city really gets its well-known name from John Alexander, who purchased the land from Howson for 6,000 pounds of tobacco. Alexander's Scottish heritage still runs strong through the city today. Annual parades and festivals are dedicated to Alexandria's Scottish lineage.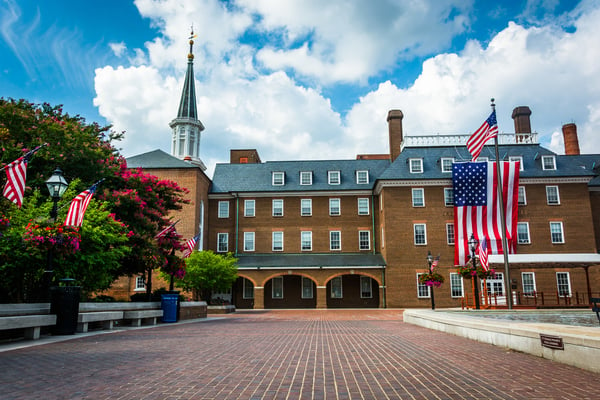 Market Square and City Hall in Alexandria
3) Initially, Alexander's descendants weren't deeply interested in developing the city.
They had other interests down in the Stafford area. Eventually, Alexander's great grandson, Gerard, did build a home on the banks of the Potomac River on a site that now sits between Garages A and B at Ronald Reagan Washington International Airport. Take note, incoming families; the airport is under major construction.
4) It's impossible to tour and learn about Alexandria without hearing at least a couple of stories about George Washington.
His roots are in the area, and of course his beloved Mount Vernon remains in southern Alexandria today. But, as a young man and surveyor, he was responsible for planning the city's street systems. Much later, Washington was first publicly addressed as President of the United States in Alexandria's historic Wise's Tavern.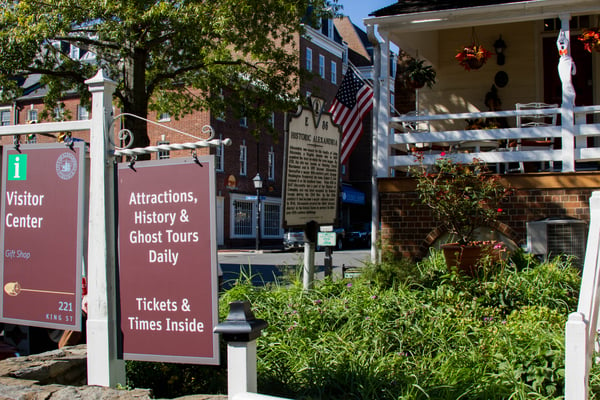 Alexandria Visitor Center, photo by Heather Whitfield.
5) Founded in 1749, Alexandria is home to one of the earliest nationally designated historic districts.
Old Town earned the title in 1946. It was the third named historic district in the U.S.
Why Military Families Love Alexandria, VA: A Newcomer's Guide
6) At first glance, Alexandria is a historic city soaked with classic Southern Charm.
This is true, but modern day residents and visitors appreciate the variety of interesting establishments and entertainment options that elevate Alexandria to the top of various "Best Of" lists year after year.
7) Ice cream aficionados, Alexandria is definitely for you!
In 2019, Forbes' online magazine named the city the "Ice Cream Cone Capital of the United States." Local mainstays like The Dairygodmother in Del Ray and Pop's Old Fashioned Ice Cream Company in Old Town were mentioned as must-try locations. For those who prefer tried and true national brand names like Ben & Jerry's and Kilwins, you'll find those available, too.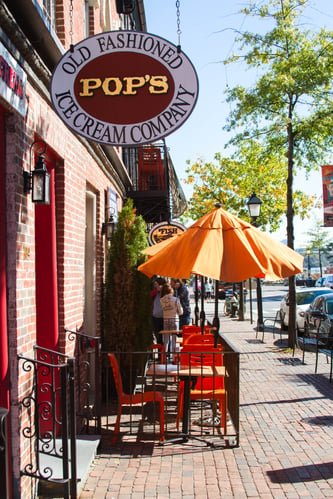 Pop's Ice Cream, photo by Heather Whitfield.
8) Alexandria is frequently nominated for awards.
Over the years, major publications like Southern Living, National Geographic Explorer, and Travel Leisure have all consistently named or nominated Alexandria as one of the prettiest cities, happiest cities, best cities in the south, and best boutique shopping, in addition to a host of other categories.
9) If you're data and dog oriented, you'll love the fact that Expedia voted Alexandria one of the Top 10 Dog-Friendly Vacation destinations in the U.S.
Visit Alexandria, VA reports there are an estimated 40,000 dogs dispersed among 160,000 human residents. Locals couldn't be any more pleased with how welcoming shops and restaurants are to dogs. There are even canine cruises on the Potomac River. If your dog prefers not to find his sea legs, regular yappy hours pop up all over the city.
Find unique to Alexandria events--information updated monthly!
10) Spite is a powerful motivator.
Just ask John Hollensbury. In 1830, he built an entire, albeit small, house in his alley to prevent horses and wagons, not to mention drunks, from using his thoroughfare. Alexandria's Queen Street is the location of today's private residence, named The Spite House. It is 7 feet wide and 325 square feet total. The Spite House was setting trends in the tiny home scene way before today's minimalists.
11) A visit to Old Town isn't complete without a stroll through the Torpedo Factory.
You won't find a wartime munitions and torpedo manufacturing site anymore, but you will find a collection of world renowned artisans and their creations. Visitors can buy unique offerings to their heart's content, chat with the artists, and even take classes in the mode of visual art they appreciate most.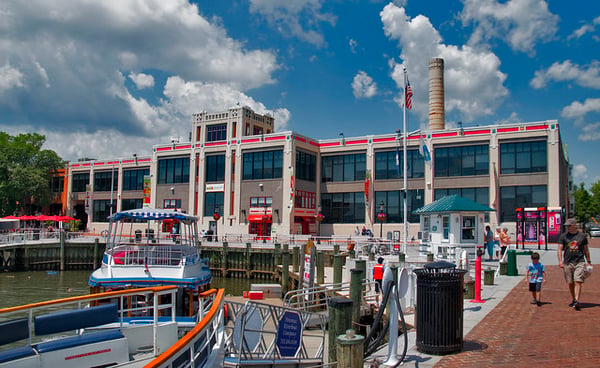 Torpedo Factory on the Alexandria (VA) Waterfront, photo by Ron Cogswell.
12) Craft beer production has been taking over the country for years now, and Alexandria is doing its part to maintain the momentum.
At the same time, however, the city extends the proper respect to a strong beer tradition adopted early on in the city's history. A new, self-guided walking tour takes visitors past 15 pubs and restaurants where beer sampling is highly encouraged. You'll want to stop by the Alexandria Visitor's Center to snag a map of "Alexandria's Historic Breweries: A Walking Tour & Pub Guide."
These are just a small batch of facts most people don't know about Alexandria. Any house hunting trip or visit to the city will turn up even more previously unknown details. Half the fun of Alexandria is turning the corner and learning something new to you.