12 Museums to Visit in Alexandria, Virginia
There's a lot happening as the spring and summer months approach. Military families are preparing for a PCS, scoping out their next destination (possibly to one of the bases near Alexandria, Virginia) and making decisions about the Covid-19 vaccine. Individually, those are heavy subjects to digest. Combined, they're cause for major vacation planning!
There's no better way to become acquainted with your new hometown or to re-introduce yourself post-pandemic vacation planning than to keep a list of easy-to-get-to museums for the future. There's no need to plan an entire day of Smithsonian schlepping when you'll be just as entertained visiting one or two museums a day in Alexandria.
More than 250 years of history proves that there are a variety of museums and gardens to visit and revisit. George Washington's Mount Vernon sits high on the list of "Must Return" visits (PS buy a membership, they make return trips more affordable).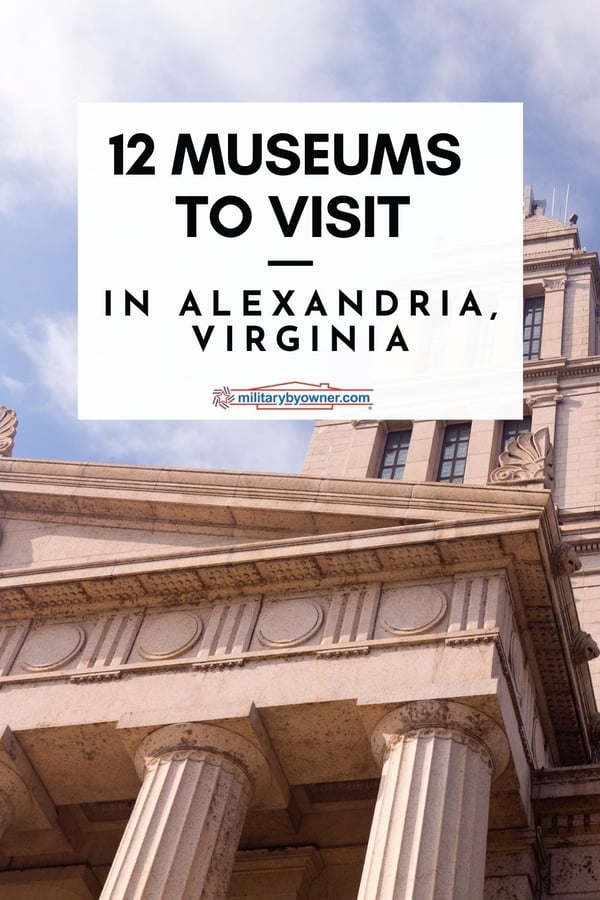 Museums Operated by the City of Alexandria
The following museums are operated by the City of Alexandria and are currently closed due to Covid-19. Follow online for an up-to-date reopening schedule. Most museums offer various online resources, from live lectures to at-home learning kits and virtual games.

1) Alexandria Archaeology Museum
One of the more popular museums for school-age kids to visit, the Archaeology Museum focuses on persevering Alexandria's history through careful excavation and public awareness. The major exhibits include Archaeologists at Work: The Lee Street Site and Preserving Alexandria's Maritime Heritage.
2) Alexandria Black History Museum
Although Alexandria was home to a small population of free black people as early as 1790, it was also the center of one of the largest slave trade hubs in the United States. The Black History Museum's mission is "to enrich the lives of Alexandria's residents and visitors, to foster tolerance and understanding among all cultures and to stimulate appreciation of the diversity of the African American experience."
3) Alexandria History Museum at The Lyceum
The Lyceum has a long history of bringing culture and education to Alexandria residents. Once a library, Civil War hospital, office of the Chamber of Commerce, and the country's first Bicentennial Visitor's Center, the Lyceum is the perfect location for first-time museum-goers to take in a broad view of Alexandria's historical significance.
The Lyceum-image from Wikimedia Commons
4) Fort Ward Museum & Historic Site
Civil War buffs are drawn to Fort Ward to learn more about the site's history as an occupied city, a Union Army location, and the daily lives of Civil War soldiers. There are exhibits on most Civil War topics, education programs, tours, lecture series, bus tours, and living history activities. The historic fort allows visitors to view a glimpse of Civil War military engineering feats—about 90% of the fort's earthwork walls are preserved or restored to the original condition.
This museum is dedicated to the first-person accounts of enslaved men and women bought and sold through this building as headquarters for Franklin and Armfield, the largest domestic slave trade operation in the United States. The bleak details of the slave's lives as well accounts of the business operations are revealed.
Freedom House Alexandria.gov
6) Friendship Firehouse Museum
Most children go through a fire truck and fire safety phase, so take advantage of their curiosity and head to the Friendship Firehouse Museum. It's an ideal location to get a hands-on education about early volunteer fire companies. Vehicles and exhibits showcase the history of firefighting in Alexandria.
George and Martha Washington, Thomas Jefferson, and the Marquis de Lafayette were all John Gadsby's 18th-century tavern guests. Known to be the site of many important decisions regarding Alexandria's progress and the burgeoning country, Gadsby's Tavern Museum remembers its importance through tours, programs, special events, and a period tavern/restaurant.
If you're interested to learn what it's like to live in Alexandria, check out blogs like:
Independently Owned Museums in Alexandria
These museums are independently owned and tend to have more available operating hours. Tours and visits are offered on a timed or limited basis.
Carlyle House image via Wikipedia
One of the most famous museums in Alexandria, the Carlyle House is an example of an 18th Century Georgian Mansion and Garden. Known for its tours, youth programs, special events, exhibits, and lectures, the Carlyle House was originally the home to city founder John Carlyle. The museum highlights the early history of the city of Alexandria, colonial Virginia, and the building of the United States.
9) Stabler-Leadbeater Apothecary Museum
The Stabler-Leadbeater Apothecary Museum has seen a resurgence of young visitors thanks to a book series named for Harry Potter, but the apothecary was a family business founded in 1792. The company was open until 1933 and one of Alexandria's oldest. The museum displays a collection of herbal botanicals, hand-blown glass, and medical equipment. This is an addition to journals, prescription and formula books, ledgers, and invoices.
Front View of Washington Masonic National Memorial via Wikimedia Commons
10) The George Washington Masonic National Memorial
Simply stated, the mission of the museum is, "To inspire humanity through education to emulate and promote the virtues, character, and vision of George Washington, the Man, the Mason, and Father of our Country. Highlighting the first president's involvement with the Masonic fraternity is the primary function of the museum. The memorial is currently under its first major renovation since its original construction.
11) Lee-Fendall House Museum and Garden
Another popular historical site, the Lee-Fendall House Museum and Garden, operates educational programs to showcase the people who lived and worked on the property between 1785 and 1969. Upcoming exhibits include: Under the Same Roof: Enslaved and Free Servants at Lee-Fendall, Virtue and Vice: The Women of Lee-Fendall, and Beyond the Battlefield: A Civil War Walking Tour of Alexandria.
12) National Inventors Hall of Fame
Dedicated to school-aged children's education through creative STEM activities, the museum is conveniently located in the United States Patent and Trademark Office. The museum produces popular education programs starting as early as kindergarten and carries through high school education.
If you've been worried about any education you're kids have missed over the past year, check in with some of the local teachers or current families attending Alexandria schools. It's common for many of these museums to be school field trip destinations.
As you can see, there's plenty of opportunities to explore, especially as Covid-19 restrictions are lifted. These museums are ready and waiting to welcome guests again, so be sure to stay connected with their social media for special events and re-opening schedules.
---
If you're considering renting a home in Alexandria, this one might fit the bill!
This Colonial home is located near Mount Vernon and has updated bathrooms, kitchen, and refinished hardwood floors. Outside, a new deck is perfect for entertaining, and the fenced yard protects kids and approved pets. The Mount Vernon area is the ideal commute to Fort Belvoir and one of the fastest to the Pentagon, thanks to George Washington Memorial Highway's proximity.
Note: though this home is no longer listed, click the button below to view more homes for sale or rent in Alexandria, VA.