14 Things to Know Before Moving to Fort Bragg
If it's your first time moving to Fort Bragg, North Carolina, a.k.a , the Army's mother ship, you've got some research to do! You've probably asked around and heard a lot of mixed feelings about Fort Bragg and Fayetteville. The base has legions of fans but also some detractors, mostly because of preconceived notions and unpreparedness for arrival at an iconic military base and town.
The two names—Fort Bragg and the largest city nearby, Fayetteville—are often used interchangeably for several reasons. Simple geography is one. There's not much room between where Fort Bragg ends and where Fayetteville begins. The huge population of military families that immerse themselves not only on base but within the neighborhoods of Fayetteville is another reason. Lastly, it's a known fact that without each other, Fayetteville and Fort Bragg wouldn't be as successful and productive as they are today.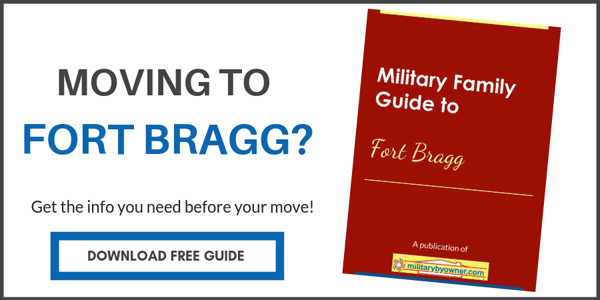 Understanding the Fort Bragg/Fayetteville dynamic is just the beginning of the list of important things you need to know before moving to Fort Bragg.
Here are 14 more...
Things to Know Before a Move to Fort Bragg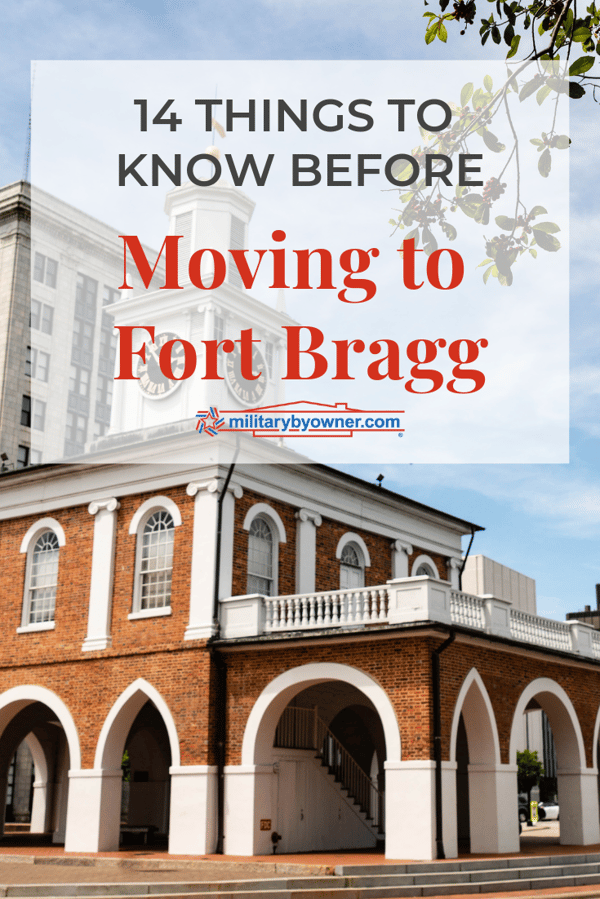 1) You won't lack things to do and see during your time at Fort Bragg.
There is certainly a very specific lifestyle associated with living in a military dominant town, but there are plenty of things to do and see, especially for a first time PCS. To maximize your time at Fort Bragg and get outing ideas, download the free Military Family Guide to Fort Bragg.
2) There are several other popular cities that surround Fort Bragg.
You'll find a strong military presence in nearby Pinehurst, Southern Pines, Raeford, Sanford, Spring Lake, and Hope Mills. Depending on where the service member works on Fort Bragg, one of these cities may be closer to their job.

3) Fort Bragg is not just a busy base, it is B-I-G.
Its population reaches 80,000 people and encompasses 163,000 acres. In other terms, Fort Bragg makes up 20 square miles.
4) The major tenants on Fort Bragg include the names of units you've probably become familiar with over the years.
But there are many more you might not know about. Fort Bragg is home to U.S. Army Forces Command, XVIII Airborne Corps, U.S. Army Special Operations Command, U.S. Army Reserve Command, Joint Special Operations Command, U.S. Army Civil Affairs and Psychological Operations Command (Airborne), 82nd Airborne Division, Security Force Assistance Command, 108th Air Defense Artillery Brigade, Dental Health Activity, 419th Contracting Support Brigade, 406th Army Field Support Brigade, 192nd Ordnance Battalion (EOD), 50th Signal Battalion, USA-SATMO, Army Golden Knights, 4th ROTC Brigade, Joint Interoperability Division, Airborne and Special Operations Test Directorate, 139th Infantry Regiment - North Carolina National Guard, Womack Army Medical Center, 3-58th Airfield Operations Battalion, U.S. Army Security Assistance Training Management Organization and the JSOC Intelligence Brigade.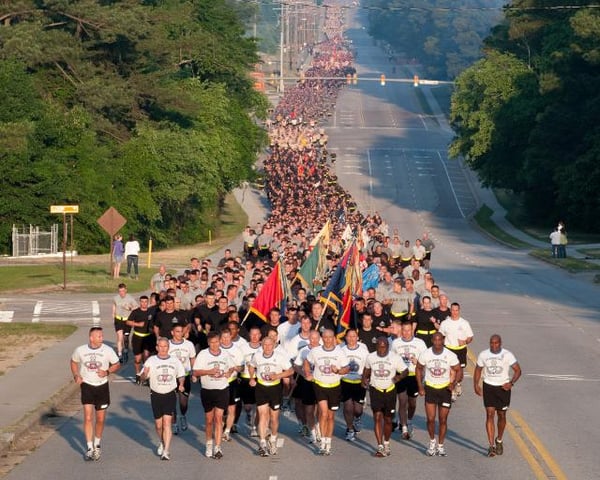 Image via army.mil, Public Domain
5) Pope Airfield and Simmons Army Airfield
These are the two airfields associated with Fort Bragg.
6) The Fort Bragg School District is one of the last military installations that is governed by DODEA.
On Fort Bragg, you'll find seven elementary schools providing for students in pre-K4, one elementary school for pre-K5, an intermediate school housing grades 5 and 6, while the junior high school encompasses grades 7 through 9. High schools are operated by localities, depending on where you live.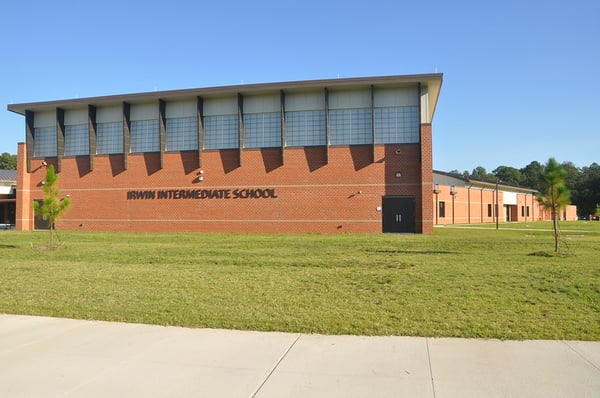 Irwin Intermediate School via U.S. Army Corps of Engineers
7) Fort Bragg resembles a small city.
Some of the amenities include 34 restaurants, 15 medical clinics, 11 churches, 13 fitness outlets, an ice rink, campground, library, and hotels. There are two very large commissaries, North and South Post, and the CDC system operates 12 facilities.
8) For golf aficionados, Fort Bragg has two golf courses on base, Ryder and Striker.
But the entire region attacks golfers year-round due to enviable playing weather. Pinehurst Resort, the "Anchor Site of the U.S. Open," is under an hour's drive away, at about 35 miles.
9) If you decide to live in Fayetteville, you and about 350,000 others will proudly be citizens of "The Most Patriotic City in the U.S."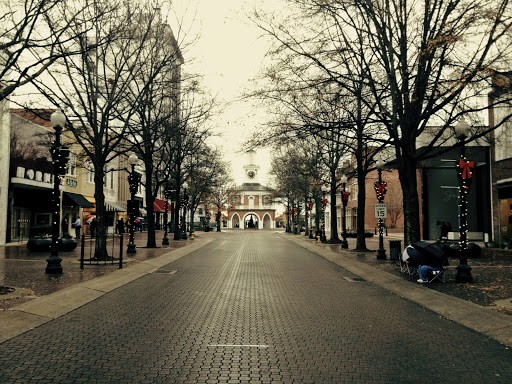 View of Market House, Hay Street, Fayetteville, NC
10) Fayetteville boasts two convenient travel options.
Amtrak has a historic station in downtown Fayetteville, and further out, a regional airport with easy access takes flyers to major cities like Atlanta, Charlotte, and Washington, D.C., every day. If you prefer to drive to an international airport, Raleigh is the nearest large city, about 1.5 hours away.
11) Families stationed at Fort Bragg enjoy proximity to both mountain and beach getaways.
Going west to the mountains is a 2 plus hours' drive, while headed east to the beach in Wilmington is about 2 hours as well.
12) Most people enjoy the moderate climate Fayetteville experiences.
Hot to warm to mild temperatures are the norm with higher than average humidity. Occasional colder temperatures and some winter weather change up the scenery and provide coveted snow days simply because there isn't the support to maintain roads properly.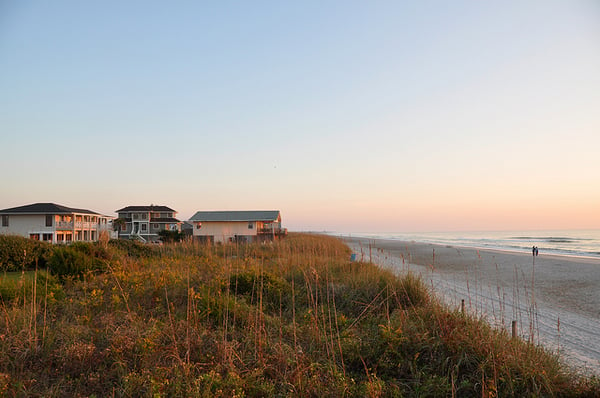 Wrightsville Beach photo via James Willamor
13) The Fort Bragg area continues to grow.
Fort Bragg and Fayetteville have been enduring and perpetuating growth opportunities in many capacities, which is a good thing, but with improvement comes the necessary harassment of growth--traffic. Accommodating tens of thousands of people on and off base each day proves challenging at the heart of commute times, especially if a construction project is active.
14) Fort Bragg is one of the better bases for supporting military spouses and their careers and educational opportunities.
Throughout the year, major non-profits host conferences, and career/job bolstering events are the norms on and off base.
As it's often said of any new military destination, especially one as storied as the Fort Bragg/Fayetteville area, your experience living there is framed by what you embrace of the location. Half of the battle of moving to Ft. Bragg is learning where to live and what to do.
Take a look at homes near Fort Bragg!