2020 Real Estate Trends for Military Members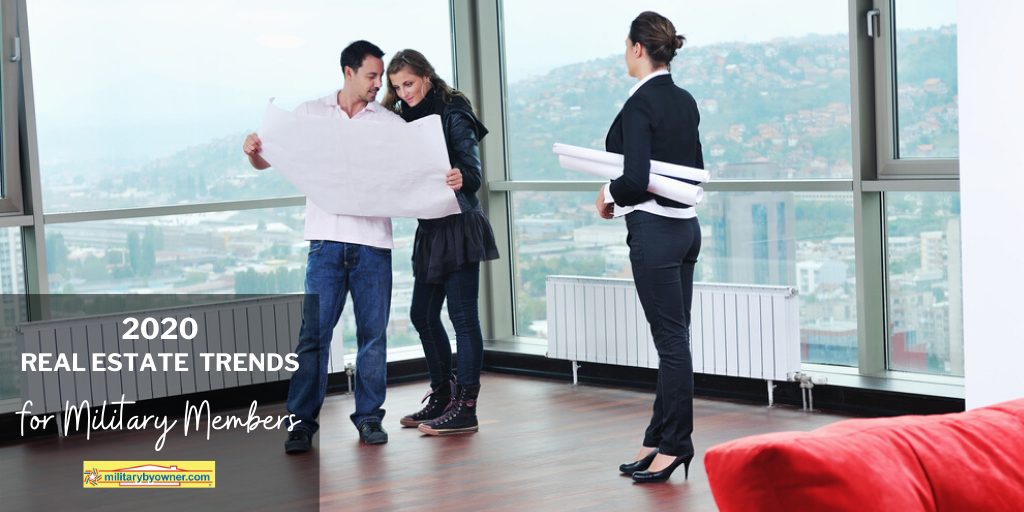 For those military buyers hoping 2020 is the year to score a major real estate deal, it doesn't appear that the winds are in your favor. Military sellers, on the other hand, have reams of housing data concluding that 2020 is leaning toward a strong seller's market again. Military renters will see the 2019 status quo—scarcity and high prices.
There are a couple of common denominators that military buyers, sellers, and renters can all appreciate with regards to paying for housing. Active duty members have seen their BAH increase over the last two years: 2019 saw a 2.55% and 2020 is yielding a 2.8% increase.
This year also started new guidelines for VA loan guarantees and down payment limits. Now, zero down payment is required for home purchases over $484,350. For detailed information about changes to the VA loan, read VA Loan Changes Military Home Buyers Should Know About.
This is a brief snapshot of the forecasted real estate landscape in 2020, and how these trends specifically affect military members.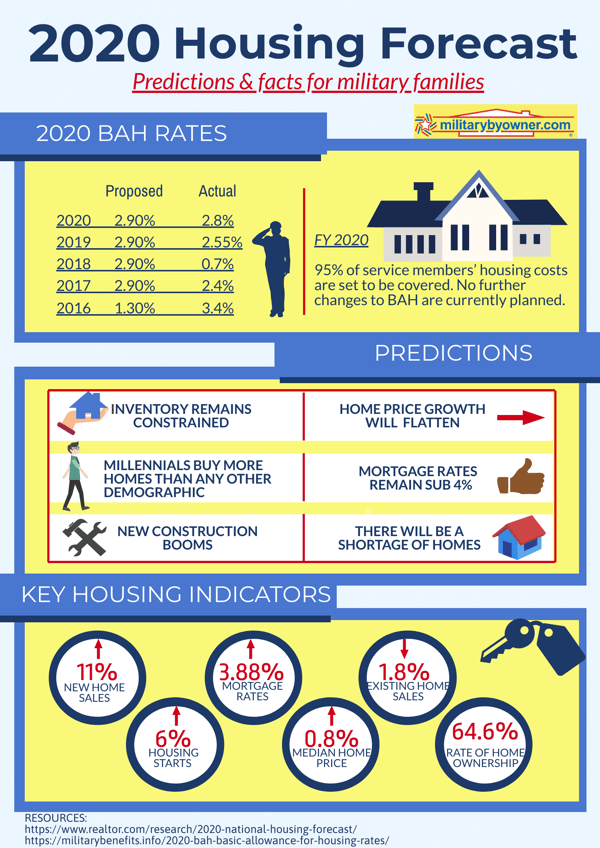 2020 Real Estate Trends for Military Members
Scarcity and Unaffordability
Unfortunately, the trends of lack of housing inventory and overpriced homes spill over from the last few years and will continue through 2020 for multiple reasons. A number of new construction homes are in the works, but not enough. The amount of laborers needed to build these homes, especially in-demand entry market homes, cannot keep up with the pace of buyers' interest.
Homeowners are sitting in their homes longer today, for multiple reasons. In general, the stats on how often Americans are moving has steadily decreased. Unable to afford or find a new home, owners are accruing equity and sitting still, waiting for the market to correct itself.
The bright side of these trends is the opportunity for slight improvement in inventory and a flattening of pricing as the months progress. In addition, unemployment remains at a level that sustains an overall healthy economy in the U.S; it is solid even if it has slowed.
Milennials as Home Buyers
Millennials are a powerful real estate force. Their oldest members are nearing 40 and will collectively out purchase Boomers and GenXers in the near future. Because of their numbers and influence, their monetary movements have been tracked, dissected, and numerated down to the minutiae.
Just like every other demographic, Millennials continue to look for affordable housing, but are willing to relocate from high price cities to find family friendly locales, moving out of urban markets and into the suburbs, even across multiple state lines. If not military members themselves, Millennials will be in direct competition in traditionally military heavy markets in Texas, Nevada, and The South.
Steady Mortgage Rates
Home prices may be unaffordable, but mortgage rates stay steady or slightly uptick in 2020, approaching 4%. Economists aren't expecting a volatile economy, which strengthens the argument to keep interest rates low. By the end of the year, rates for a 30-year fixed mortgage are predicted to average 3.85%
How 2020 Trends Affect Military Members
Military members who are considering buying a home in 2020 will certainly contend with the factors the general public is grappling with, such as low inventory and unaffordability, but there are a couple of ways servicemember's needs are different.
The VA loan continues to be one of the top choices, if not the top choice, for home financing. Competitive rates, zero down payment, and no PMI required are attractive terms to military buyers. Banks are friendlier towards a VA loan since delinquency rates remain low, especially in comparison to other loans with less stringent guidelines such as the FHA.
The availability of the VA loan is a wonderful benefit, however, users find this loan to be troublesome in tight inventory markets where bidding wars are common.The burdensome time frame that VA appointed appraisals and inspections require look less appealing against cash offers, offers that waive inspections, or those with conventional loans that process faster. Many who PCS to Northern Virginia and and surrounding Washington, D.C. suburbs to work at the Pentagon or nearby bases often run into this situation.
Forming a real estate team that includes an agent extremely versed in local markets and a mortgage lender who knows the VA loan inside and out helps to compete with non-military buyers, especially if the military buyers are first timers.
Coast to Coast Housing Trends
Unaffordability continues to push coastal residents from California and New York down south. Arizona, Texas, The Carolinas, Florida, and Georgia are receiving the brunt of the exodus. Midwestern cities such as Columbus, Ohio, are also noticing the influx, but southern states continue to draw in families hoping to take advantage of lower price homes and the overall lower cost of living.
Of course, these states have always had strong military presence, both from active military installations and veteran populations that remain post retirement. This population is living with both the positives and negatives of current real estate trends.
What new construction is occurring is focused on these areas, lessening the shortage, but competition for the inventory is stronger. Civilian and military are battling for the same rental homes and entry level priced housing. However, as the price point moves up toward $500,000, the homes become more available.
Take a look at the list Realtor.com compiled as the Top 10 Housing Markets Positioned for Growth in 2020 and notice the connection to cities surrounding military bases, and how many are located in southern states: Davis Monthan AFB, Fort Huachuca, Fort Jackson, Charleston AFB, Fort Carson, Peterson AFB, Schriever AFB, and USAFA. Military members living in these areas should expect to see changes in real estate growth patterns.
Boise City, ID
McAllen-Edinburg-Mission, TX
Tucson, AZ
Chattanooga, TN-GA
Columbia, SC
Rochester, NY
Colorado Springs, CO
Winston-Salem, NC
Charleston-North Charleston, SC
Memphis, TN, MS, AR
In comparison, and taking into consideration many quality of life factors, Forbes recently released their picks for the 10 Most Affordable Places For Military Veterans To Live In 2020. Six of the 10 are located in Texas: Laredo, Corpus Christi, Lubbock, El Paso, San Antonio, and Arlington-Fort Worth. The others are Oklahoma City, Columbus, Tulsa, and Jacksonville.
The 2020 Overall Housing Outlook
Overall, buyers have attractive options for borrowing money to purchase a home, if they can find one that suits their tastes and budgets. Renters will be slugging it out in tough competition for the best of the rental homes in desirable areas. Military home sellers and landlords have the best 2020 outlook due to higher BAH rates and the number of house hunters who are desperate to find their next home.
For homes for rent and sale, continue to monitor MilitaryByOwner's inventory. It's updated regularly and designed for home shoppers to build a collection of possibilities to investigate. Home sellers, take a look at our latest resource below that we created just for you!